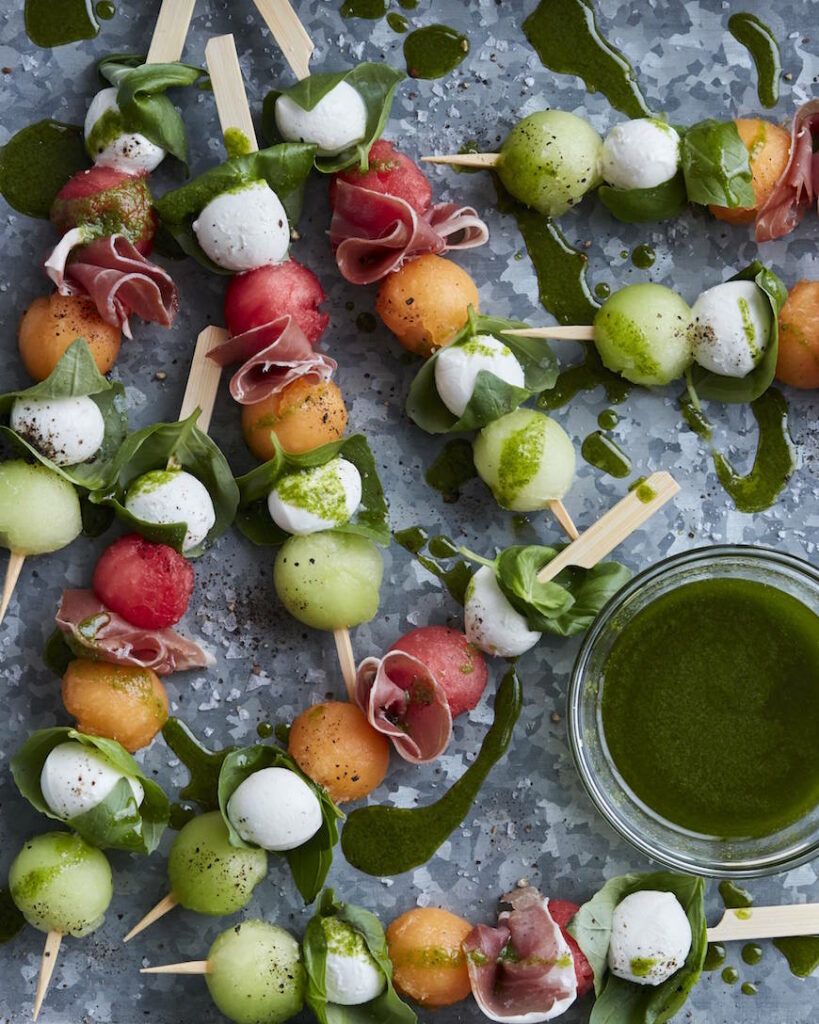 Melon Caprese Skewers
We've turned our favourite appetizer into a bite sized snack that you can make, bring, serve, devour all summer long. Three kinds of melon, honeydew, cantaloupe and watermelon skewered with fresh mozzarella and salty prosciutto and then drizzled with basil vinaigrette. What more could you ask for? These Melon Caprese Skewers are beyond simple!
Use a ice cream baller to form the melon balls and then you're ready to go! Or skip the skewers and just make a really killer melon ball and mozzarella salad with a drizzle of the vinaigrette!
INGREDIENTS
1/2 cup basil vinaigrette
1 small cantaloupe scooped into balls
1 small honeydew scooped into balls
1 small seedless watermelon scooped into balls
20 fresh water-packed mozzarella balls drained
10 thin slices prosciutto cut in half lengthwise, gathered into ruffle
Small wooden skewers
Maldon sea salt
Freshly cracked black pepper
DIRECTIONS
Thread an assortment of the ingredients on the skewer – melon ball, basil leaf, mozzarella ball, ruffled prosciutto etc.
Arrange skewers on platter. Drizzle with basil vinaigrette and sprinkle with sea salt and freshly cracked black pepper.
It's that easy. Enjoy !