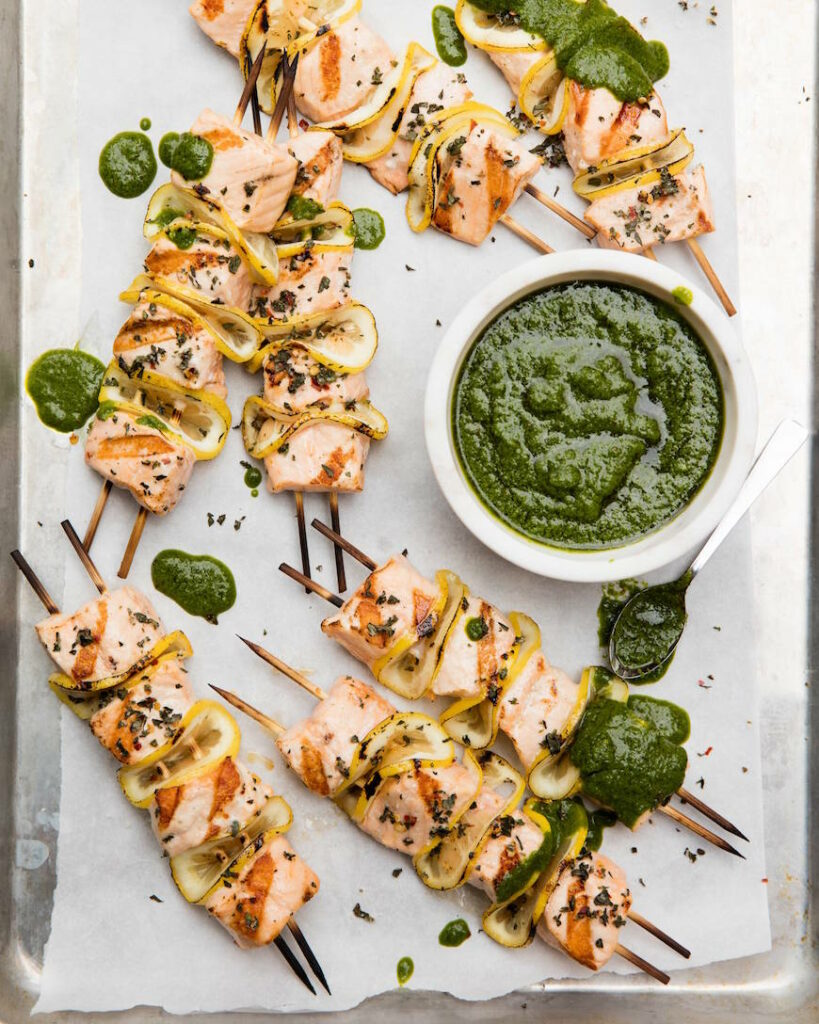 Grilled Salmon Skewers
Cubed salmon threaded onto skewers alternating with lemon slices and served with basil vinaigrette! It just feels like the most quintessential summer dish. It would go perfectly along with a fresh green salad too.
INGREDIENTS
8 wooden skewers
1kg fresh salmon
3-4 lemons
3 tablespoons olive oil
Kosher salt and freshly ground black pepper
For the vinaigrette
1 shallot roughly chopped
2 cups tightly packed fresh basil leaves stems removed
1 clove garlic
1/2 teaspoons red pepper flakes
1/2 cup olive oil
2 tablespoons red wine vinegar
1 teaspoon salt
DIRECTIONS
Soak the wooden skewers in water for at least an hour.
Heat your grill to medium high heat.
Cut the salmon into cubes and slice 3 of the lemons into very thin slices either with a sharp knife or with a mandolin.
Alternate threading the salmon and the lemon slices on the wooden skewers, about 5-6 pieces of salmon per skewer.
Drizzle the skewers with olive oil and season with salt and pepper. Squeeze 1/2 of the remaining lemon juice on top.
Using a pair of tongs, carefully transfer the salmon skewers to the preheated grill and grill for about 3 minutes on each side until the salmon is almost fully cooked through.
Remove the salmon skewers from the grill and let rest for about 5 minutes to let the salmon just continue to cook.
For the vinaigrette
Combine all the ingredients for the basil vinaigrette in a high powered blender and blend for 60 seconds until very smooth.
Taste and adjust salt and pepper as needed. Serve immediately. Or you can refrigerate the vinaigrette for up to 3-5 days.