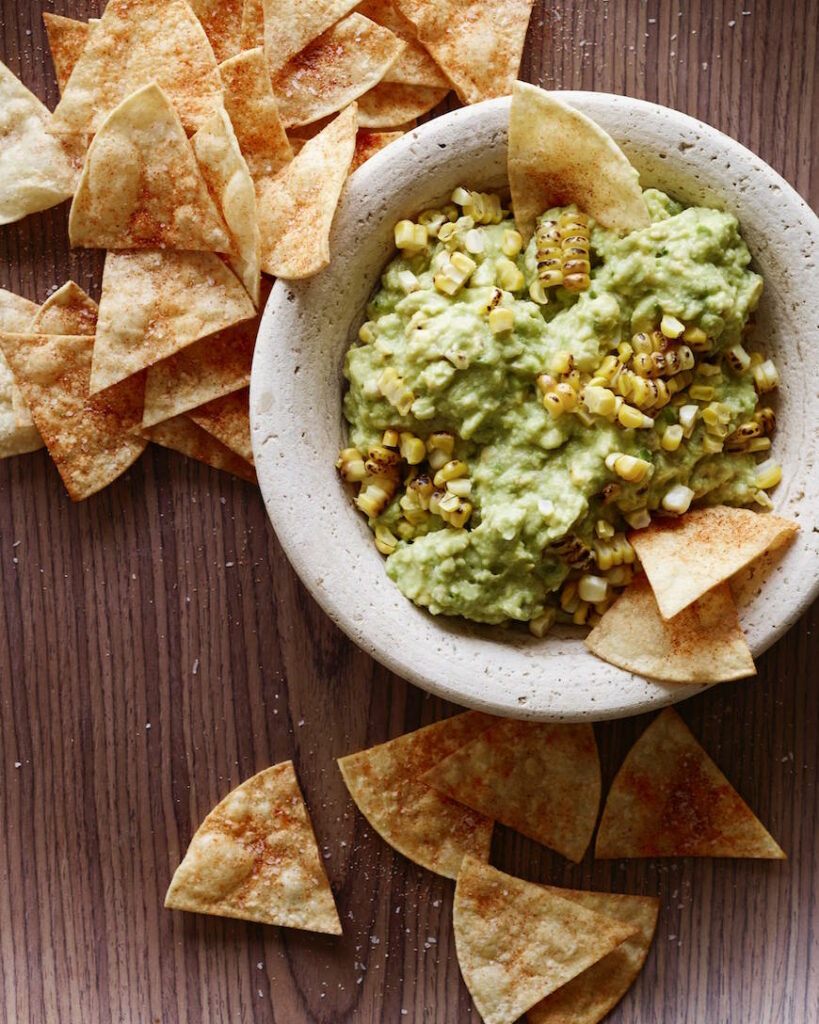 Charred Miellie Guacamole
Will anyone ever tire of anything involving avocado? And who is'nt a  guacaholic? So you and your guests will love this. The addition of the grilled mielies just gives it an extra pop. Every bite you get a little burst of flavour in your mouth !
INGREDIENTS
For the Guacamole
3 Hass avocados
½ lemon juiced
½ lime juices
2 teaspoons chopped jalalpeño
1 ear of miellie
1 tsp olive oil
sea salt and pepper to taste
1/2 teaspoon cumin
For the Chips
Vegetable Oil
5-6 Small Corn Tortillas
½ teaspoon Garlic Powder
½ teaspoon Hot Paprika
1 teaspoon Salt
INSTRUCTIONS
Cut the tortillas into 6 triangles each.
Add the vegetable oil to a heavy bottom pan over high heat, about 2cm deep. Once the oil is shimmering, add a few of the tortilla triangles at a time and fry for about 1 minute on each side until they are crisp.
Meanwhile, combine the salt, and spices in a small bowl and set aside.
Remove the chips from the oil and transfer to a paper towel. Sprinkle with salt mixture and let cool to room temperature.
Brush the cleaned ear of corn with olive oil and sprinkle with salt. Place onto a heated indoor or outdoor grill and let sit for a 3 minutes or so on each side until slightly blackened. Remove from grill and let cool. Once cool, cut the kernels off and set aside.
Combine the avocados, lemon juice, lime juice, jalalpeño, cumin, salt and pepper into a large bowl and mash together with a fork. Add the charred corn and combine. Serve with freshly made tortilla chips.
Enjoy !