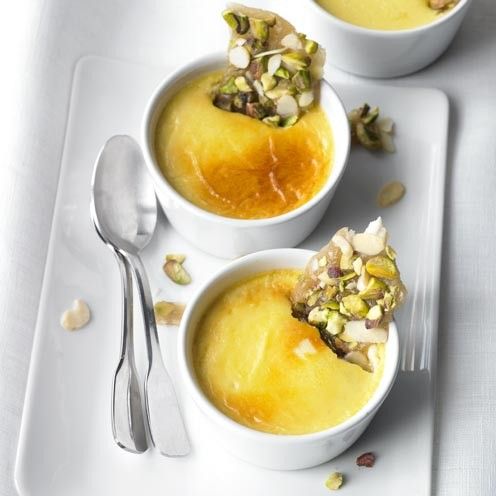 Vanilla custard pots with pistachio and almond brittle
Increasing sensitivity and sensuality, vanilla is the ultimate way to end your romantic meal. Treat yourself to these rich and creamy pots.
INGREDIENTS
FOR THE BRITTLE
25 g flaked almonds
50 g pistachios, roughly chopped
125 g caster sugar
FOR THE CUSTARD POTS
500 ml double cream
250 ml whole milk
1 tsp. vanilla extract
6 large egg yolks
75 g caster sugar
DIRECTIONS
Line a baking sheet with baking parchment. Put six 200ml ramekins into a deep roasting tin. Preheat oven to 200°C (180°C fan) mark 6. Put the kettle on. Mix the nuts together.
In a pan, gently dissolve the 125g caster sugar with 100ml water. When the sugar has dissolved, turn up the heat and boil until golden. Quickly pour on to the lined baking sheet. Scatter the nuts on top and carefully press them in using a wooden spoon. Leave to cool.
Meanwhile, put the cream, milk and vanilla into a pan and bring to just below boiling point. While it's heating, put the yolks and the 75g caster sugar into a large bowl, then beat together with a wooden spoon until smooth. Pour the hot cream mixture over the yolk mixture in the bowl, stirring constantly to stop the yolks curdling. Strain through a sieve into a jug.
Divide custard among the ramekins and pour enough boiling water into the roasting tin, around the pots, to come halfway up their sides, taking care not to let any splash into the custard. Cover the roasting tin with foil and bake for 20-30min until set. Serve Pistachio and Almond Brittle. Once cooled, break the nut brittle into shards and serve with the custards. Enjoy !