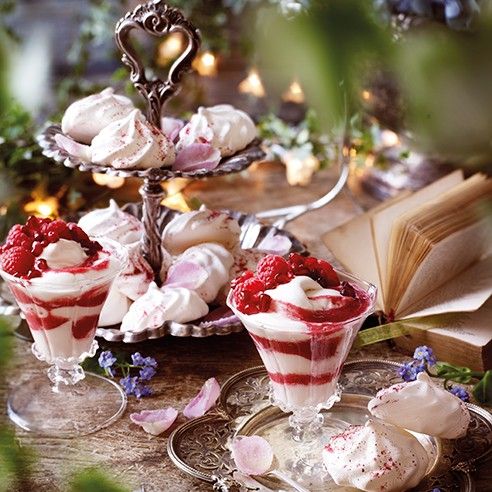 Tower of rose kisses with raspberry and pomegranate 
Pomegranates are filled with antioxidants, which apparently increase passion and sensitivity. This loved up pomegranate recipe is made all the more romantic with meringue rose kisses.
INGREDIENTS
FOR THE CRYSTALLISED ROSE PETALS
About 24 edible rose petals
1 medium egg white

3 tbsp. caster sugar 
for the kisses
1tsp freeze-dried raspberries
FOR THE KISSES
1tsp white wine vinegar
1 tsp. cornflour
3 large egg whites
200 g caster sugar
2tsp rose water
1tsp freeze-dried raspberries (optional), lightly crushed
FOR THE FOOL
300 g raspberries
200 g pomegranate seeds
10 tbsp. icing sugar
1⁄4 tsp rose essence
600 ml double cream
75 ml Chambord black raspberry liqueur
DIRECTIONS
Dip petals one by one into egg white and toss in sugar to coat evenly. Place on a baking tray lined with baking parchment and leave in a cool place overnight to harden.
Heat oven to 110°C (90°C fan) mark 1⁄4. Mix vinegar and cornflour together in a cup and set aside. Whisk egg whites with an electric whisk on a slow speed until foamy, then increase speed and whisk until soft peaks form. Gradually add sugar 1tbsp at a time, whisking back up to stiff peaks between each addition. When whites are stiff and glossy and mixture feels smooth with no sugar crystals when rubbed between finger and thumb, whisk in the vinegar mixture and rose water.
Transfer to a piping bag with a star nozzle. Line 2 baking trays with baking parchment. Dot a little meringue mixture on to the corner of the trays to secure the parchment in place. Pipe 24 kisses, each about 6.5cm wide, on the prepared trays, leaving at least 2cm between them. Sprinkle with freeze-dried raspberries, if using. Bake on lower and middle shelves of the oven for 40-50min, until firm and set underneath. Switch off the heat and leave to cool in the oven with the door slightly ajar.
To make the fool, blend two- thirds of the raspberries with half the pomegranate seeds, 4tbsp icing sugar and the rose essence. Use a wooden spoon to press the purée through a sieve set over a bowl. Pour into a jug and set aside. Whip together the cream, remaining icing sugar and Chambord to soft peaks.
Assemble fool in 6 glass dessert dishes. Layer cream and purée in the dishes, then use a spatula to gently swirl the mixture once – don't overmix. Top fools with the remaining raspberries and pomegranate seeds and any extra purée. Serve with the meringue kisses piled on a cake stand, with the crystallised petals scattered over. Enjoy !