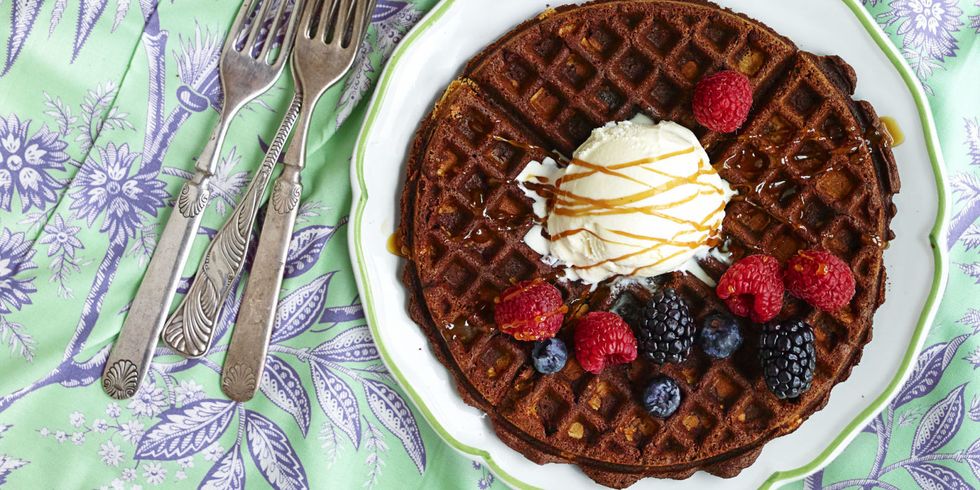 Fudgy Waffle Brownies
Use butterscotch, peanut butter or chocolate chips to dress up this dessert-meets-breakfast masterpiece.
INGREDIENTS
6 tbsp. butter, cut up
1 bar bittersweet chocolate (50% to 60% cacao), chopped
3/4 c. sugar
1 large egg beaten
2 tsp. vanilla extract
1/2 c. whole milk
1 c. all-purpose flour
1/4 c. unsweetened cocoa
2 tsp. baking powder
1/2 tsp. salt
1 c. butterscotch, peanut butter or chocolate chips
Ice cream and berries (optional)
DIRECTIONS
Preheat waffle maker.
In a 4-quart saucepan, heat butter and chocolate on medium-low until melted and smooth, stirring. Remove from heat. Stir in sugar. Whisk in egg and vanilla until combined. Stir in milk.
In a bowl, whisk flour, cocoa, baking powder, and salt. Stir into butter mixture just until smooth. Fold in chips.
Spray waffle maker with non stick cooking spray; add 1/4 to 1/2 cup of batter. Close the waffle maker; cook 2 to 3 minutes or until just set and crisp around the edges. With the edge of a thin silicone spatula, cut brownie into quarters and gently lift each quarter from the waffle maker. Repeat with remaining batter. Serve with ice cream and berries, if desired.