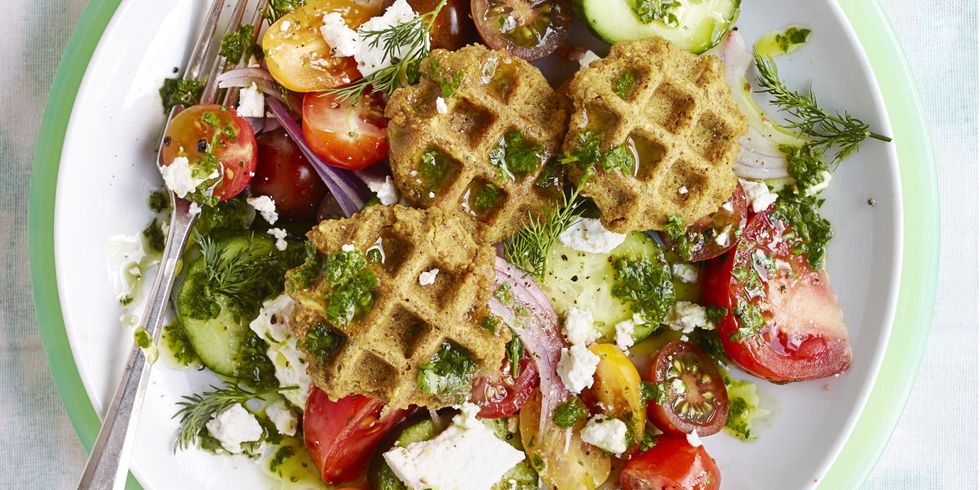 Falafel Waffles
These take falafel to a new level. The crispy textured exterior and warm inside with have you craving more.
INGREDIENTS
1 box falafal mix
1/2 c. olive oil
1 large egg, beaten
1/2 small red onion, thinly sliced
1 c. packed fresh cilantro leaves
1 c. packed fresh parsley leaves
3 tbsp. lemon juice
2 tbsp. red wine vinegar
1 seedless English cucumber, sliced
1 can mixed cherry tomatoes, cut into halves
3 pieces feta cheese, cut into small cubes
Dill leaves, for garnish
DIRECTIONS
In a large bowl, to falafel mix, add 1/4 cup olive oil and egg along with water as label directs, stirring to combine. Let stand 15 minutes. Meanwhile, soak onion in cold water.
Preheat waffle maker. In a food processor, pulse cilantro, parsley, lemon juice, vinegar, and 1/2 teaspoon pepper until finely chopped, scraping down the sides of the bowl occasionally. With the machine running , add remaining oil. Transfer half of the vinaigrette to a large bowl along with the cucumber, tomatoes, and feta. Toss to combine; set aside. Reserve remaining vinaigrette.
Spray the waffle maker with non stick cooking spray. Add a heaping tablespoon of falafel mix to the waffle maker; repeating to form 4 small mounds. Close the waffle maker, pressing the top down gently. Cook 3 to 5 minutes or until deep golden brown and crisp. Repeat with remaining falafel mix. Drain onion and add to salad. Serve falafel with salad; drizzle with reserved vinaigrette.