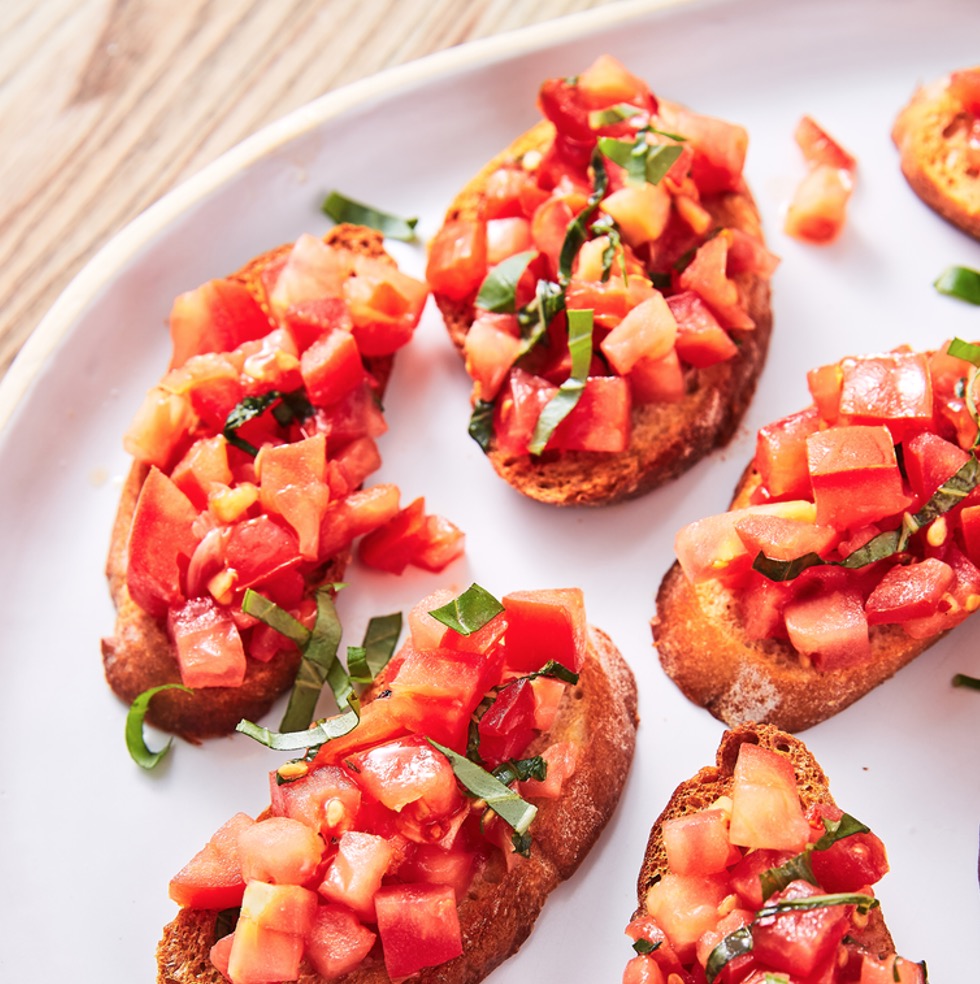 Classic Bruschetta
Nothing screams summer quite like bruschetta. Be sure to rub the toasted bread with garlic for a kick of flavour. Top them with simple marinated tomatoes for the ultimate summer snack.
What kind of tomatoes? Juicy ones, yes. Even drier ones like roma are perfect. In fact, drying tomatoes a bit is key for bruschetta. What do we mean by drying, and why is it better? The key is to keep the toast like toast should be: Dry. When you use juicy tomatoes, you will no doubt get a powerful (and delicious) tomato result. But if the tomatoes are too wet, the toast will be soggy. The trick: Salt your tomatoes. After they have been diced, add them to a large strainer or colander over a bowl, and toss with some salt. Let sit 5 minutes. See what happens? Lots of liquid at the bottom of your bowl. While we hate throwing things away, that tomato juice is going to be (too?) salty to use for anything else.
INGREDIENTS:
FOR THE TOMATOES
4 tbsp. extra-virgin olive oil
2 cloves garlic, thinly sliced
4 arge tomatoes, diced
1/4 c. thinly sliced basil
2 tbsp. balsamic vinegar
1 tsp. kosher salt
Pinch of crushed red pepper flakes
FOR THE BREAD
1 large baguette, sliced ¼" thick on the bias
Extra-virgin olive oil, for brushing
2 cloves garlic, halved
DIRECTIONS:
Make marinated tomatoes: In a medium skillet over medium-low heat, heat oil. Add garlic and cook until lightly golden, 2 to 4 minutes, then remove from heat and let cool.
In a large bowl, toss together tomatoes, basil, vinegar, salt, and red pepper flakes. Add garlic and oil from skillet and toss to combine. Let marinate for at least 30 minutes.
Meanwhile, toast bread: Preheat oven to 180 degrees. Brush bread on both sides lightly with oil and place on large baking sheet. Toast bread until golden, 10 to 15 minutes, turning halfway through. Let bread cool for 5 minutes, then rub tops of bread with halved garlic cloves.
Spoon tomatoes on top of bread just before serving.