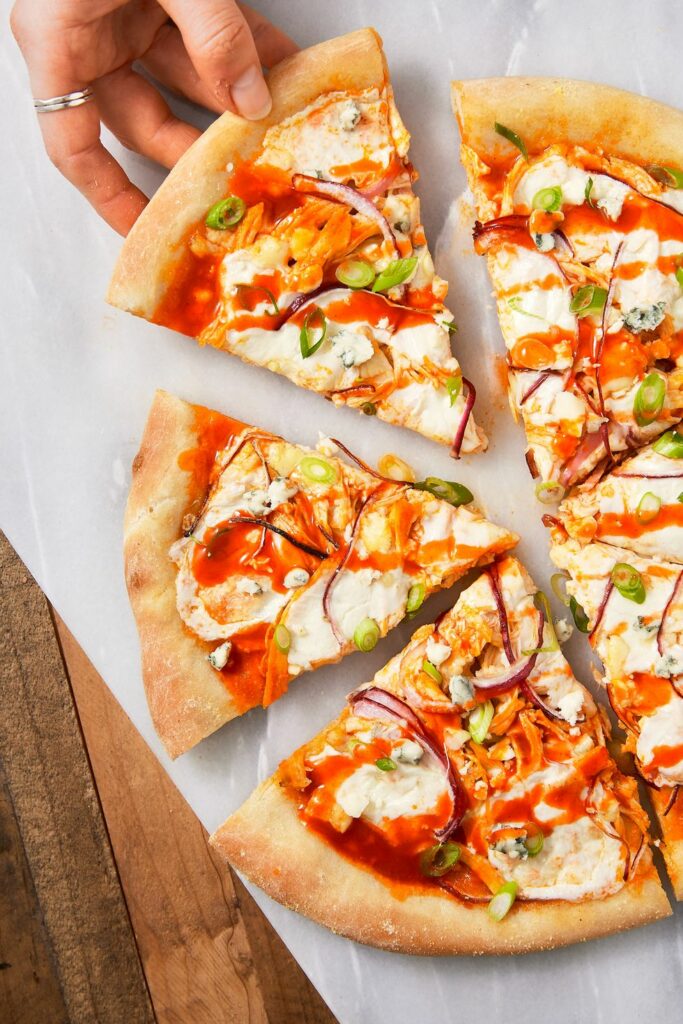 Buffalo Chicken Pizza
Like buffalo wings, but make it pizza. Got some leftover roasted chicken? This pizza is the PERFECT way to use it!
INGREDIENTS
Pizza dough divided in half cornmeal, for pan
4 tbsp. butter
1/4 c. hot sauce plus more for drizzling (optional)
1/2 tsp. garlic powder
2 c. shredded cooked chicken
8 oz. ball mozzarella, torn
1/3 c. blue cheese, crumbled
1/4 Red onion, thinly sliced
2 Green onions, thinly sliced
DIRECTIONS
Preheat oven. Brush two large baking sheets with vegetable oil and sprinkle each with a layer of cornmeal.
Place butter in a medium microwave-safe bowl. Microwave until melted, 20 to 30 seconds. Whisk in hot sauce and garlic powder until combined. Pour half of the buffalo sauce over chicken and toss to coat.
On a lightly floured surface, shape each half of pizza dough into a round ball, then press down the centre of each to create a 1/2″ crust. With the dough resting on the back of your hands and your knuckles, gently stretch dough out with the help of gravity by moving your hands inch by inch along the crust. Transfer to prepared baking sheets.
Add half of the remaining buffalo sauce to each pizza and spread all over the dough (leaving the outer bare). Divide sauced chicken, torn mozzarella, blue cheese, and red onion evenly between the pizzas.
Bake pizzas until crust is golden and cheese is melty, 15 to 17 minutes. Garnish with green onions and a drizzle of hot sauce (if using) and serve immediately.