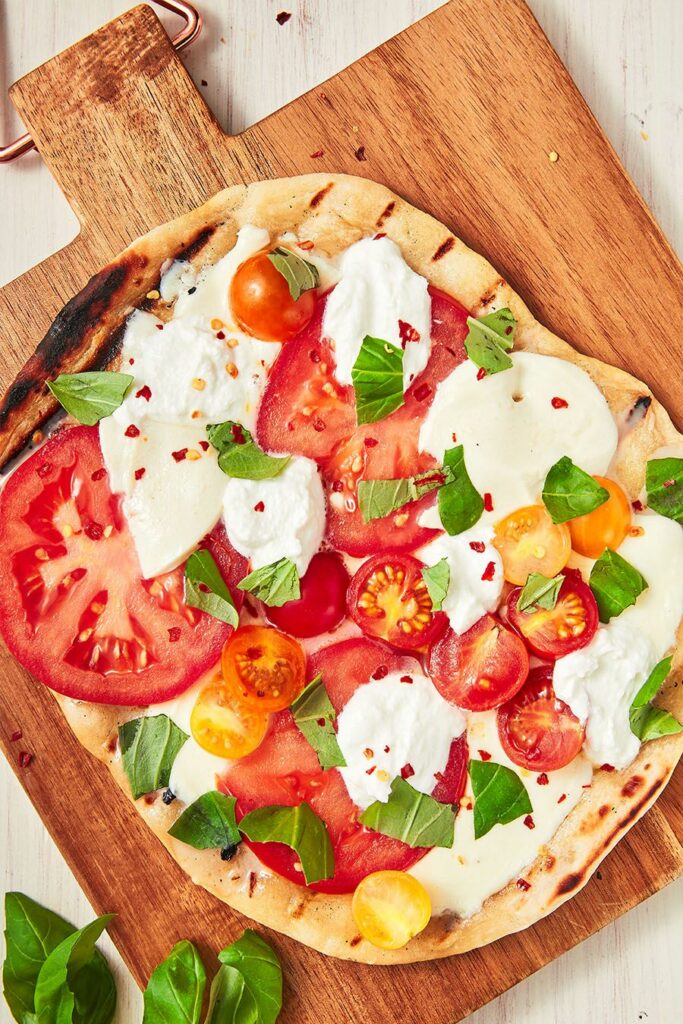 Super Summer Margherita Grilled
For this simple grilled pizza recipe, we are placing the dough directly on the grill. The crust turns out perfectly charred, crispy on the outside, and chewy on the inside, with plenty of melty cheese on top. 
INGREDIENTS
Pizza dough
Extra-virgin olive oil, for brushing and drizzling
1/2 lb. thinly sliced mozzarella
1 large tomato, thinly sliced
1 c. cherry tomatoes, halved
1 c. ricotta
Freshly chopped basil, for serving
Pinch of crushed red pepper flakes
DIRECTIONS
Heat grill over medium-high heat. Divide pizza dough into 2 balls and use your hands to stretch out into a circle. Brush both sides with oil, then place directly on grill grates. Cook until bottom is golden, 1 to 2 minutes, then flip. Immediately top crust with half the cheese, tomatoes, and ricotta, and continue cooking until bottom of pizza is golden, about another minute. Repeat with remaining dough.
Top with basil, red pepper flakes, and a drizzle of oil. Enjoy !