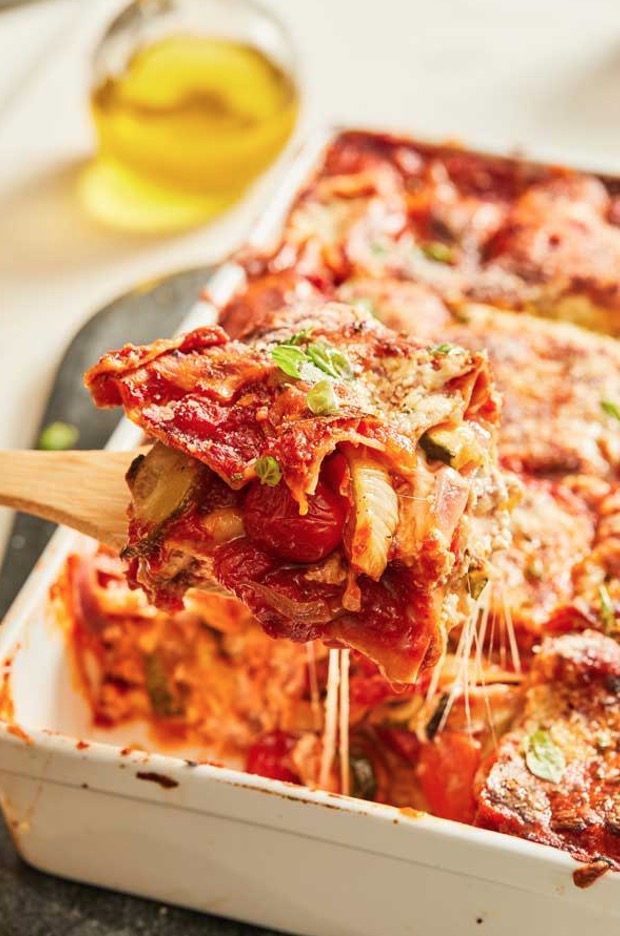 Best Vegetarian Lasagne
 This vegetarian lasagne recipe stars smoky-sweet roasted vegetables, creamy and melty cheeses and a tangy tomato sauce. Start the week off right and serve up this one as a tasty Meatless Monday meal.
INGREDIENTS
Roasted Vegetables:
1 large leek, white and light green parts, chopped
1 small red onion, chopped into ½" pieces
3 cloves garlic, peeled and roughly chopped
1 fennel bulb, chopped into ½" pieces
2 carrots, sliced into thin rounds
Handful baby Bella mushrooms, stemmed and halved
1 zucchini, sliced into ¼"-thick half moons
1 pint cherry tomatoes
Salt and pepper to taste
Ricotta Filling:
1 container Whole Milk Ricotta Cheese
1/4 cup chopped fresh Italian flat-leaf parsley
2 eggs
Salt and pepper to taste
Lasagne
1 Pack whole wheat lasagne
4 cloves garlic
1/2 cup water
1 tablespoon olive oil
2 cups grated provolone cheeseChopped fresh Italian flat-leaf parsley for garnish
DIRECTIONS
Preheat oven to 180 degrees. Line a large baking sheet with parchment paper.
To prepare roasted vegetables, toss the vegetables on the baking sheet with oil, salt and pepper. Roast for 25-30 minutes, or until golden brown and tender, stirring halfway through cook time. Remove from heat.
Meanwhile, cook jarred tomatoes, garlic, water and olive oil in a large saucepan over high heat. Bring the ingredients to a boil and then simmer until combined, about 25 minutes. Remove garlic and discard.
To prepare the filling, combine ricotta, ¾ cup Parmigiano-Reggiano and parsley in a mixing bowl. Mix in the eggs. Salt and pepper to taste.
Spread 1/3 of marinara sauce over the bottom of a baking dish. Arrange lasagne sheets over sauce, overlapping to fit. Dollop with ricotta mixture. Layer with roasted vegetables. Evenly sprinkle with 1/3 of the grated provolone. Spoon another 1/3 of marinara sauce over the cheese, using a spatula to cover. Repeat layering: lasagne noodles, dollops of ricotta mixture, roasted vegetables and grated cheese.
Top with remaining lasagne sheets, 1/3 of marinara sauce, 1/3 of grated provolone, remaining grated Parmigiano and parsley.
Cover dish with foil and bake for 45 minutes. Uncover and bake for another 10 minutes, or until cheese is hot and bubbly.
Let lasagne stand for 10 minutes. Serving sprinkled with parsley.