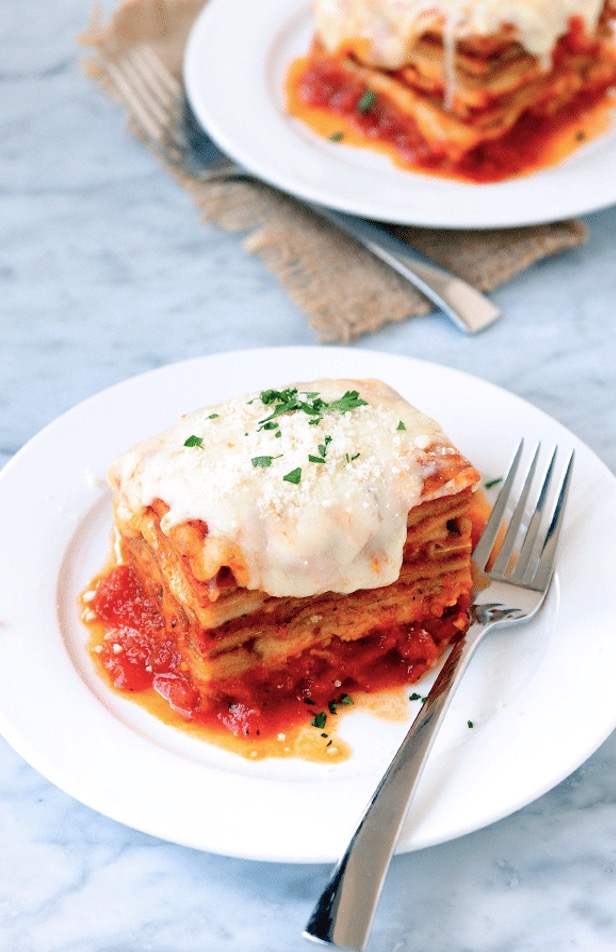 Layered Eggplant Parmigiana Lasagne
Take what you love about lasagne and the savory goodness of breaded eggplant… and put them into one delicious explosion of cheesy, Italian flavor.
INGREDIENTS
Preparing Eggplant:
3 tablespoons fresh Italian flat-leaf parsley, minced
1/4 cup grated Parmigiano-Reggiano
2 cups breadcrumbs
Salt and pepper
1 cup all-purpose flour
4 jumbo eggs, beaten lightly
2 large eggplants, sliced lengthwise
1/2 cup Olive
Assembly:
3 1/2 cups Marinara sauce
1 1/2 cups grated mozzarella
1 1/2 cups grated provolone
1 cup grated Parmigiano-Reggiano
DIRECTIONS
We recommend "sweating" your eggplant to remove as much moisture as possible. Simply place eggplant slices in a colander and sprinkle with Kosher salt. Allow eggplant to set for 30 minutes. Remove from colander and pat dry.
Combine breadcrumbs, parsley, 1/4 cup of grated Parmigiano-Reggiano and a pinch of salt and pepper to taste. Place breadcrumb mixture, flour and eggs in three separate dishes. First, dredge eggplant in flour, making sure to shake off any excess. Dip in beaten eggs, like the flour, making sure to let any excess drip off. Finally, dredge in breadcrumb mixture to coat well. Allow breaded eggplant to rest before frying.
Heat olive oil in a large saucepan on medium-high heat. Once oil is ready, which can be determined by tossing in a breadcrumb to see if it sizzles, fry eggplant until golden. Be sure to turn for even cooking, about 3 minutes per side. Remove eggplant from hot oil and onto a baking sheet lined with paper towels.
To assemble the layered dish, preheat oven to 280 degrees. Combine grated mozzarella, provolone and Parmigiano in a mixing bowl. Spread about 1/2 cup of Marinara sauce in the bottom of a casserole dish. Layer, next, with breaded eggplant, allowing pieces to slightly overlap. Top with 1 cup of marinara, and then cover evenly with cheese mixture. Repeat this layering process two more times.
Cover assembled dish with foil and bake for about 30 minutes, or until bubbling. Uncover, then bake to fully melt cheese for another 5 minutes.
Let stand for 15 minutes and serve.