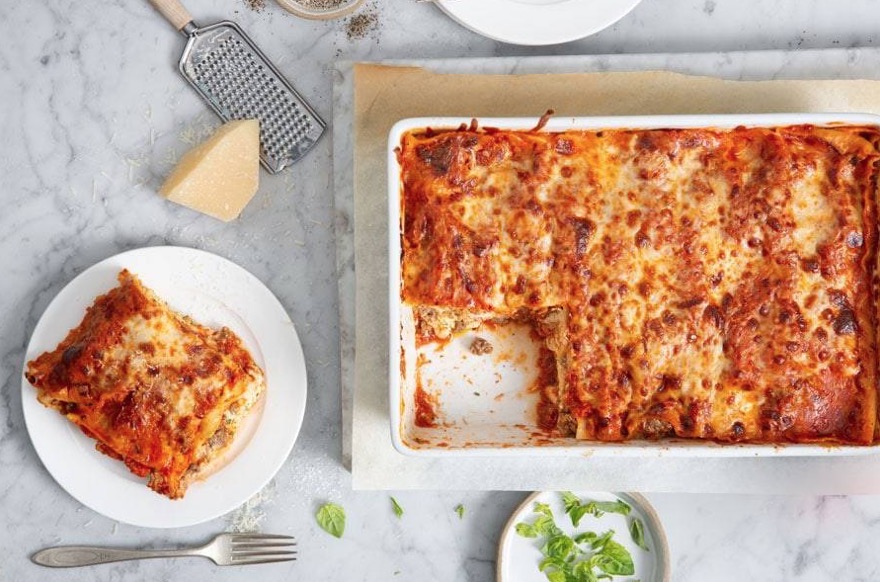 Everyone knows that Lasagne is THE best comfort food of all – even more so in the winter months when it's layers of ooey-gooey goodness warm your heart. If your Nanna didn't grace your Sunday table with a big casserole dish of baked lasagna, it's your turn to start the tradition. Here's how to create the perfect lasagna step by delicious step.
Before we dive into the process, here is a little Italian tidbit for you. In Italy, lasagne refers to the flat and expanded pasta sheet. The finished product is typically referred to as, "pasta al forno", or baked pasta. Traditionally, it is made with Parmigiano-Reggiano Béchamel (white sauce), and ragù (a meat-based tomato sauce). The dish is made by stacking lasagne sheets on top of each other with meats, vegetables, cheeses, and tomato sauce between. Layers and layers of flavour perfection!
Lasagne Noodles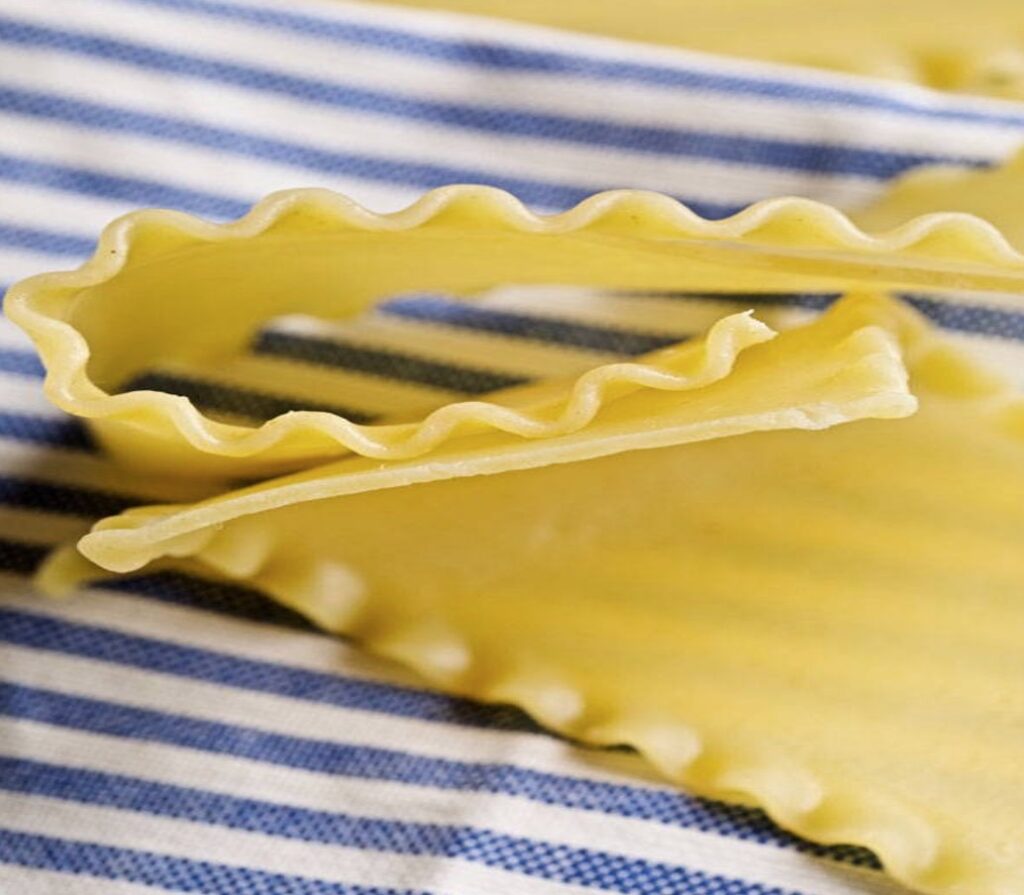 How Do I Cook Lasagne Noodles?
Think of the lasagne noodles as the mortar when laying bricks. It's important to create a strong foundation to stack the rest of the ingredients. You don't want the noodles too soft, or it will be a sloppy mess, nor too firm or you can't cut that perfect square slice. There is a "sweet spot" in cooking the noodles.
Here are some key pointers:
Start with quality pasta! You want a sturdy pasta made from Italian hard wheat to get a nice texture instead of a lower quality pasta that will essentially disappear in the sea of meat, bechamel, and cheese layers.
Bring your salted water to a roaring boil BEFORE adding the noodles. This will prevent sticking and make sure the individual noodles cook evenly.
Use the largest and deepest pot you have. Lasagna noodles are thick and long. You want your pasta to "swim" freely and not stick together. See tips below on how to slightly undercook the noodles.
Al dente lasagne noodles: follow the directions on the box minus 1 minute. After years of testing this seems to be the correct cooking time for lasagne noodles. They will absorb some of the sauce while cooking and get a bit softer while still holding their shape and keeping the right texture.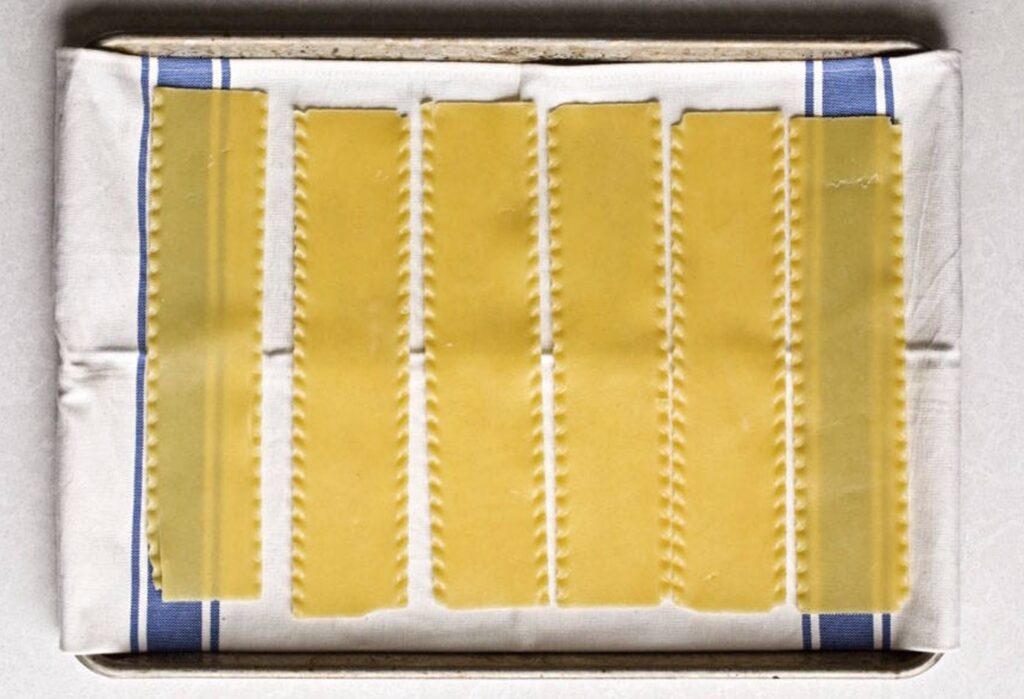 Drain the noodles. Do NOT leave your noodles in the pot of hot water while layering your lasagne. Cook all of the noodles and set aside before you start to assemble.
Do NOT rinse your noodles. You can go to pasta jail for doing this in Italy! When you rinse pasta you remove the necessary starches that help the noodles bind to the sauce ingredients.
Let the noodles cool before assembling. Do this by laying them on a clean and damp kitchen cloth and covering them with another damp cloth to separate the next layer of noodle sheets.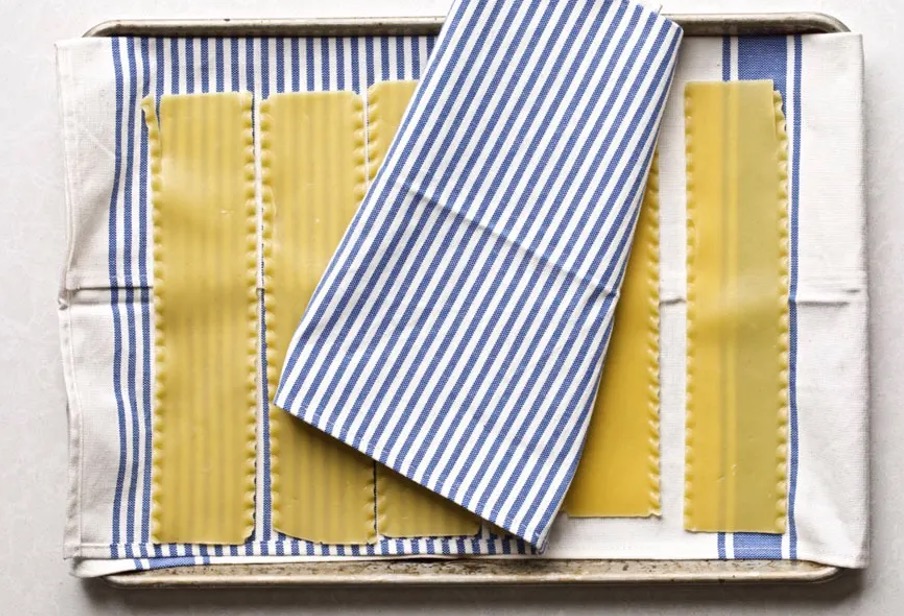 Lasagne Sauce
What Is The Best Sauce For Lasagne?
This is sort of like picking a favourite child! Impossible. There are several delicious types of sauces that work well in lasagne and they are all delicious in their own way. A general rule for lasagne sauces – make sure they aren't too runny or watery. The most popular is a tomato sauce, but in Italy however, it is common to include both a tomato sauce and a white sauce. Both sauces are important for the lasagne. A cream-based sauce keeps things moist and counters the acidity of the tomatoes.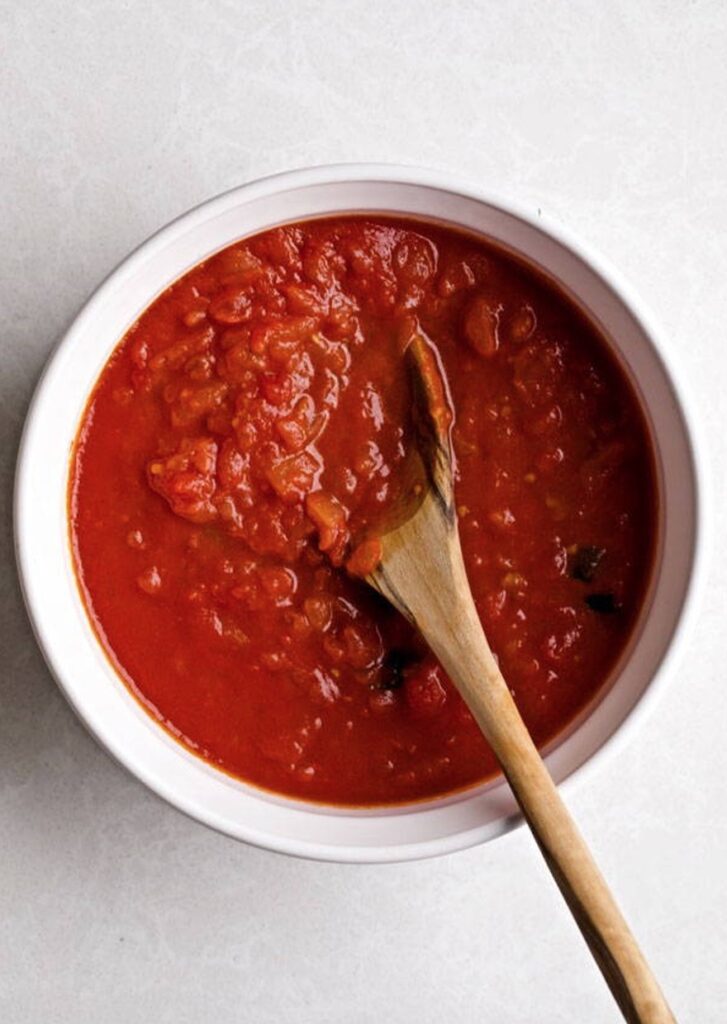 Lasagne Meat
What Type Of Meat Is Used In Lasagne?
Want to include information on adding meat to the lasagna. Making it a layer or made in the sauce to save a step. Include that all meat needs to be cooked and drained.
Here are a few popular lasagne meat options:
Ground beef
Ground chicken
Ground veal
Sausage
Mini meatballs
Pepperoni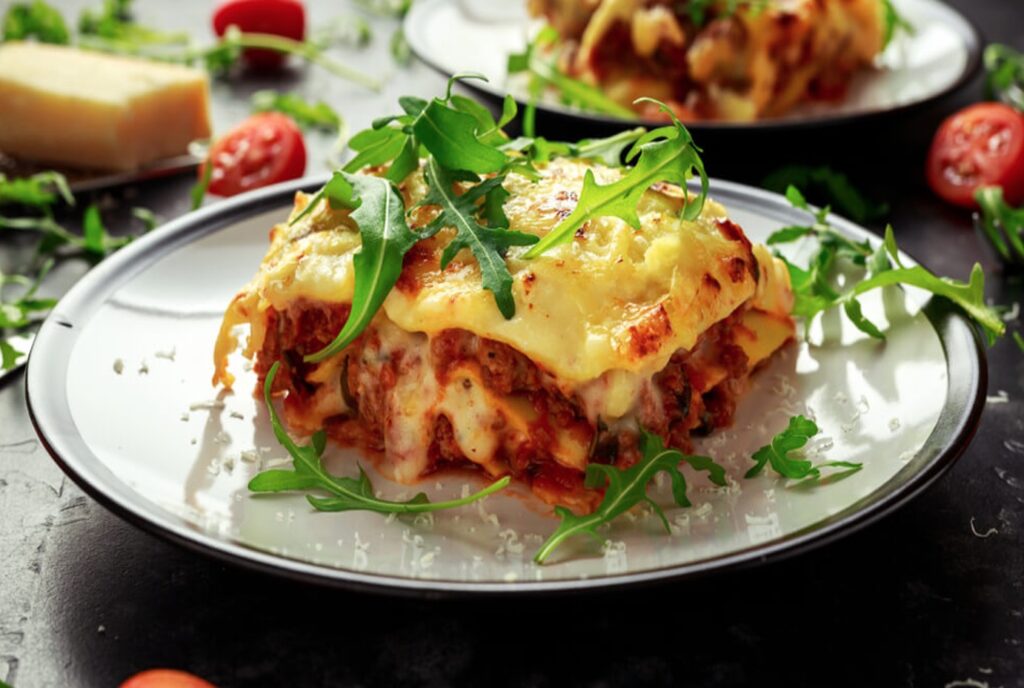 Lasagne Cheese
What Are The Best Cheeses For Lasagne?
Bechamel, ricotta and cottage cheese are great options for the creamy smooth layer of the lasagna that is nestled between the noodle sheet. It's personal preference, but Bechamel is traditionally used in Italy, Ricotta is usually seen in most classic American-style lasagne and cottage cheese is typically used as a low fat substitute for both.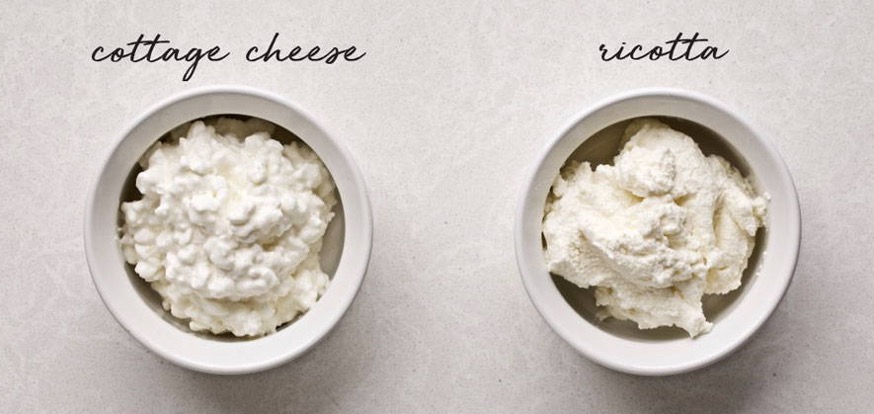 How to layer and assemble
The key in layering the lasagne is creating the right ratio of red and white sauces to noodles. We recommend 3 layers of noodles or more.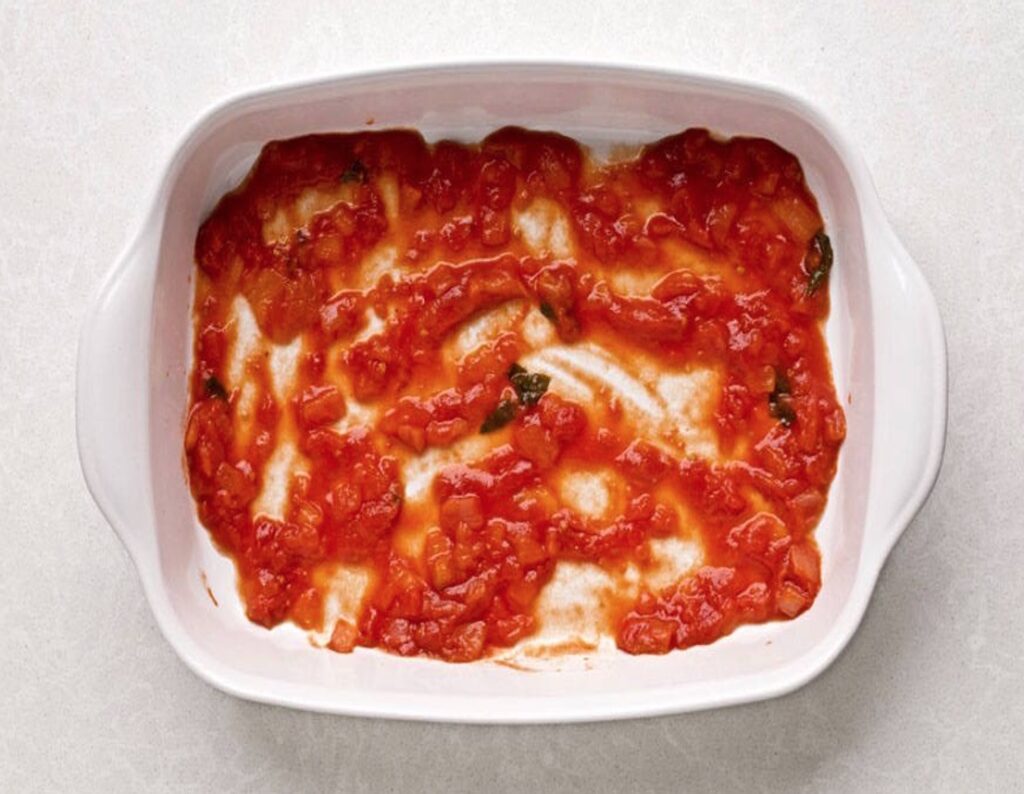 Spread a thin layer of red pasta sauce in the bottom of a lasagne baking dish. The add a layer of cooked or no-boil lasagne noodles. It's okay if you have to cut the sheets to fit the pan.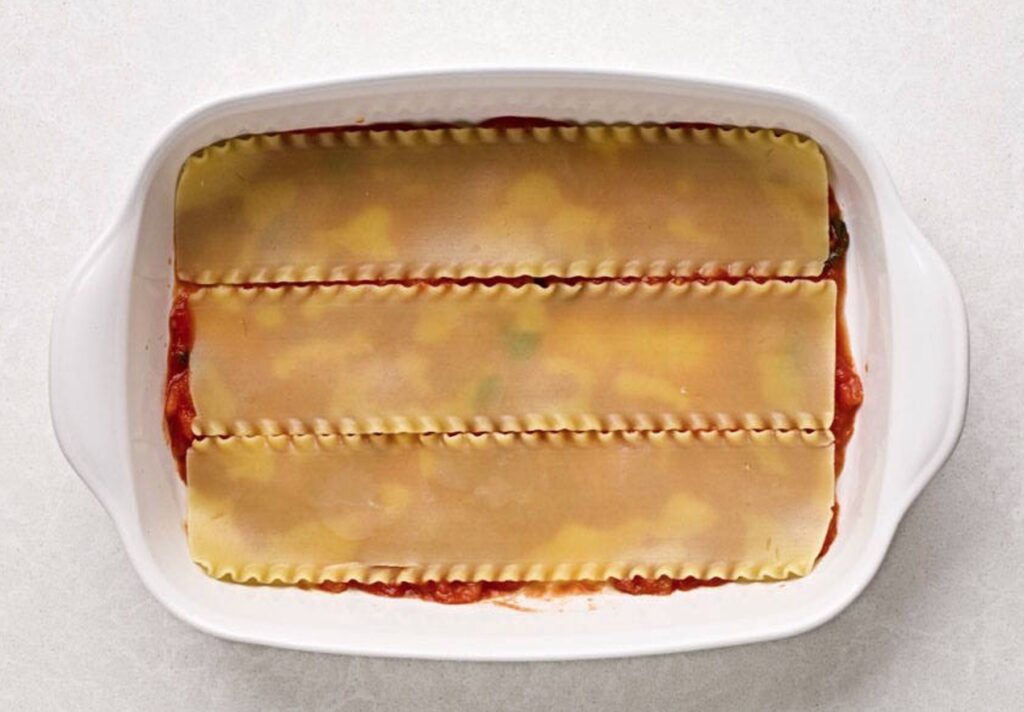 Spread an even layer, about ⅓ of the white sauce or ricotta mixture with the back of a spoon. Then spread an even layer, about ⅓ of the red sauce.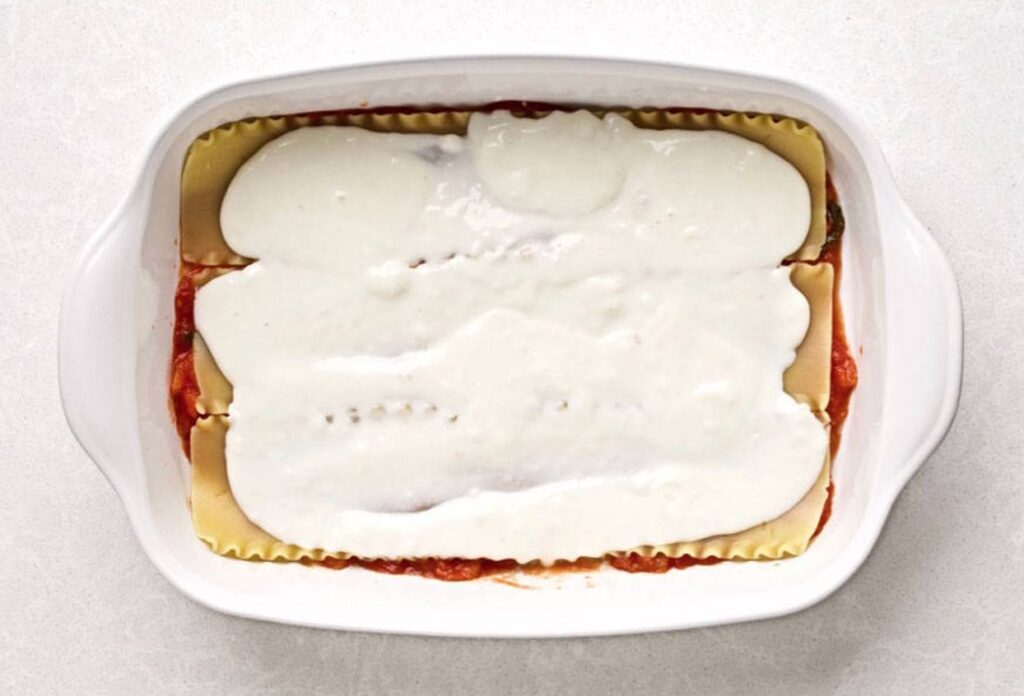 Spread a layer of the meat or vegetables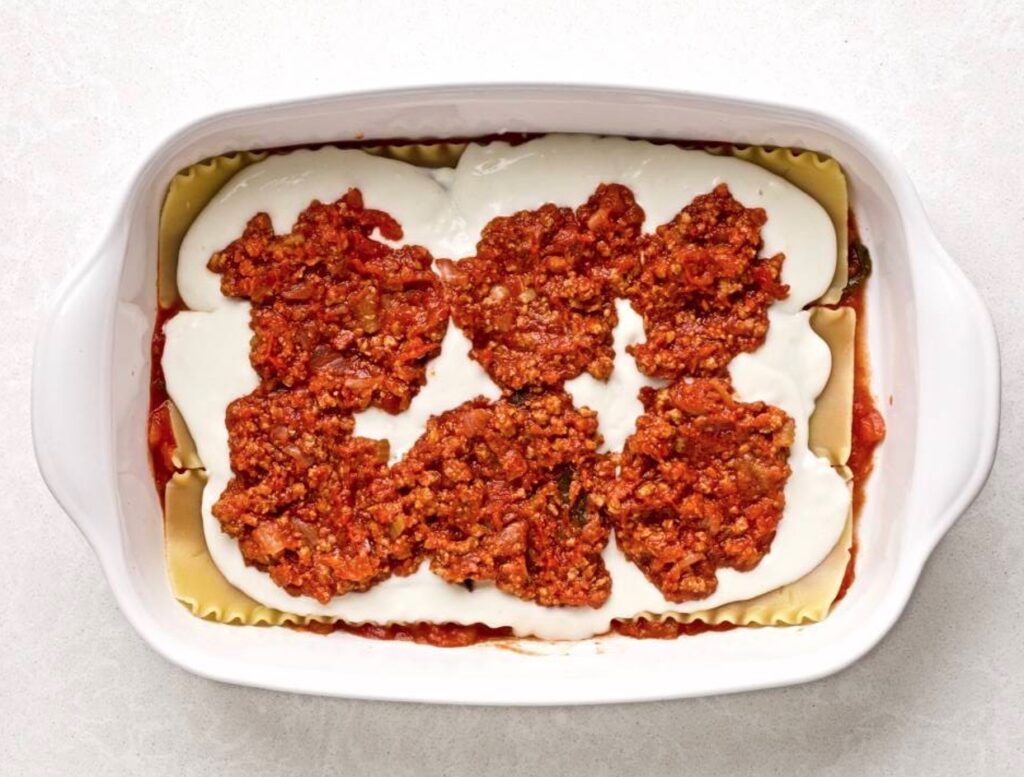 Spread a layer of melting cheese (mozzarella). Repeat these layers two more times.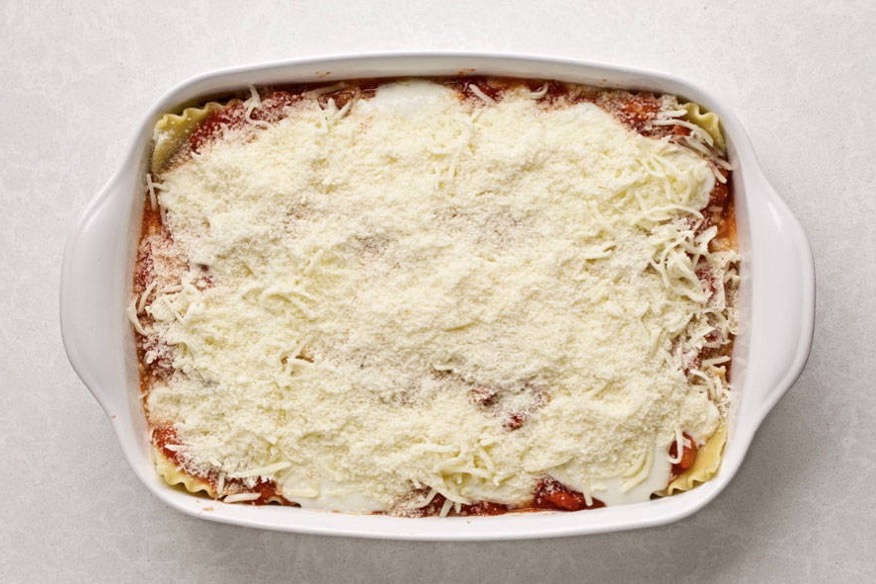 Top the lasagne with a final layer of noodles, white sauce/ricotta and red sauce, mozzarella, and Parmigiano Reggiano cheese.
Frequently Asked Questions
Does Lasagne Need To Be Covered With Foil When Baking?
Yes, to prevent it from drying out. We recommend removing the foil for the last 20 minutes of the bake time to brown the top.
How Long Do You Bake Lasagne?
For most recipes, bake the lasagne at 180 degrees for 45-65 minutes depending on the exact recipe.
Get it brown and bubbly. Don't forget to remove the foil covering on your lasagne for the last 15-20 minutes of cook time. As you know, a browned top with bubbling cheese is where it's at!
Let it rest. It's tempting not to cut into that lasagna as soon as it comes out of the oven, but you have to wait. Let the lasagne rest uncovered for at least 20-40 minutes to cool down to avoid a soupy mess. It needs time to set and firm up, this happens as it cools.
Can Lasagne Be Made Ahead Of Time?
Yes, you can make lasagna a day ahead of time. Fully assemble and refrigerate. We recommend that you pull the lasagne out of the refrigerator and bring to room temperature at least one hour ahead of baking to adhere to original bake times. Or add about 10 minutes to the bake time if baking a refrigerated pan of lasagna.
What Do I Do With Leftover Lasagne?
Lasagne leftovers… Oh yes! In fact, lasagna tastes even better the longer it sets. If you assemble and bake the lasagne ahead of time, it keeps in the fridge for about three days. To keep it longer, freeze it and reheat it before serving.
How Do I Freeze Lasagne?
Before lasagne is baked. Freezing the assembled lasagne before it is baked helps maintain the lasagna's sauce and noodle texture and prevent it from getting too soggy. After assembling the lasagne in an oven safe pan, wrap the top with plastic wrap and aluminum foil. Then, write the date and freeze until ready to use! When you're ready to use your frozen lasagne, transfer it to the refrigerator and let it defrost overnight. Then, take it out of the fridge and let it sit at room temperature for 30 minutes-1 hour while your oven preheats. Bake and Pronto! Lasagne is ready!After lasagne is baked. Make sure your lasagne cools before freezing it. You can freeze the large part that is leftover or break it up into individual servings first. Transfer the slices of lasagne into freezer-safe food containers or wrap the slices first in plastic wrap and then in foil, and store them in a freezer storage bag. To reheat the large or individual slices- simply remove the lasagne's freezer wrappings, cover the top with new foil and bake until heated through. You can also microwave it. That's it! Lunch or dinner is ready on a busy day.