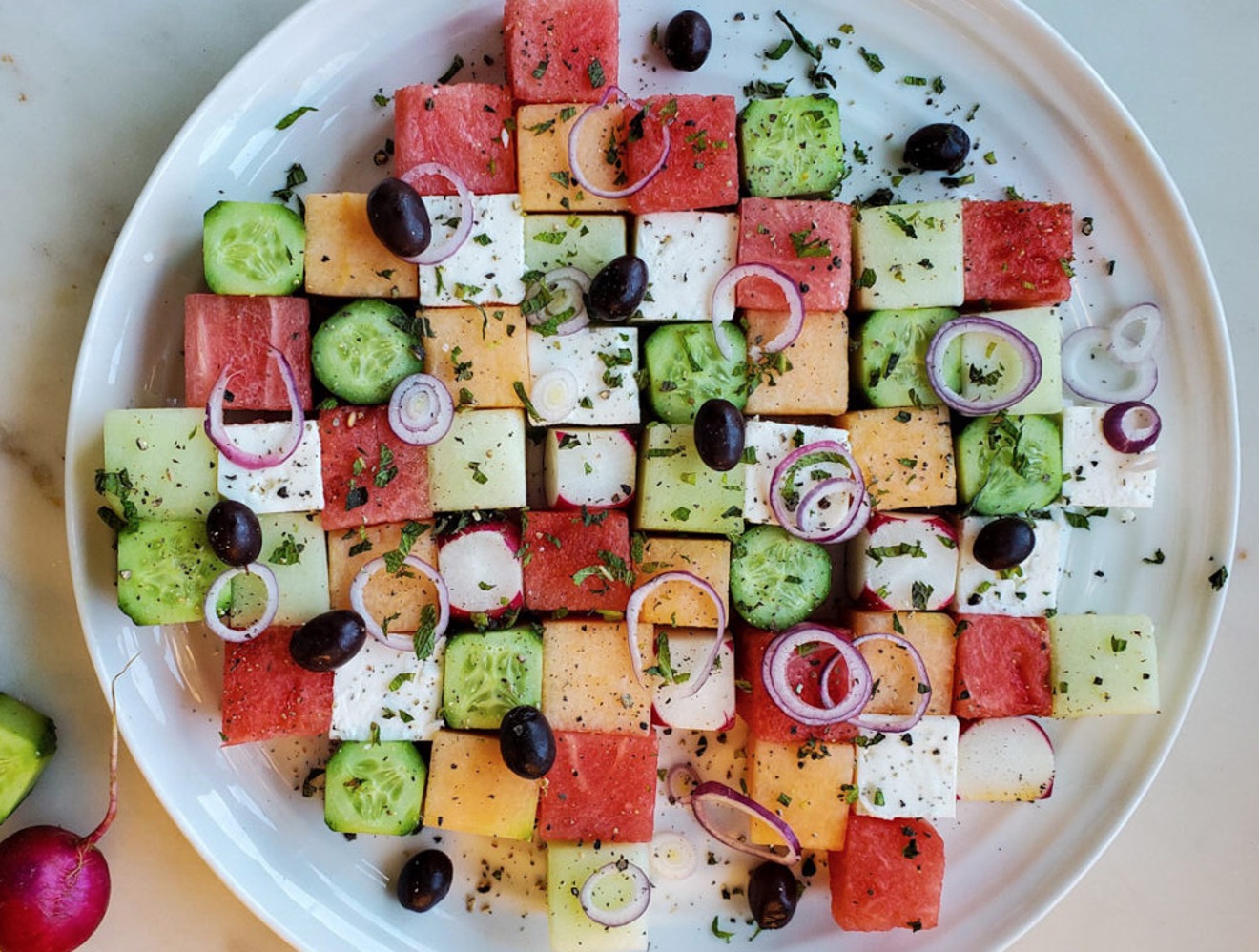 1. Melon and Feta Teris Salad
Simple combinations of melon, feta, olives, red onions, and various add-ons are just some of the most refreshing flavours we can enjoy this time of year. The melon has the best hydrating feature, as does the cucumber, and the play of the salty feta and briny olives is magnificent.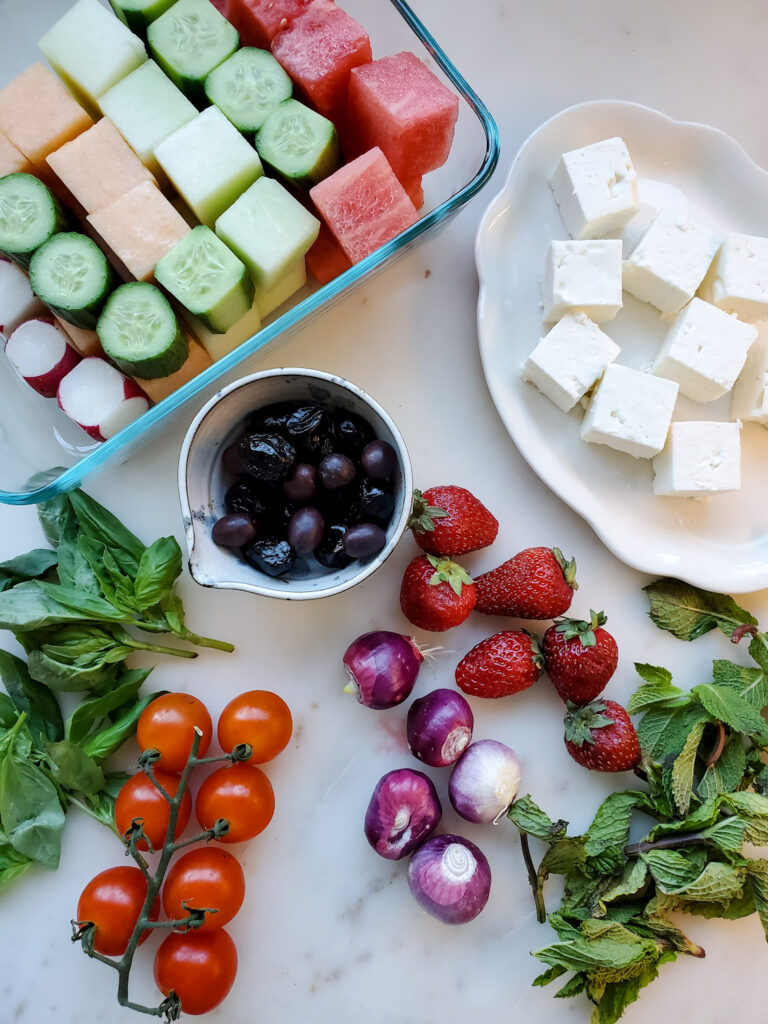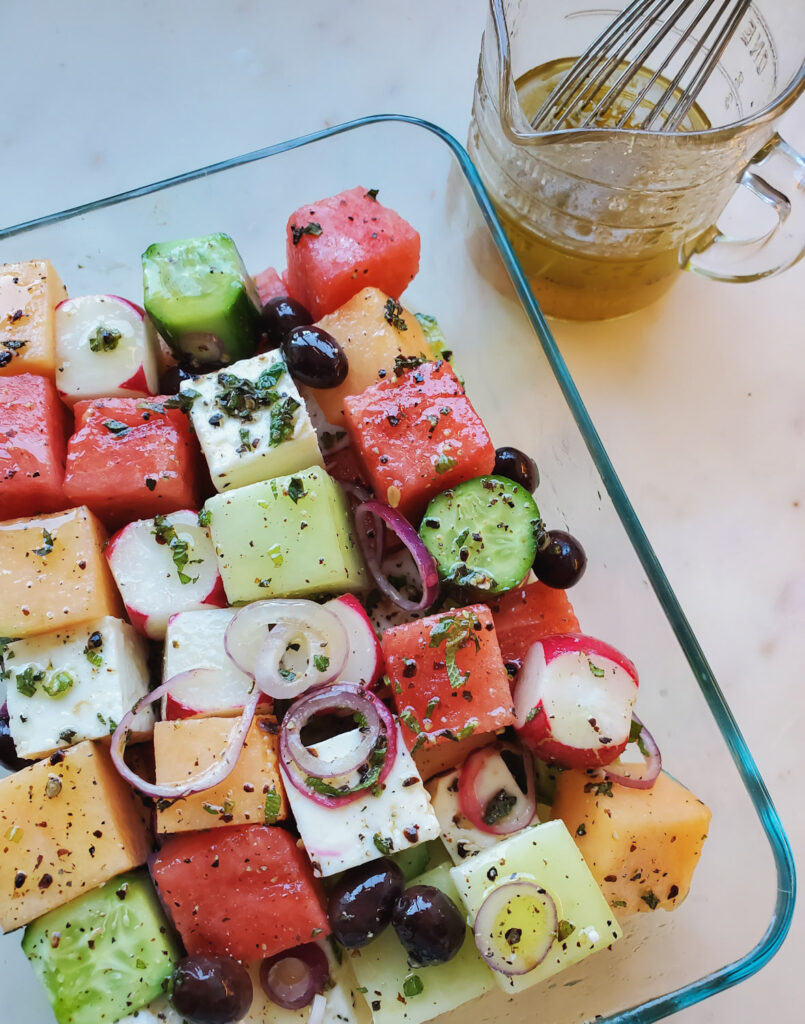 INGREDIENTS:
1 large watermelon
1/4 medium canteloupe
1/4 medium honeydew melon
2 mini or Persian cucumbers cut and trimmed on the sides if needed
1 cup cubed Feta approximate
6-10 radishes cut into cubes or thereabout
1/3 cup black or kalamata olives
1/4 red onion cut into thin rings
fresh mint chopped for garnish
flakey sea salt and coarse black pepper for finishing
1/2 tsp sumac for finishing
Honey Lemon Vinaigrette
1/2 cup olive oil
3 tbsp fresh lemon juice
2-3 tbsp runny honey
salt and pepper
INSTRUCTIONS:
Honey Lemon Vinaigrette, made in advance
Whisk all the vinaigrette ingredients together. Taste and re-season as desired.
This can be stored in the fridge till needed. Bring to room temperature before using.
Salad
Arrange the melons, cucumbers, feta and radishes onto a platter.
Scatter the olives and red onions over everything.
Drizzle with the dressing. Finish with the mint and a sprinkling of flakey salt and coarse pepper. This can sit for a while before serving. If you are preparing this in advance, you may hold off on the mint and salt and pepper. Also, at the very end, sprinkle sumac over everything.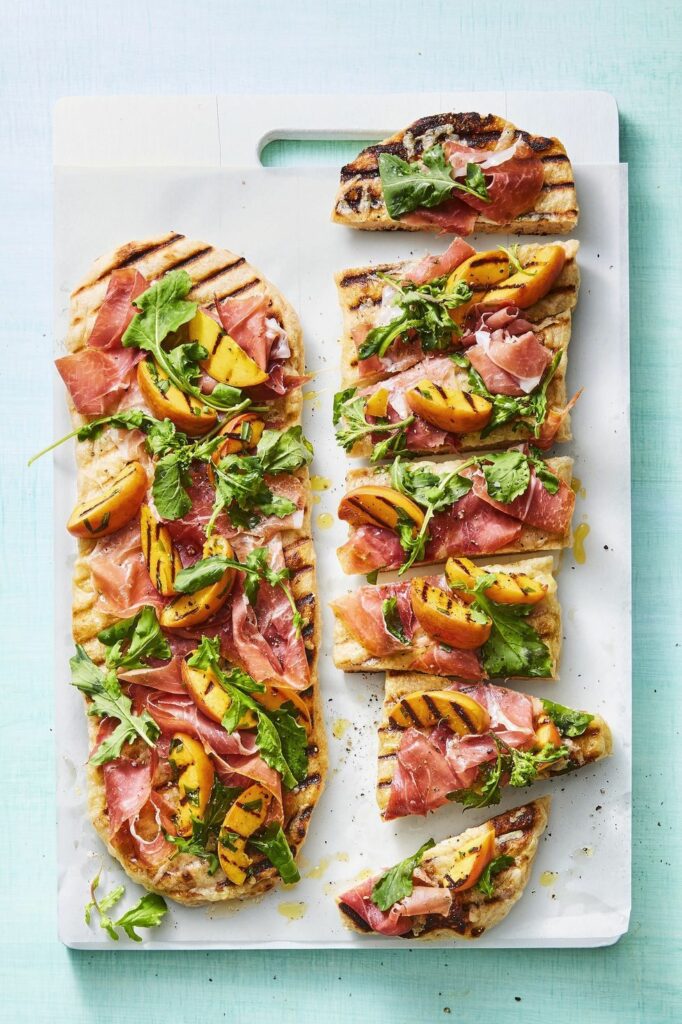 2. Peach and Prosciutto Flatbreads
Who knew everything you needed to make your pizzas taste wood-fired was already in your backyard? Fire up your grill to give these flatbreads a beautiful char.
INGREDIENTS:
3 peaches or nectarines, each pitted and cut into 8 wedges
1 tsp. olive oil
Kosher salt and pepper
2 tbsp. fresh lemon juice
2 tsp. chopped tarragon
3 oz. Gruyère cheese, grated
2 c. baby arugula
4 oz. thinly sliced prosciutto
DIRECTIONS:
Heat grill to medium. Divide pizza dough in half and shape each piece into rectangles.
Toss peaches with oil and 1/4 teaspoon each salt and pepper. Grill dough and peaches until lightly charred, 3 to 5 minutes per side. Transfer peaches to large bowl and pizza dough to cutting board.
Toss peaches with lemon juice, tarragon, and pinch each salt and pepper. Sprinkle Gruyère over dough and grill, covered, until melted, 2 to 3 minutes.
Add arugula to peaches and toss to coat. Top cheesy pizza dough with prosciutto and peach-arugula salad.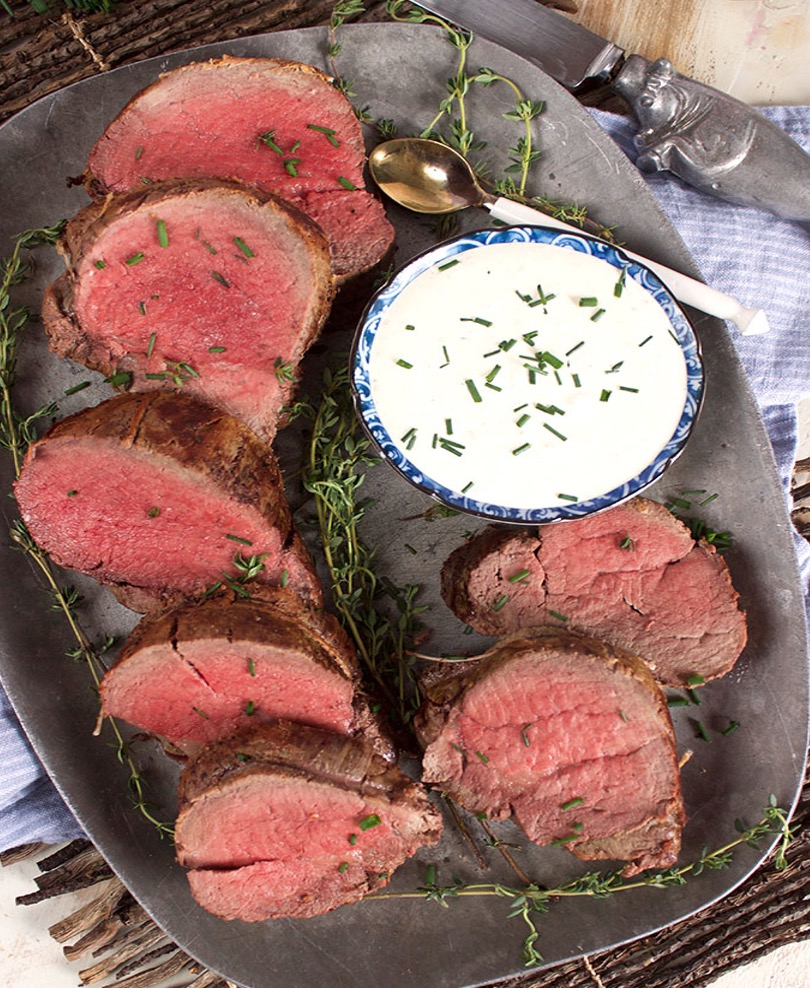 3. Cold Roasted Tenderloin of Beef with Creamy Horseradish Sauce
Juicy herbed beef tenderloin tastes delicious when accompanied by Creamy Horseradish Sauce. English cucumber adds an unexpected crunch to the sauce. Have a small bowl of horseradish available for guests who enjoy an extra hit of pungent heat.
INGREDIENTS:
tablespoons chopped fresh rosemary
2 tablespoons chopped fresh thyme
tablespoon kosher salt
1tablespoon freshly ground black pepper
3 tablespoons olive oil
6 garlic cloves, minced
1kg trimmed and tied beef tenderloin
Garnish: fresh rosemary sprigs
For the Sauce:
Sour cream
Prepared Horseradish
Dijon Mustard
Apple Cider Vinegar
Worcestershire sauce
Chives
DIRECTIONS:
Preheat oven to 180 degrees. Combine first 6 ingredients in a small bowl; rub mixture over beef. Place beef in a large oven pan.
Bake for 10 minutes. Reduce oven temperature to 100 degrees and bake for 30 more minutes or until desired degree of doneness. Remove from oven, and cool until room temperature (1 hour).
Meanwhile, prepare Creamy Horseradish Sauce.
Wrap beef in plastic wrap; chill overnight. Cut roast into thin slices; arrange slices on a serving platter. Garnish, if desired. Serve with Creamy Horseradish Sauce.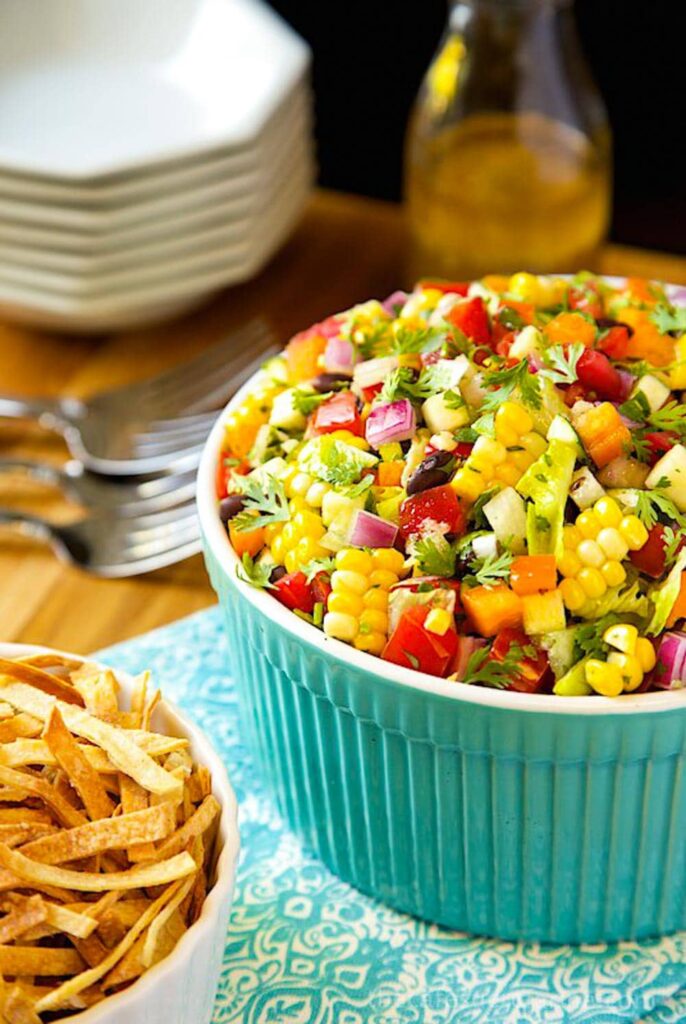 4. Mexican Chopped Salad
This Mexican Chopped Salad is perfect with any Mexican meal and always gets rave reviews! It's also delicious spooned over chicken, shrimp or pork!
INGREDIENTS:
¼ cup fresh lime juice
2 tablespoons honey
½ teaspoon cumin
1 clove garlic finely minced
½ teaspoon salt
2 tablespoons canola oil
2 tablespoons extra virgin olive oil
freshly ground black pepper
taste and add salt if needed
1 medium head romaine lettuce chopped
1 medium bell pepper diced, any colour (I used orange)
½ medium red onion diced
½ medium jicama peeled and diced
1 medium zucchini diced
4 medium tomatoes seeded and diced
4 ears corn if fresh corn is not in season, substitute 1 ½ cups of sweet, tiny frozen corn
1 ½ cups canned black beans drained and rinsed
½ cup finely chopped cilantro plus whole cilantro leaves for garnish, if desired
INSTRUCTIONS:
For the dressing, combine lime juice, honey, cumin garlic and salt. In a slow, steady stream, add the oils, stirring continuously with a fork or small whisk. Taste and add more salt and pepper, if needed. Set aside.
For the salad, place corn, two ears at a time, in the microwave and cook for 3 ½ minutes. Remove from microwave with a hot pad and allow to cool for 5 minutes. After cooling, cut bottom end of corn off, about 1 ½ inches from end. Pull back husk and silks (almost all of the silk should easily pull away). Cut kernels from husks and set aside. Combine corn and other salad ingredients in a large bowl. Stir to combine. Add dressing and stir to coat all ingredients. Garnish with cilantro leaves, if desired. Serve with tortilla strips on top or place a bowl on the side and let guests help themselves.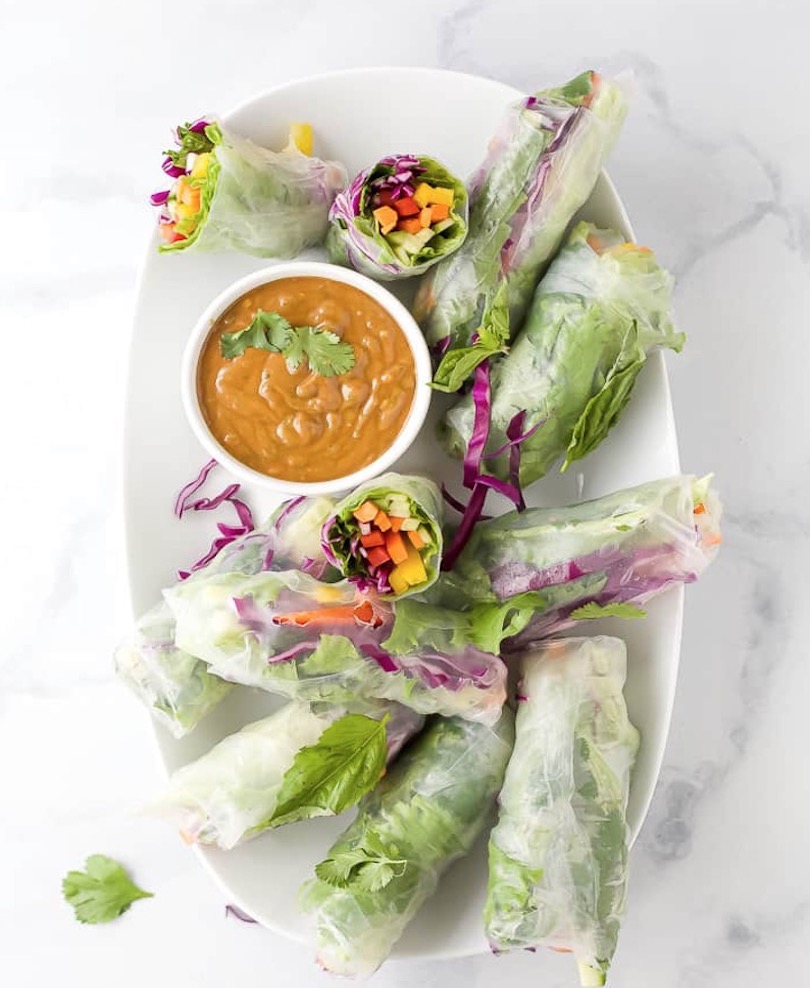 Fresh Vegetable Summer Rolls with Peanut Dipping Sauce
Bursting with fresh cucumber, pickled carrots, peppers and more, these summer rolls are the ultimate veggie appetiser recipe. They're paired with a flavourful peanut dipping sauce that adds the perfect kick of heat! There's no cooking involved in this dish, and the marinating time is only 15 minutes. It comes together quickly and easily, and it makes a lovely picnic snack. Once you dip a roll in the spicy peanut sauce and take a bite, you'll fall in love!
INGREDIENTS:
For the Pickled Carrots
Carrots: Julienned.
Rice Wine Vinegar: This delicate, slightly sweet vinegar brings out so much flavour from the carrots.
Sugar: A natural preservative, sugar is a staple pickling ingredient.
Salt: Just a dash.
For the Summer Rolls
Rice Paper: 8-10 sheets.
Cucumber: Julienned.
Purple Cabbage: Thinly sliced.
Cilantro Leaves: You'll need 1/3 cup.
Basil Leaves: For flavor!
Peppers: Red and yellow, julienned.
Lettuce: Use green leaf lettuce for this summer rolls recipe.
For the Summer Rolls
Rice Paper: 8-10 sheets.
Cucumber: Julienned.
Purple Cabbage: Thinly sliced.
Cilantro Leaves: You'll need 1/3 cup.
Basil Leaves: For flavour!
Peppers: Red and yellow, julienned.
Lettuce: Use green leaf lettuce for this summer rolls recipe.
For the Spicy Peanut Sauce
Peanut Butter: Since this is a dipping sauce, be sure to use creamy peanut butter.
Coconut Aminos: You could also use tamari (gluten-free soy sauce).
Fresh Cilantro: Diced.
Raw Honey: Just a tablespoon.
Fresh Lime Juice: You'll need about 1 lime's worth of juice.
Fresh Ginger: Minced.
Garlic: One clove, minced.
Red Pepper Flakes: To spice things up!
DIRECTIONS:
Pickle Carrots: Add the carrots, rice wine vinegar, sugar and salt to a medium bowl. Toss to coat the carrots and let them marinate for 15 minutes.
Soak Rice Papers: Fill a shallow round pan of at least 9 inches with 1 inch of warm water. Soak a single rice paper in the water for 10-15 seconds. Place the rice paper on a wet working space (such as a cutting board).
Add Fillings: On the bottom 1/3 of the rice paper (the side closest to you), place a few cilantro leaves, 1 green leaf lettuce, 2-3 red pepper strips, 2-3 yellow pepper strips, 3-4 cucumber slices, 4-5 carrot slices, a handful of purple cabbage and 1 basil leaf.
Wrap: Bring the bottom edge of the rice paper up over the fillings and gently pull the fillings in. Fold in the sides and continue rolling away from you, like you would a burrito, until everything is sealed. Continue with the remaining sheets of rice paper and prepared veggies.
Enjoy! Serve immediately with peanut sauce.