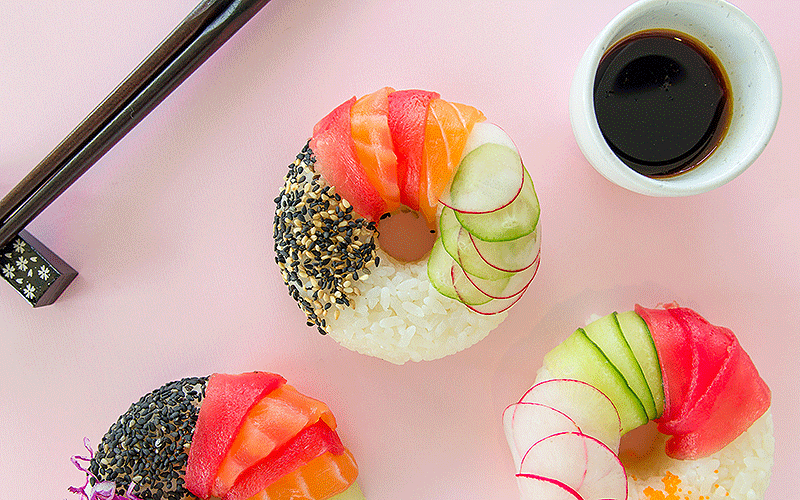 This new sushi trend is taking the world by storm. Try it out on your menu or make some at home, they are beautiful to look at and simply delicious to eat. Sushi rice is shaped into doughnut rings and then covered with thin slices of raw fish and other sushi ingredients. Let you creativity lose, the possibilities are endless!
HOW TO MAKE SUSHI DOUGHNUTS
Prepare the toppings: Slice the tuna and salmon very thinly
Slice the cucumber in half and again in half length wise. Using a mandolin on a very thin setting, slice the cucumbers into spears, lengthwise. Slice the radishes on the mandolin.
Make the donuts: Working around the doughnut mould in batches, press the fish into the bottom of the mould, then the cucumbers, then the radishes, then spoon in the salmon roe, and sprinkle in the sesame seeds. Repeat with each mould. You can mix up the order.
Finally, press in the rice on top of the other ingredients, making the top of the rice as flat as possible. Place the mould in the refrigerator for at least 5 minutes.
Remove from the refrigerator and place a flat plate or tray on top of the mould and flip over the mould. Carefully remove the mould from the donuts making sure that none of the ingredients are still inside the mould.
Top the doughnuts with slices of chives and serve with soy sauce or Ponzu sauce, pickled ginger, and wasabi paste.
HOW TO MAKE SUSHI RICE
Thoroughly rinse 1½ cups of sushi rice (short-grain) until water is clear and not muddy. Place in a rice cooker, along with 2 cups water. Cook until button pops up and light changes to "warm."
Meanwhile, in a small sauce pot, combine 3 tablespoons rice vinegar, 2 tablespoons sugar, and 1 teaspoon salt. Dissolve over medium heat but do not boil. Remove from heat and stir. Set aside to cool. Once rice is finished, let sit in the steamer for 5 minutes. Remove rice and place into a wooden, or non-reactive bowl. Using a wooden or plastic paddle, gently fold in the vinegar mixture until well combined. Do not squish the grains! Let rice cool to room temperature before handling.