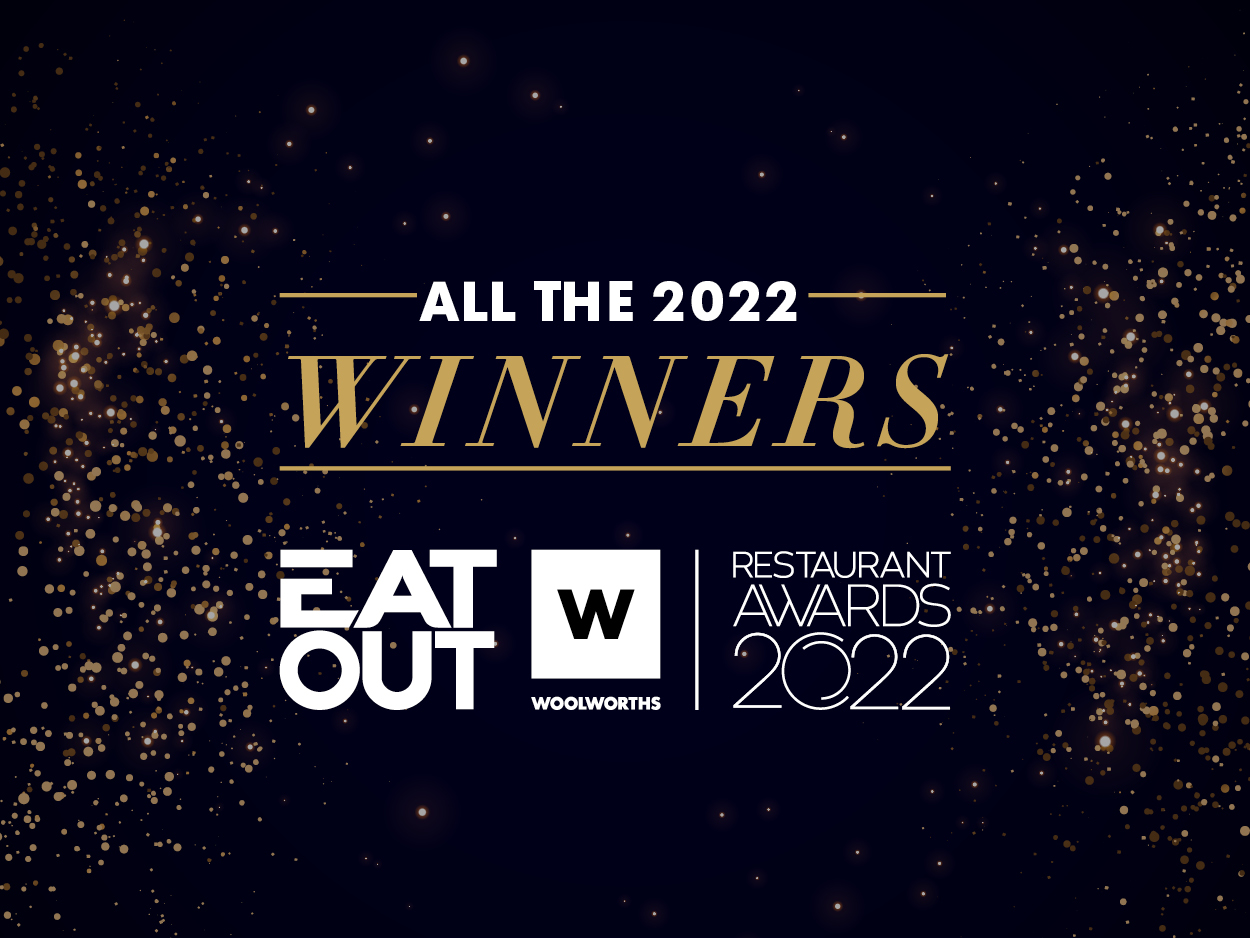 The top restaurants in South Africa (many of whom we are proud to call our longstanding clients) were announced at the prestigious 2022 Eat Out Woolworths Restaurant Awards on Sunday 20 November at GrandWest in Cape Town. The industry was celebrated in a glitzy display of gourmet food, trend setting drinks and fantastic entertainment, which had over 700 guests, including some of SA's top celebrities, roaring in multiple standing ovations.
After a two-year COVID hiatus, the event was a huge success and a testament to the incredible resilience of our industry. This year opened a new chapter by introducing a star rating system, instead of ranking restaurants in a top 20. This means more restaurants across the spectrum of dining were honoured – from fine dining to casual cafes.
To be included, each restaurant had to achieve a minimum rating of 70 points out of 100. This was based on several factors including the quality of their food, wine list, décor, ambience and service.  One star was awarded to those restaurants who scored 70 – 80, two stars to those scoring 80 – 90, and three stars to those scoring 90+, with Restaurant of the Year awarded to the restaurant with the highest score.
The highly respected judging panel included Michelin-starred chef and restaurateur Jan Hendrik van der Westhuizen, chef Karen Dudley, sommelier Moses Magwaza, food activist and cookbook author Mokgadi Itsweng, and food writer and broadcaster Anna Trapido.
Here are the restaurants that were allocated stars, plus the special award winners:
1 STAR RESTAURANTS
Beyond, Constantia Cape Town
Chefs Warehouse Tintswalo, Hout Bay, Cape Town
Clara's Barn, Stellenbosch
Culinary Table, Lanseria
Emazulwini, Waterfront, Cape Town
Epice, Franschhoek
Farro, Botrivier
Forti Grill & Bar Menlyn Pretoria,
Hemelhuijs, Cape Town CBD
Indochine, Stellenbosch
Les Creatifs Restaurant, Bryanston, Johannesburg
Marble Restaurant, Rosebank, Johannesburg
Modern Tailors, Rosebank, Johannesburg
Ouzeri, Cape Town CBD
Post & Pepper, Stellenbosch
Riva Fish Restaurant, De Waterkant, Cape Town
Rust en Vrede, Stellenbosch
Rykaart's, Stellenbosch
Sejour, Houghton Estate, Johannesburg
The Melting Pot, Elgin
The Shortmarket Club JHB, Rosebank, Johannesburg
Table at De Meye, Stellenbosch
TTK Fledgelings, Cape Town CBD
Waterside, Waterfront, Cape Town
The Werf Restaurant at Boschendal, Franschhoek
Ukko, Bryanston, Johannesburg
2 STAR RESTAURANTS
Arkeste, Franschhoek
Belly of The Beast, Cape Town CBD
Chefs Warehouse Beau Constantia, Cape Town
ëlgr, Cape Town CBD
Foxcroft, Constantia, Cape Town
FYN, Cape Town CBD
La Petite Colombe, Franschhoek
Spek en Bone, Stellenbosch
The Potluck Club, Woodstock, Cape Town
The Test Kitchen Carbon, Rosebank, Johannesburg
Zioux, Sandton, Johannesburg
3 STAR RESTAURANTS
La Colombe, Constantia, Cape Town
Pier, Waterfront, Cape Town
Salsify at The Roundhouse, Camps Bay
The LivingRoom at Summerhill Estate, Cowies Hill
Wolfgat, Paternoster
SPECIAL AWARDS:
Eat Out Woolworths Restaurant of The Year – The LivingRoom at Summerhill Guest Estate
Eat Out Woolworths Financial Services Chef of The Year – John Norris-Rogers of PIER
Eat Out WCellar Wine Service Award – Victor Okolo from Salsify at The Roundhouse
Eat Out Naked Malt Rising Star Award – Mmabatho Molefe from Emazulwini
Eat Out Woolworths Financial Services Service Excellence Award – Forti Grill & Bar in Menlyn
Eat Out Valpré Lannice Snyman Lifetime Achievement Award – Rudi Liebenberg
Eat Out Woolworths Lockdown Innovation Award – Liam Tomlin
Eat Out Woolworths Sustainability Award – FABER at Avondale
Eat Out VISI Style Award – Zioux
Eat Out Stella Artois Best Destination Restaurant Award – Nevermind in Cape St Francis
Eat Out Woolworths Icon Award – La Madeleine in Pretoria
Eat Out Retail Capital Best New Restaurant Award – Dusk in Stellenbosch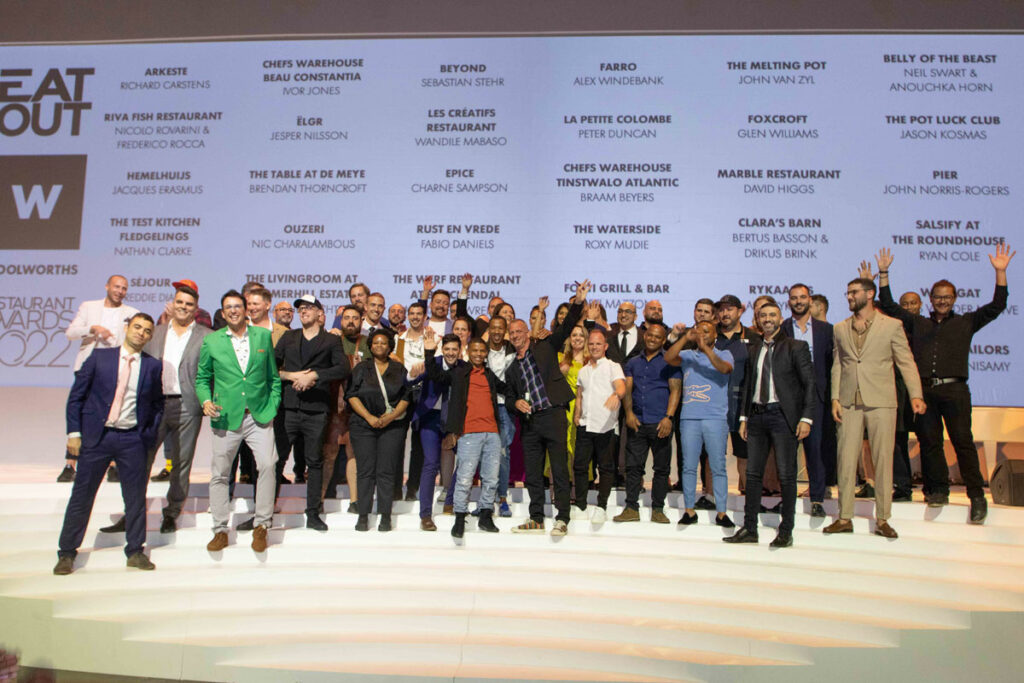 Here's wishing all a big congratulations and continued success in the years ahead!