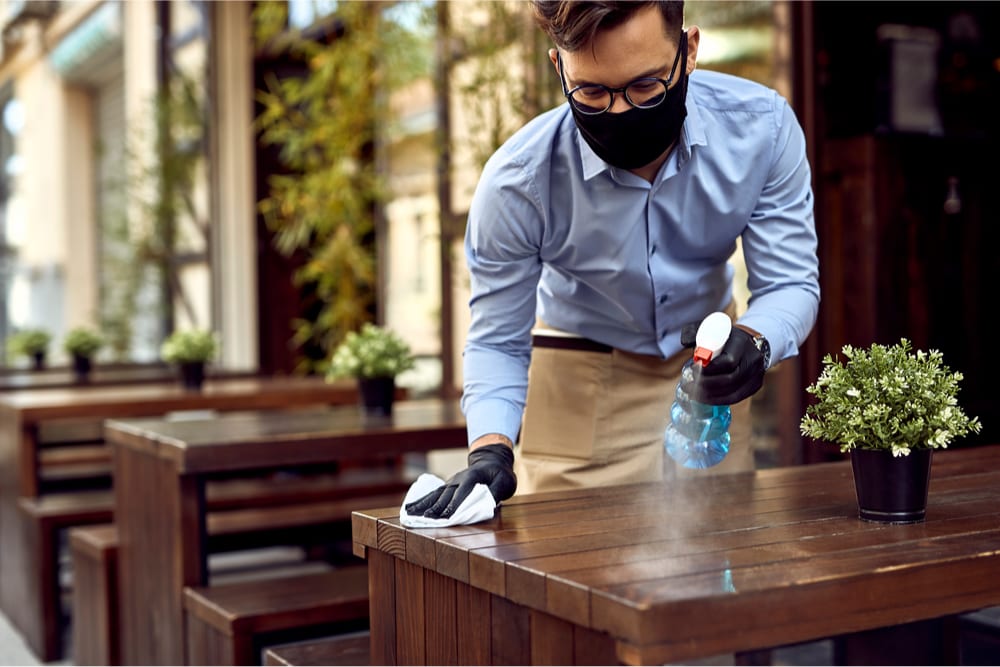 In the current situation of maximum hygiene requirements due to COVID-19, it is necessary to incorporate stringent preventative measures. As South Africa's largest Catering Supplies Company we are here to help, and have extended our range with products you can rely on to get you through this challenging time.
Here are our Top COVID Tips…
PREVENTATIVE MEASURES WHEN FOOD IS RECEIVED
Remove the packaging of the raw materials received (cardboard box, plastic bag) whether or not the food is packed inside. This packaging is the outermost wrapping, used during distribution and transport.
Packaging that cannot be removed and that has been in contact with the exterior during the delivery process should be disinfected.
In the case of fresh produce, such as vegetables, swap the supplier's container for a clean, disinfected container in the reception zone.
Delivery notes should be left on the table to avoid contact with the supplier and should always remain in this reception zone.
All devices that are used (thermometers, pens, etc.) should always be used preferably by the same person. If they are shared, they should be disinfected after each use.
After receiving and /or handling packages /orders the receiving zone should be cleaned and disinfected and staff must wash their hands with a disinfectant soap and water.
All foods received must be checked to ensure that the containers and packaging are intact, the food temperature is correct, food labelling and shelf-life is correct, it has been transported in adequate hygiene conditions and that the delivery notes are correct.
Before the products received are changed to the establishment's own containers, check that they are clean and have been disinfected.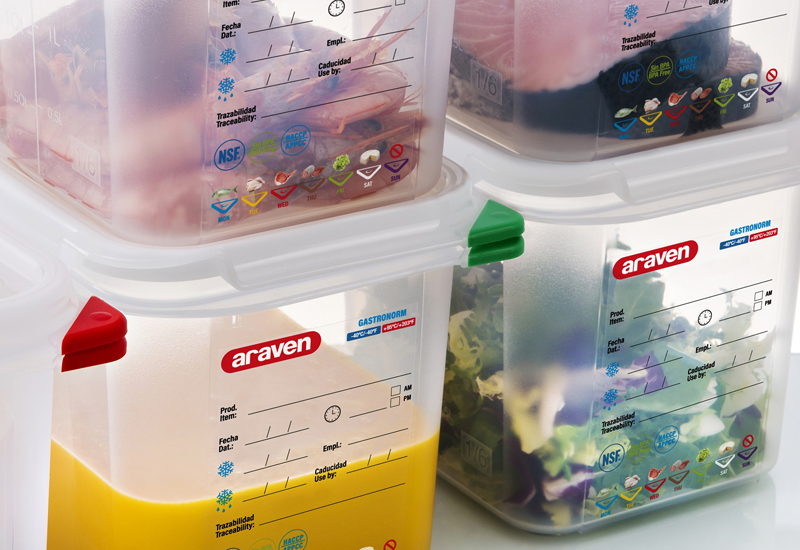 PREVENTATIVE MEASURES DURING FOOD PREPARATION
Food handling staff must use a face mask when handling food that is served raw and when plating up food. Also, when the activity he/she is carrying out does not allow physical distancing between other people, a face mask must be worn.
Protect all utensils that are going to be in contact with raw foods, that are not going to undergo heat treatment, from environmental exposure.
Protect all foods until they are processed.
Once cooked, protect foods until plating up.
Protect cold dishes using lids, plate covers, transparent film, aluminium foil, etc. and keep them refrigerated until they are served.

PREVENTIVE CLEANING MEASURES
Reinforce hygiene practices among staff.
Step up cleaning and disinfecting processes of the facilities, equipment and surfaces, utensils, and food containers.
Protect kitchenware and kitchen utensils from environmental exposure.
The World Health Organization reports that deep cleaning of environmental surfaces with water and detergent and the application of commonly used disinfectants (such as sodium hypochlorite: bleach) are sufficiently effective procedures.
Disinfection of surfaces can be carried out with different products. To disinfect surfaces effectively you can use: 62-71% ethanol, 0.5% hydrogen peroxide, 0.1% sodium hypochlorite (bleach) for 1 minute. Other biocidal agents such as 0.05-0.2% benzalkonium chloride or 0.02% chlorhexadine diglutonate are less effective .
In the case of stainless steel surfaces such as tables, supports and machinery, the recommendation is to use chlorine-free disinfectants, such as peroxide or phenol disinfectants or any of the virucide products since bleach attacks this material when the surface has a scratch or crack.
For surfaces that are going to come into contact with food, use specific disinfectants for food-contact surfaces and materials.
To ensure effective disinfection follow the manufacturer's indications (always keep technical data sheets).
Do not mix disinfectants as this may result in toxic effects.
Check the correct functioning of the dishwasher, particularly washing temperatures, as well as the correct doses of chemical cleaning and disinfecting products. Kitchen utensils should preferably be washed in the dishwasher at rinsing cycles that reach a temperature of 80 °C
All tableware, cutlery, glassware, and kitchen utensils should be washed preferably in the dishwasher, including items that have not be used (they may have been in contact with a user).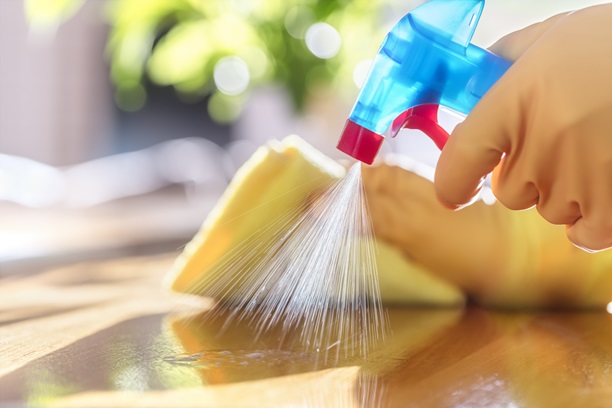 ---