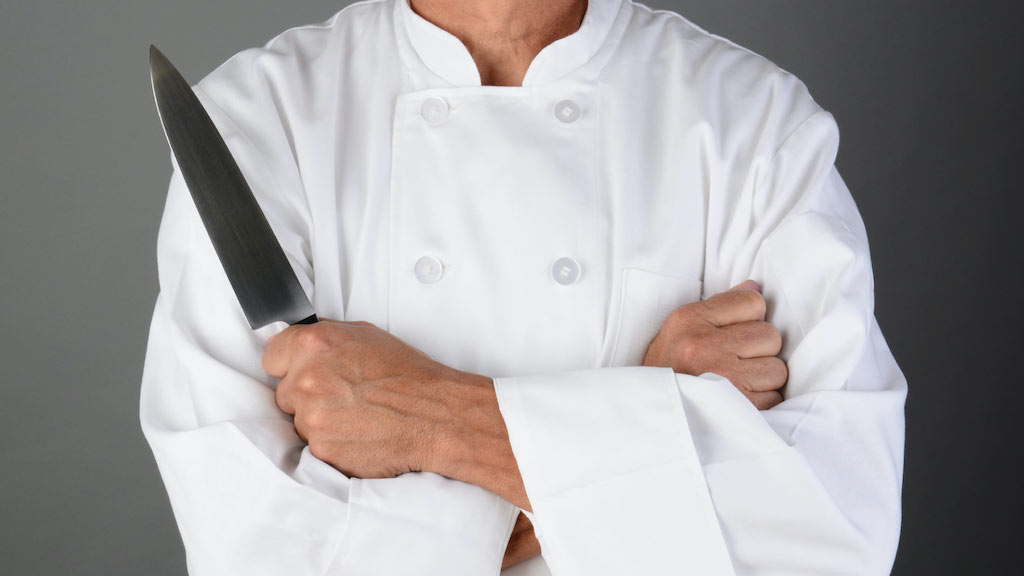 Whether you're a pro chef or home cook, a quality knife collection goes a long way in any kitchen. Knives are designed for specific purposes and using the correct knife makes every cut easier and faster, saving you loads of prep time. There are so many different kinds of knives on the market which can make starting your own collection a daunting task.
For this reason, we've created this handy guide to break down everything you need to know about knives from entry-level utility blades to special blades designed for specific tasks.
Chef's Knife/Cook's Knife
The chef's knife should be the first addition to your collection because of its immense versatility. It features a curved blade design that makes your common kitchen tasks easy like slicing and chopping a variety of ingredients from meat to vegetables. Because of its flexibility in the kitchen, this is the knife you should spend the most on.
Santoku Knife
The Japanese equivalent of a chef's knife, the Santoku knife is equally useful for a range of prep tasks. The main difference between the two is their blade design. The shape of the Santoku blade employs a forward-slicing motion whereas rounded blades are made for rocking motions like dicing and mincing. The unique, Granton edge of the Santoku knife facilitates airflow which makes slicing through ingredients easier than with straight blades. It also keeps food from sticking to the sides of the blade. We recommend the Santoku knife as an all-rounder, specifically for those who prefer a smaller, lighter knife.
SANTOKU KNIFE
By Grunter
Serrated Bread Knife
Don't let its name fool you, the bread knife can actually be used for several kitchen tasks thanks to its serrated blade design. The unique shape of the blade, like a saw, keeps food in place as you slice through it, allowing you to preserve its structure. Avoid crushing and damaging bread, layered cakes and soft fruits and vegetables with this handy blade. Round out your collection with this indispensable tool.
Paring Knife
The paring knife is similar to a chef's knife but it's much smaller with an average blade length of about 90mm. Such a small blade allows you to perform more precision tasks so if you love making garnish, this is the knife for you. It is also commonly used for cutting and peeling fruits and veggies as well as trimming excess fat with ease.
Boning Knife
You guessed it! The boning knife is designed for separating meat from the bone, but it can also be used for other tasks, for instance, a smaller boning is perfect for peeling and trimming vegetables. You will find boning knives in two varieties, stiff and flexible. Your flexible boning knives are best used for de-boning meat as the unique thin blade bends with the curves of the bone, leaving very little behind. Stiff boning knives are best used for separating larger cuts of meat into primal cuts.
Slicing/Carving Knives
These knives are characterised by their extra-long, narrow blades that cut through meat like butter. Slicing and carving knives are made to perform similar tasks; however, their differences in design are what define their purpose in your kitchen. Carving knives have pointed edges that allow you to easily work around bones, whereas slicing knives are rounded at the end, perfect for cutting through boneless meats like salmon.
Cleaver
The cleaver is your most bulky knife and typically has a thick spine and exceptionally durable blade. Its size and weight allow you to perform difficult tasks like cutting through bone, meat and hard vegetables with ease. You won't typically find these knives in home kitchens but they are a must for any pro chef working in a commercial kitchen.
The following products are not knives themselves but they are essential additions to your knife collection, keeping everything sharp and working optimally. These tools allow you to take proper care of your knives ensuring they last as long as possible.
Honing Steel
For proper care, honing steel should be used every time you use your knives. These handy tools gently bend the edge of your knife back to its original shape after use (hone), this prevents your knives from curling or dulling over time. They are typically made from ceramic or steel with both options working equally well. Whichever one you choose, it will be a great investment for your kitchen, keeping your expensive knives in top working condition.
Sharpening Tools
Despite what you often see, knives should only be sharpened once or twice a year if you want them to last long. This is because these sharpening tools actually remove the dull metal from your knife's edge to create a new sharper edge. If you use these sharpeners too often, you will leave your knives brittle, weak and breakable.
So now that you know more about the different knives, their uses and how to care for them, the next step is actually finding them. Core Catering Supplies has an extensive range of chef's knives from the world's leading brands for your perusal. Whether you're stocking up your home kitchen or hospitality kitchen, we have what you're looking for. Kit out your kitchen with our quality knives.