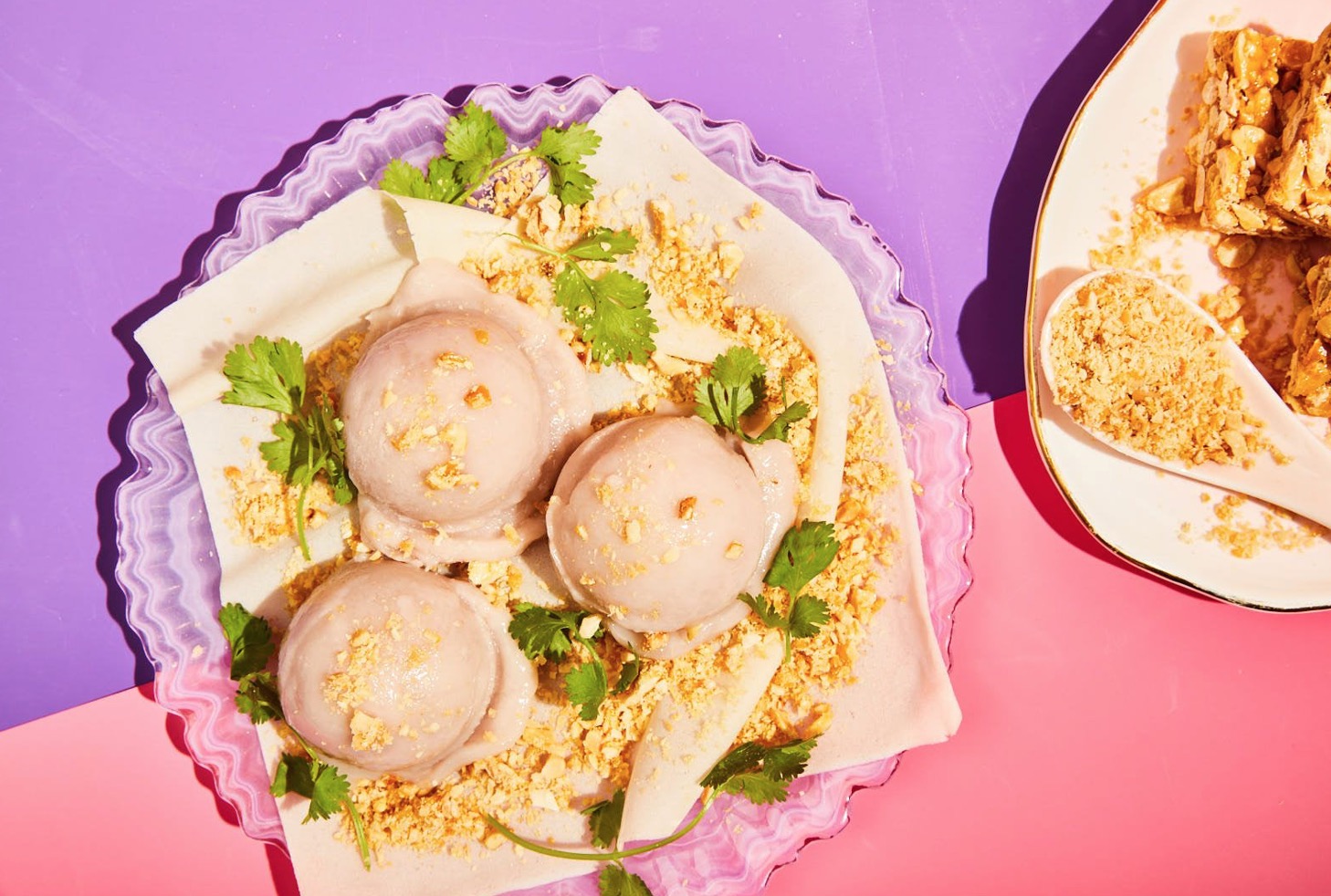 It's like an Ice Cream Sundae tucked into a spring roll, what could be better!? This dessert originates from Yilan county, Taiwan where you can get it from street vendors at all hours of the day.
Crushed peanut and cilantro are a popular garnish for all kinds of food in Taiwan, and although it might seem strange for ice cream toppings, the combo is delicious and one that you have to try!
Ingredients
2 c. packed cooked peeled taro
2 c. plus 3 tablespoons water
1 c. granulated sugar
3 tbsp. tapioca starch
4 spring roll pastry wrappers
8 tbsp. finely chopped Chinese peanut brittle candy (ideally made with maltose and peanuts)
8 scoops taro or store-bought vanilla ice cream, divided
8 sprigs cilantro, divided
Directions
In a blender, puree taro and 2 cups water until smooth. Transfer mixture to a medium saucepan and cook over medium-low heat, stirring occasionally, until hot, 8 to 10 minutes.
In a small bowl, mix starch and 3 tablespoons water. Pour slurry into warm taro mixture and stir until well combined. Add granulated sugar and stir until dissolved. Continue to cook over medium-low heat, stirring occasionally, until mixture has bubbled and thickened slightly, 2 to 3 minutes. Remove from heat, transfer to an airtight container, and let cool completely.
Cover and freeze at least 3 hours or up to overnight.
Let ice cream sit at room temperature about 10 minutes before scooping.
Spread a wrapper on a flat surface. Sprinkle 2 tablespoons candy over wrapper. Place 2 scoops ice cream horizontally side by side in centre of wrapper. Arrange 2 sprigs cilantro alongside.
Working from the bottom and tucking in the sides, roll wrapper around fillings into a tight, burrito-like roll.
Repeat with remaining ingredients to make 4 rolls. Serve immediately.