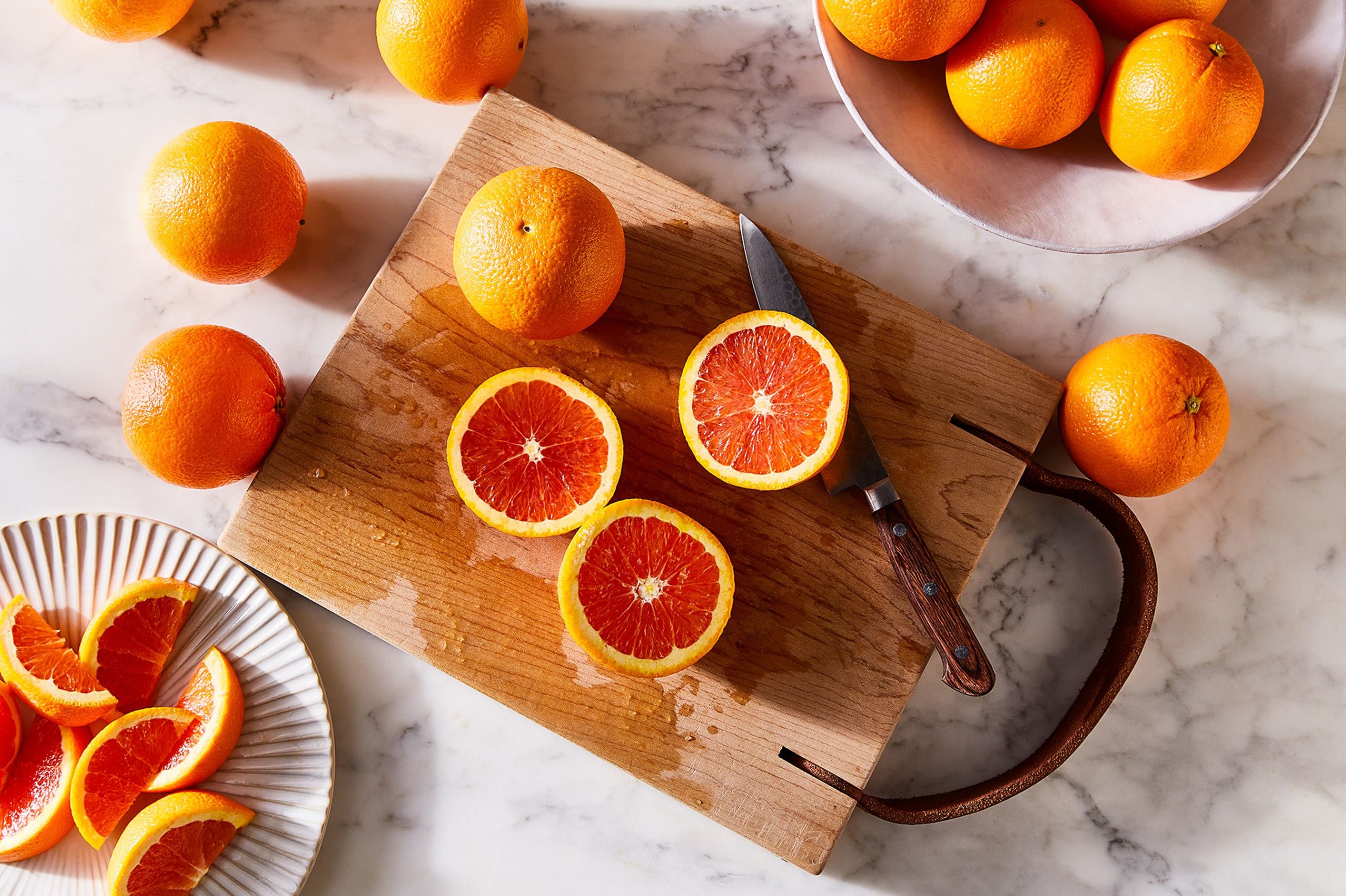 Did you know that just one orange gives you 100% of the daily recommended amount of Vitamin C? Pretty sweet. They are a wonderful fruit that is not only delicious but can also be used in all sorts of creative ways in your kitchen and beyond. Here are a handful of our favourite ideas:
1. Infuse Extra-Virgin Olive Oil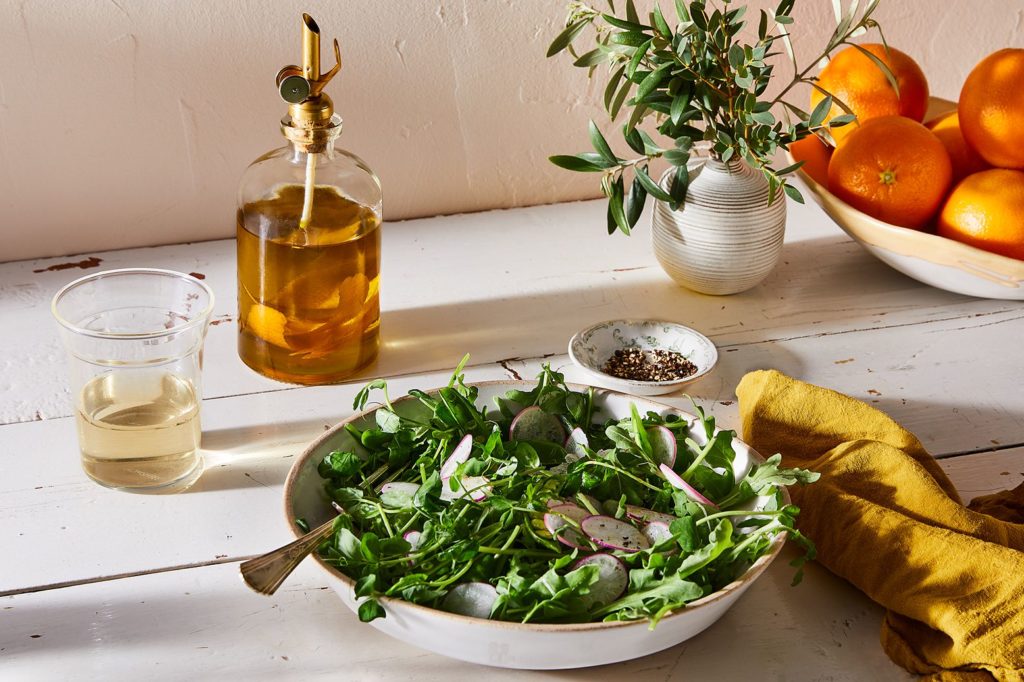 Infused olive oil is so simple to make and so rewarding. Just combine orange peels and extra-virgin olive oil in an airtight bottle, and allow to infuse for a few weeks in a dark, cool place (like a cabinet or pantry). It's perfect for drizzling over savoury dishes, from spring salads to summery grilled proteins.
2. Make A Batch Of Oleo Saccharum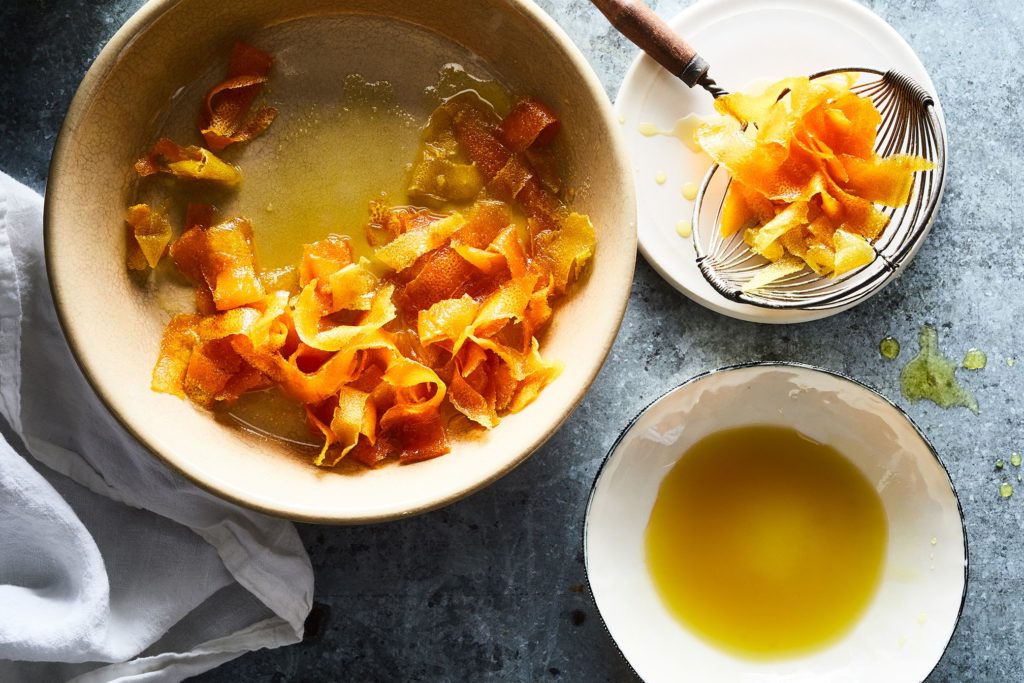 Combine leftover orange peels and sugar to make oleo saccharum—a syrup made of citrus peels and sugar that's perfect for mixing into cocktails, whisking into fresh salad vinaigrettes, spooning over ice cream, and more. It takes just a few hours of hands-off time to come together, and will last in the fridge for a couple of weeks. No matter what you add it to, it'll bring a big citrus-y punch that's also sweet.
3. Preserve Them In Salt
Preserved lemons get all the love, but most citrus can be packed in salt and cured—and oranges are no exception. Scrub the oranges thoroughly and cut them in half lengthwise, stopping just before reaching the bottom. Then rotate the orange 90 degrees and cut again (so now you have quarters), but don't cut all the way through. Coat generously with kosher salt (about 1 tablespoon per orange) and place the oranges in an airtight container. Press down on the oranges to release their juice and create a brine that submerges the oranges. After two to three weeks, your preserved oranges will be ready to use in your next salad, ricotta toast, orange-flavoured dessert, citrusy aioli, and more.
4. Whip Up A Homemade Cleaning Solution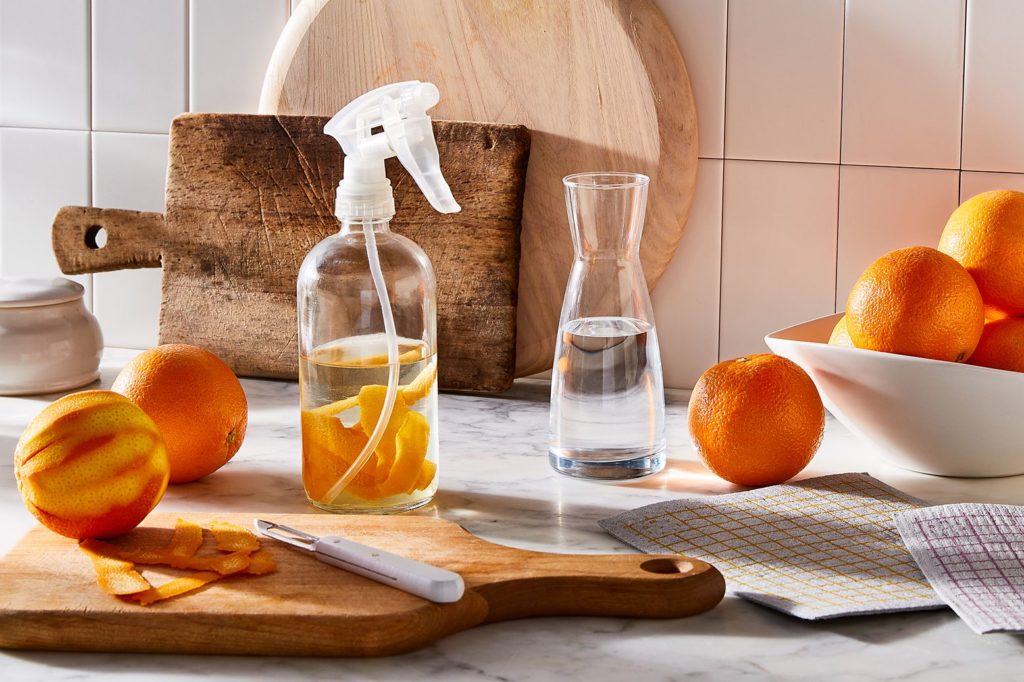 Want to enjoy that fresh, citrus-y scent throughout the whole house? This homemade cleaner is just the thing, and also happens to be kid-safe. To make it, add 1 cup of orange peels to 1 cup of white vinegar and infuse for 2 weeks. Dilute the infused vinegar with 1 cup of water (strain and discard the peels if you'd like), fill a reusable spray bottle, and start spritzing.
5. Make A Refreshing Body Scrub
Okay, it's spa time: Make an aromatic body scrub with grated orange peel, sugar, and coconut oil all mixed together. You can also add a dash of homemade orange extract or orange essential oil. Consider it your new favourite (all-natural!) addition to your shower routine.
6. Grilled Red Snapper With Oranges & Chiles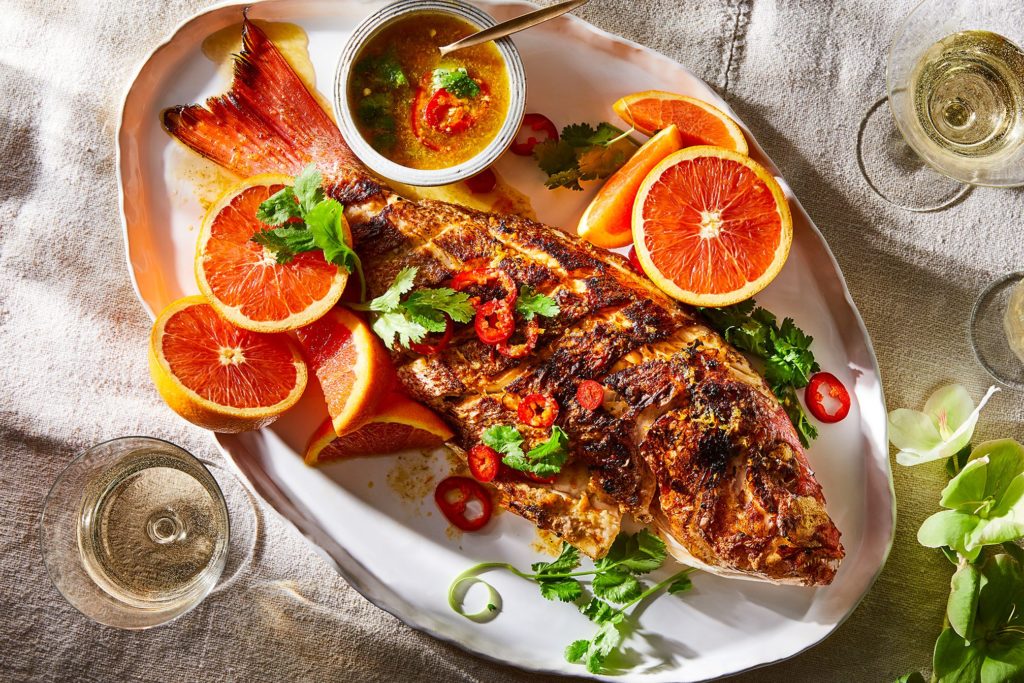 Grilling whole fish may seem like a big fuss, but this simply grilled red snapper—which you can also make in a cast-iron pan on the stovetop—proves that it doesn't have to be. Here, the mild, lightly sweet flavour of the snapper makes the perfect canvas for bright, punchy ingredients, like oranges, Fresno chile peppers, freshly squeezed lime juice, and cilantro.

The whole snapper is first dressed in a few spoonful's of the orange sauce (using both the zest and juice make it extra-aromatic) before grilling, and gets drizzled with it afterwards just before serving, along with the chopped cilantro. The whole dish comes together in about 30 minutes (if your fish is already prepped and ready to go), making it quick enough for a fancy-feeling weeknight meal and impressive enough for a spring weekend spread. To up the wow factor when serving, plate the whole grilled fish on a platter and garnish it with big wedges of fresh oranges.
Ingredients:
1 whole red snapper, cleaned, descaled, and gutted
3 oranges, zested and juiced
2 limes, juiced
3 tablespoons extra-virgin olive oil
1 tablespoon cumin, toasted whole and ground in a spice grinder or mortar
1 tablespoon light brown sugar
5 cloves garlic, finely minced
1 Fresno chile pepper, deseeded and thinly sliced
Kosher salt and freshly ground black pepper, to taste
1/2 cup fresh cilantro, leaves and stems, coarsely chopped
Directions:
Prepare your grill: Heat a cast-iron grill pan, charcoal grill, or gas grill over medium-high heat and allow to preheat. Once hot, take a kitchen rag or paper towel, moisten with a neutral oil like canola oil or vegetable oil and rub the grates of the grill or grill pan. There should be a thin layer of oil that will smoke and burn off, creating a temporary non-stick surface.
Prep the snapper: With a paper towel, dry the fish thoroughly on the exterior and interior, and remove any scales that may have lingered. With a sharp knife, score the surface of the snapper apart in a criss-cross pattern. Repeat on each side.
Prepare the snapper sauce: Combine the orange zest and juice, lime juice, extra-virgin olive oil, cumin, garlic, brown sugar, Fresno chiles, salt, and pepper together. Taste and adjust seasoning. Depending on the acidity level of the citrus, you may need a touch more lime juice, or a little more brown sugar to balance.
Take a few spoonful's of your sauce and rub it into the fish, especially in the scores on the surface of the fish.
Grill the fish over medium-high heat for about 15 minutes, flipping halfway through. Less is more when it comes to grilling fish; resist the urge to touch or move the fish while it grills, as it will stick and the skin will tear.
Remove fish from the grill and allow it to rest on a large serving platter. Top your fish with the sauce and fresh cilantro. Serve with wedges of orange and enjoy.
7. Roasted Fennel, Red Onion, and Orange Salad
A great warm winter salad that virtually dresses itself.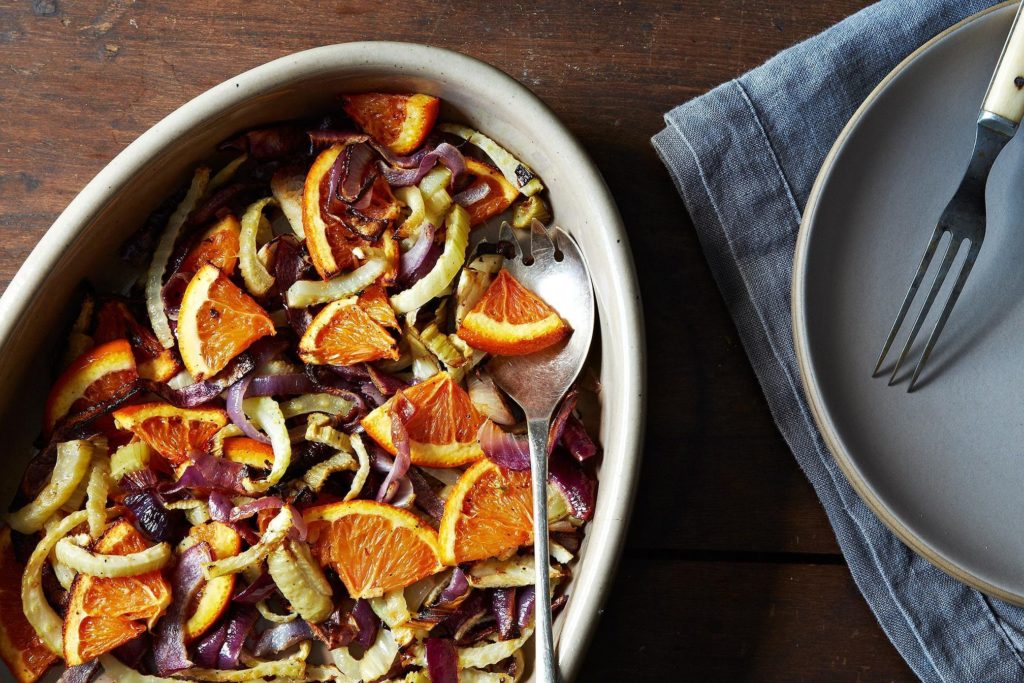 Ingredients
1 large or 2 small fennel bulbs (untrimmed)
1 medium red onion
1 small orange, scrubbed
2 tablespoons extra-virgin olive oil, plus more for drizzling
Kosher salt and freshly ground pepper
Directions:
Position a rack in the centre of the oven and heat to 220 degrees. Line a heavy-duty rimmed baking sheet with parchment paper (this prevents the oranges from sticking to the pan).
Trim the fronds from the fennel. Stand a bulb on its base on the cutting board and cut it in half lengthwise, cutting from the core end to the stem end. (If the bulb is more oblong than round, as some are, you will create two halves that are thinner and flatter rather than thicker and bulbous.) Use a paring knife to remove most of the core from each half (no need to get it all out). Lay each half flat on the cutting surface and cut crosswise into thick crescent-shaped slices. Toss onto the baking sheet and repeat with the second fennel bulb if you have two.
Cut the onion in half, cutting from root to stem end. Peel and remove the root end from both halves. Slice the onion halves crosswise into half-moons and add to the fennel.
Next, slice about 3 cm off each end of the orange and reserve (you'll use these later to squeeze over the salad). Stand the orange up on one cut end and cut it lengthwise in half, and then cut each half lengthwise in half again, leaving you with 4 pieces. Arrange each quarter with cut side down and slice crosswise into quarter-moon-shaped pieces.
Add the orange to the fennel and onion. Drizzle the olive oil on top and season well with salt and plenty of pepper. Toss to coat and arrange as best you can in an even layer on the baking sheet.
Roast, stirring with a spatula after 15 minutes to ensure even cooking and again every 10 minutes or so. The vegetables close to the edge of the pan will brown more quickly than those in the centre, so stirring and then shaking the pan to restore an even layer helps everything cook at the same rate. Continue roasting until the vegetables and orange are tender and the outer edges are beginning to caramelize, 25 to 45 minutes.
Transfer to a serving dish. Let cool for at least 15 minutes or to room temperature. Squeeze the juice from one of the reserved orange ends over the salad and taste. If it tastes a little flat, add a pinch of salt and squeeze the other orange piece over it. Drizzle with a little of your best olive oil and serve warm or at room temperature.
Enjoy the wonders of Oranges!
---