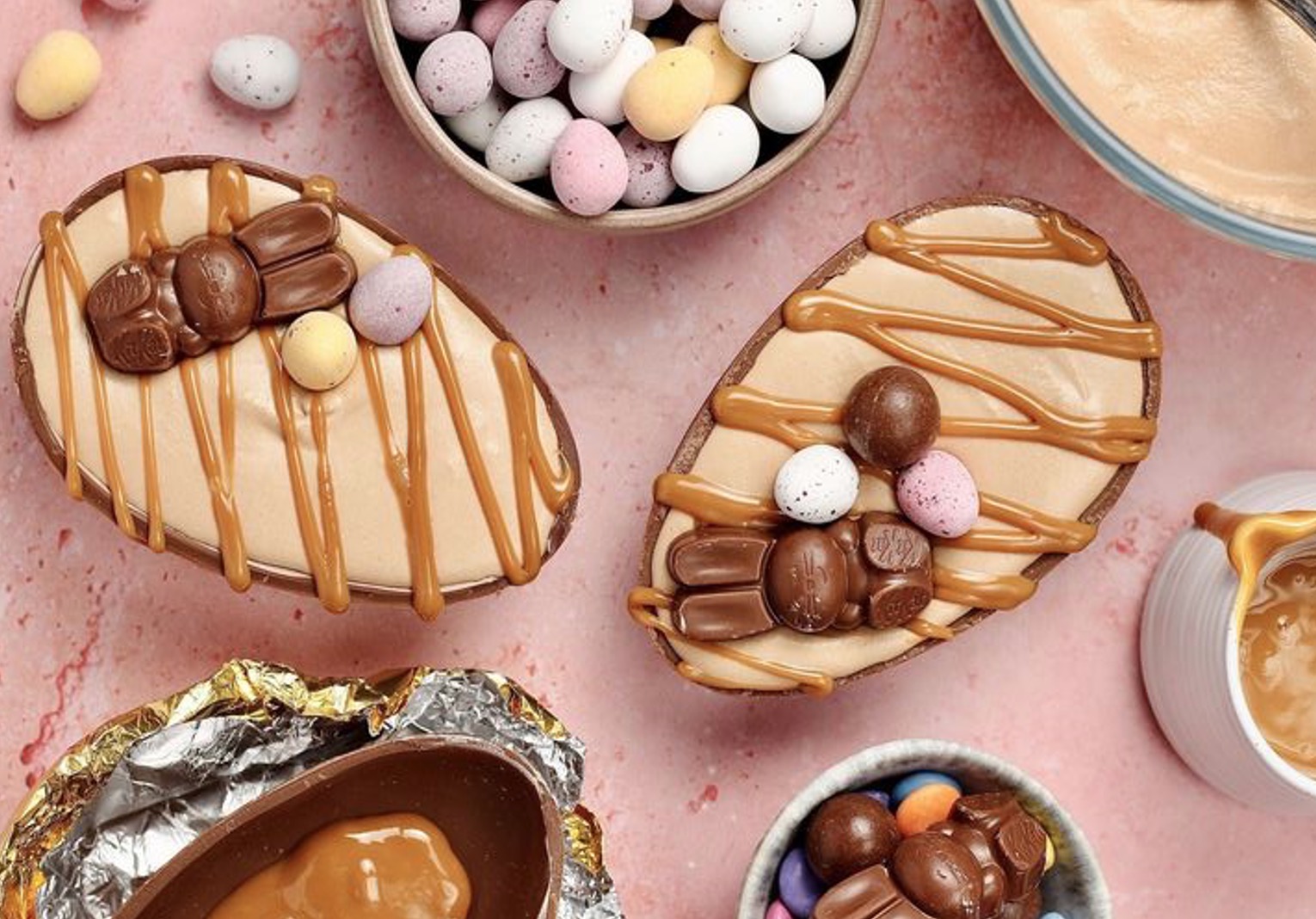 FUN EASTER RECIPES
Get ready to treat your family and friends to delicious Easter treats. Try these great recipes that you and the kids will not only enjoy making, but also totally love eating!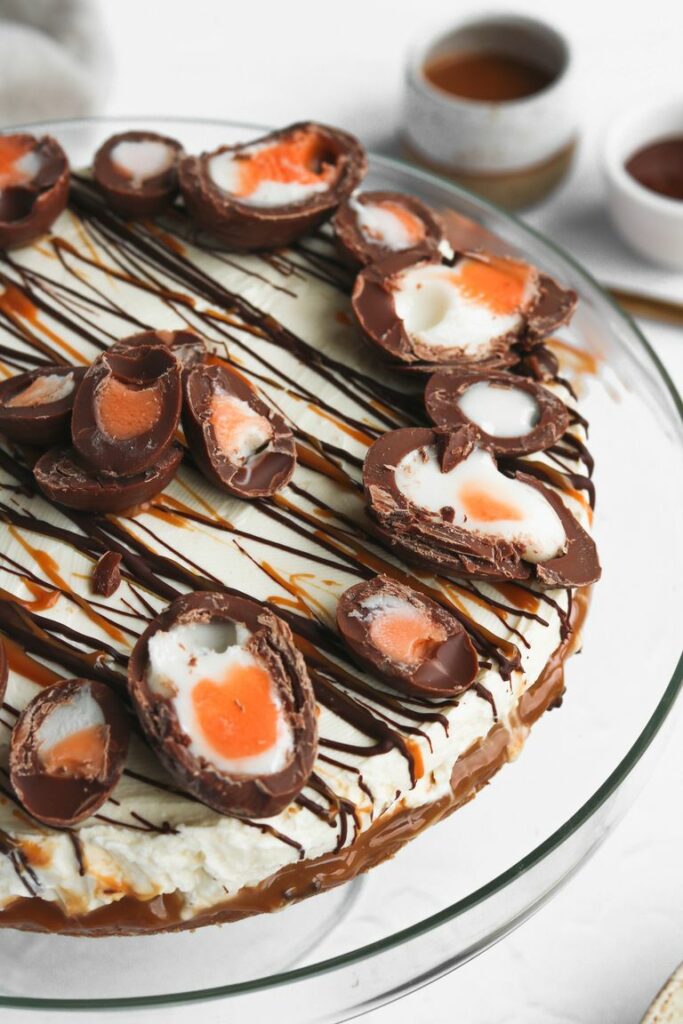 CREME EGG CHEESECAKE RECIPE
This creme egg cheesecake recipe is totally delicious, with a layer of caramel in the middle for added deliciousness. Top them with a combo of large and mini creme eggs, or any other Easter chocolate that you like!
INGREDIENTSFOR THE BASE
150 g chocolate digestive biscuits
75 g unsalted butter, melted
FOR THE CARAMEL LAYER
25 g unsalted butter
50 g light muscovado sugar
397 g tin carnation caramel
FOR THE CHEESECAKE LAYER
500 g cream cheese, room temperature
75 g icing sugar
200 ml double cream
TO DECORATE
1 packet mini creme eggs, halved
4 creme eggs, halved
100 g chocolate, melted
DIRECTIONS
Line the base and sides of a 20.5cm round springform cake tin with baking parchment.
To make the base, whiz the chocolate digestive biscuits in a food processor until they resemble breadcrumbs. Mix in melted butter then press the mixture firmly into the base of the tin with the back of a spoon. Chill.
Meanwhile, make the caramel layer. In a small pan over low heat, heat the butter and muscovado sugar until the sugar has dissolved. Add the caramel and boil for 3 minutes, stirring constantly until thickened. Remove from heat, and allow to cool slightly before pouring of the biscuit base, leaving a little aside to drizzle over at the end. Spread to level and chill until set.
Meanwhile, beat together the cream cheese, icing sugar, and double cream until smooth. Tip into the tin and spread to level. Chill for at least 6 hours.
When ready to serve, decorate by topping with halved crème eggs and mini crème eggs, and drizzle with remaining salted caramel and melted chocolate.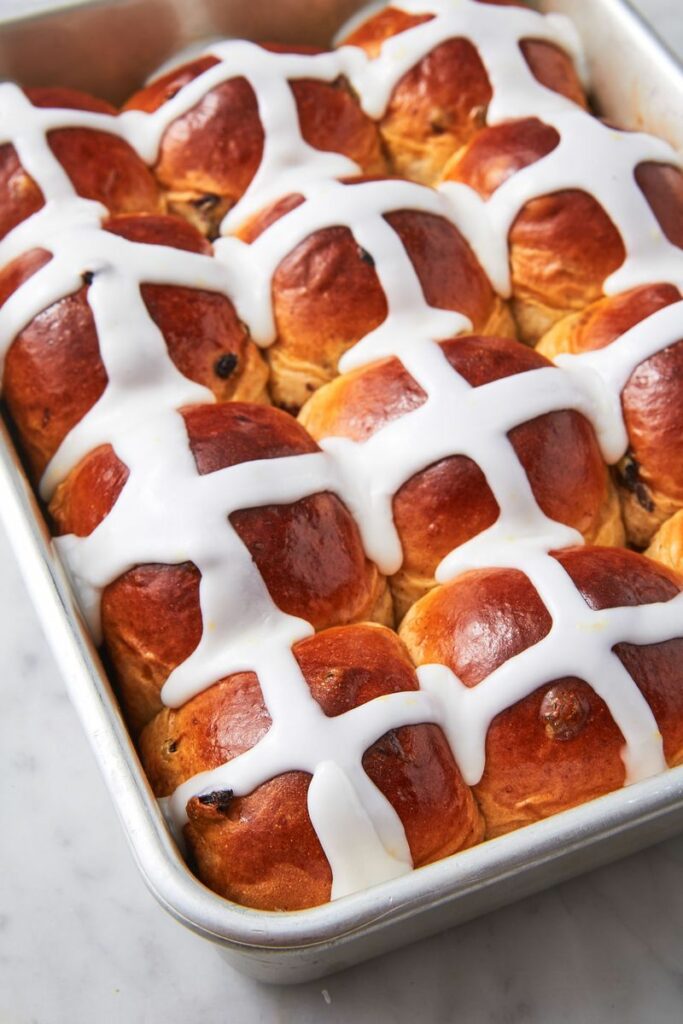 HOT CROSS BUNS RECIPE
You can't get much more classic than these hot cross buns. These rolls are filled with plump currants, warming spices, and a bit of lemon zest to brighten it all up. Complete these classic bites with a light lemon glaze.
INGREDIENTS FOR THE ROLLS
240 ml whole milk, warm
14 g packages active dry yeast
50 g caster sugar
75 g butter, melted
1 large egg yolk
1 tsp. vanilla extract
375 g plain flour, plus more for kneading
1 tsp. salt
1/2 tsp. ground cinnamon
1/4 tsp. ground nutmeg
75 g dried currants, plumped in hot water then drained
1 tsp. lemon zest
Egg wash, for brushing
FOR THE GLAZE
250 g icing sugar
2 tbsp. whole milk
1/2 tsp. lemon zest
DIRECTIONS
In a medium bowl, combine milk, yeast and a pinch of sugar. Let sit, without stirring, until foamy, about 20 minutes. Whisk butter, egg yolk and vanilla into the yeast mixture. In a large bowl, whisk together the flour, remaining sugar, salt, cinnamon and nutmeg. Make a well in the centre of the flour mixture and add the yeast mixture. Stir with a wooden spoon until the mixture is a thick, shaggy dough. Stir in currants.
Turn the dough onto a heavily floured surface and knead until the dough is soft and elastic, 8 to 10 minutes. Shape the dough into a large ball.
Grease the inside of a large bowl with butter and put the dough in the bowl. Cover with cling film and let rise at room temperature until doubled in size, about 1½ hours.
When the dough is ready to form into rolls, butter a 23 x 33cm baking pan. Turn the dough onto a lightly floured surface and pat it into a large rectangle. Divide the dough into 12 portions with a sharp knife or pizza wheel.
Shape each piece into a roll, tucking the edges under, and place each roll seam side-down into the butter pan. Cover with cling film and let rise in a warm place until the rolls have doubled in size, about 45 minutes.
After the second rise, preheat oven to 190°C (170ºC fan). Brush tops of buns with egg wash. Bake until golden and puffy, 22 to 25 minutes.
Make glaze: Whisk together icing sugar, milk, and lemon zest until smooth. Transfer to a medium resealable plastic bag and make a small cut in the corner of the bag. Pipe a thick cross shape over each bun.
Serve warm or at room temperature.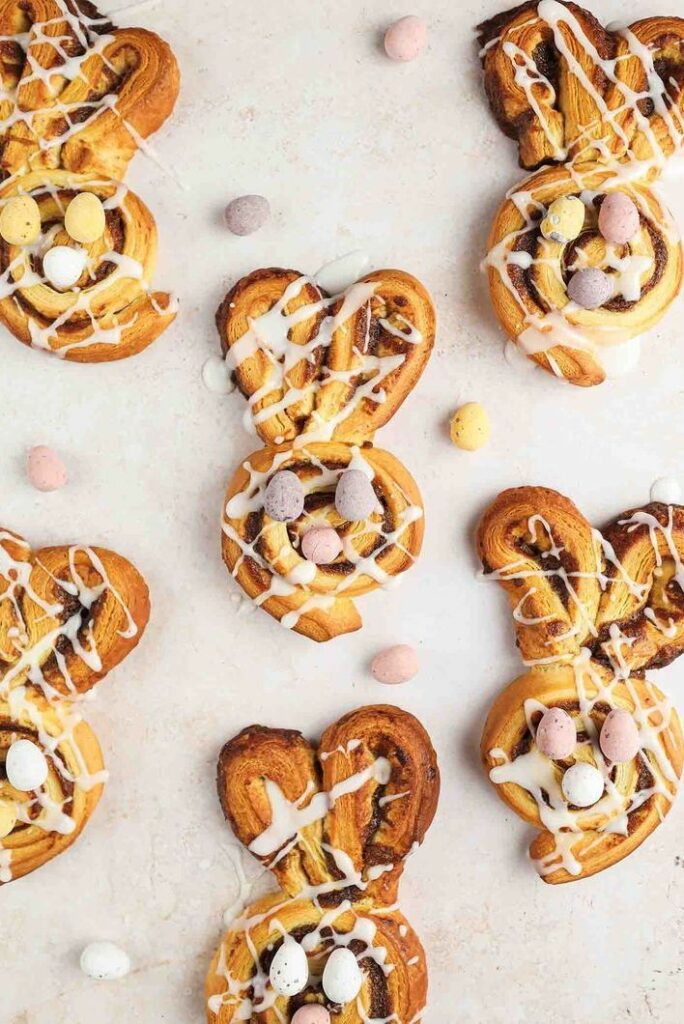 CINNABUNNIES RECIPE
Using just two ingredients, this recipe is infinitely customisable and so easy to make. Not to mention, it's a great one for making with the kids!
INGREDIENTS
2 x packs Jus-Roll Cinnamon Swirls
18 Mini Eggs
Runny icing
DIRECTIONS
Preheat your oven to 200°C (180°C Fan). Line two large baking trays with greaseproof paper.
Remove the cinnamon swirl dough from the packaging. Cut each into 6 even slices. Place 6 of them between the two trays.
Taking one of the remaining slices, unroll the swirl and cut in half so you have two longer pieces. Shape these into 2 large horseshoe shapes to form the ears. Pinch the ends together and press these into the top of the cinnamon roll so that they are touching. Repeat with the remaining dough.
Bake for 11-14 mins, until risen and golden brown. Meanwhile, make the icing as included in the cinnamon swirl pack instructions.
Once the buns have cooled slightly, drizzle the icing over in opposite directions so you have a crosshatch effect. Add 3 mini eggs to each, 2 for eyes and 1 for a nose. These are best eaten on the day they are made.