URBAN ROUND COUPE PLATE 190MM
STORM
By Luzerne
R152.75 (Excl VAT)
Retail prices excluding local 15% VAT
Product Description
Luzerne's Urban round coupe plate 190mm is the perfect addition to your tableware collection thanks to its unique spiral pattern that focalizes meals in the centre of the plate. Lend your tabletop a creative edge with the Urban range of dinnerware.
In the detail
Stronger than bone china
Resistant to extreme temperatures
Dishwasher, microwave, freezer and oven safe
Lead and cadmium-free
Highly resistant to stains
Non-porous and does not absorb grease, odours and bacteria
Eco-friendly production
Scratch and chip resistant
Storm
D190mm
Brand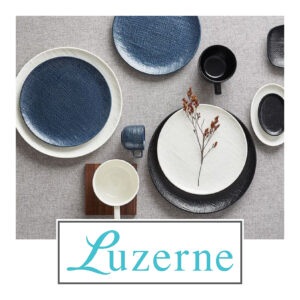 Preferred by the world's best, Luzerne has perfected their ceramic tableware craft to accommodate the annual production of 28 million products of the topmost quality and strength. Made from the silky clay native to Dehua, moulded by experienced technicians and artisans, Luzerne quality leaves nothing to chance, ensuring that every purchase can be made with confidence. Not only are Luzerne items impeccably stylish but they are also exceptionally durable. Through their commitment to upholding traditional technique with the aid of technological innovation, Luzerne produ...