ROUND GRIDDEL PAN
400MM CARBON STEEL
By Tramontina
R1,595.00 (Excl VAT)
Retail prices excluding local 15% VAT
Product Description
Versatile for preparing different recipes! Nitrocarburized carbon steel disc. Riveted handles that guarantee greater safety during use. Disc produced with the exclusive Durprotect process! Longer lifespan for your disk. Greater resistance to abrasion and corrosion. Allows use at high temperatures. Ideal for sealing meat without losing its juiciness and tenderness, maintaining vitamins and nutrients. Transfers heat optimally for faster cooking. High performance, the more the product is used the better.
To prepare that entrevero or to prepare those delicious steaks, you need the Tramontina Churrasco Black 40 cm nitrocarburized carbon steel disc. Developed in nitrocarburized carbon steel with an exclusive Durprotect process, it allows food to be prepared uniformly and quickly, saving energy and keeping food warm for longer. The disc is highly resistant to abrasion and corrosion, allows use at high temperatures and has riveted handles that guarantee much safer handling. It is perfect for sealing meat with high performance, keeping it juicy, soft and with all its vitamins and nutrients. A Tramontina item that the more used, the better!
In the detail
Material: Nitrocarburized Carbon Steel
Size: 501mm x 82.4mm (405.7mm – base diameter)
Colour: Black
Weight: 4.4kg
Guarantee
90 days for defects or manufacturing defects
Brand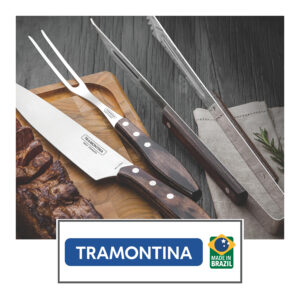 Founded in 1911 in Brazil, Tramontina is an international brand with over 100 years of experience in manufacturing high-end houseware products. It operates in over 120 countries offering quality, innovative, and functional products. Tramontina is dedicated to being a market leader in environmental responsibility and sustainable development – taking this on as one of its core values.
...