RECTANGULAR BREAD BOARD
480MM X 190MM WITH HANDLE
By Tramontina
R335.00 (Excl VAT)
Retail prices excluding local 15% VAT
Product Description
Homemade bread has its value, even more so if it's a recipe that has survived over time and won over your table and your family's taste buds. Choose the Tramontina Kitchen Rectangular Bread Board in Teak Wood with Handle 48×19 cm and get all the beauty and practicality that Tramontina offers.
Recommended use:
Before first use, wash the product and rinse well. When it is dry, rub a little cooking oil on the surface, removing any excess. After each use, wash the product normally with a soft sponge, soap and detergent. Dry with a cloth towel. Store in airy places [avoid stuffy environments such as drawers and cabinets]. Do not wash the product in the dishwasher or use a steel sponge. Do not leave the product submerged in water. Do not let the product dry in the sun, nor let it dry standing in the sink. Do not stack pieces when they are damp. Do not put the product in the oven or refrigerator.
In the detail
Board Material: Teak Wooden Board
Size: 480mm x 190mm x 15mm
Weight: 0.65kg
Guarantee
90 days for defects or manufacturing defects
Brand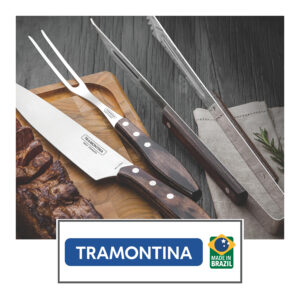 Founded in 1911 in Brazil, Tramontina is an international brand with over 100 years of experience in manufacturing high-end houseware products. It operates in over 120 countries offering quality, innovative, and functional products. Tramontina is dedicated to being a market leader in environmental responsibility and sustainable development – taking this on as one of its core values.
...