KNIFE SET 7 PIECE
WITH MAGNET HOLDER
By Tramontina
R895.00 (Excl VAT)
Retail prices excluding local 15% VAT
Product Description
This Tramontina knife set comes with stainless steel blades and black polypropylene handles and a 7-piece magnetic bar. The set includes 6 knives for the most varied of functions, which is perfect for use on different foods and recipes.
In the detail
Stainless-steel knives
1 x 203mm Chef knife
1 x 203mm Bread knife
1 x 178mm Utility knife
1 x 127mm Boning knife
1 x 127mm Tomato knife
1 x 76mm Fruit and Vegetable knife
1 x 380mm Magnetic bar for storage
Knives can be placed in the dishwasher
Set includes screws and plugs for fixing
Brand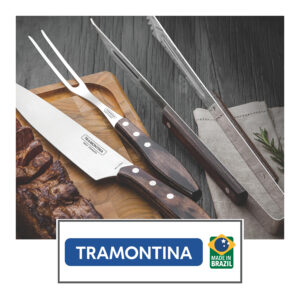 Founded in 1911 in Brazil, Tramontina is an international brand with over 100 years of experience in manufacturing high-end houseware products. It operates in over 120 countries offering quality, innovative, and functional products. Tramontina is dedicated to being a market leader in environmental responsibility and sustainable development – taking this on as one of its core values.
...