ELOFF TABLE KNIFE S/STEEL
By FuchsThaler
R8.95 (Excl VAT)
Retail prices excluding local 15% VAT
Product Description
The Eloff FuchsThaler cutlery set brings hospitality-grade cutlery to your tabletop. The complete set is made of corrosion-resistant stainless steel and includes the entire range of cutlery items from table knives to speciality snail forks for casual or fine dining.
In the detail
Polished stainless steel 18/0
Hospitality grade cutlery range
Packed in 12 piece box set
Brand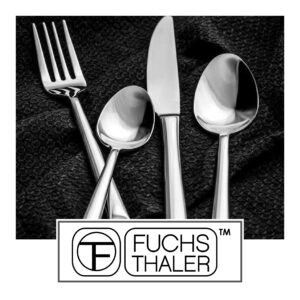 FUCHSTHALER is quality knives and cutlery. German design and quality standards make this the ideal hospitality product, combining both tried and tested functionality with highly competitive price points. Fuchsthaler has been an established brand in South Africa for over 10 years and sets the standard in terms of the ideal balance between price, functionality and design.
The Fuchsthaler range encompasses products through all requirement aspects, from entry-level functionality to high-end design. Shop their collection ...