Your Discount
CONVECTION OVEN 4 TRAY WITHOUT HUMIDITY
By Piron
R48,115.39 (Ex VAT)
Retail prices excluding local 15% VAT
Product Description
The Piron Caboto 4 Tray Oven without Humidity injection is guaranteed to withstand intense use and has user friendly functions, while the robust construction and sleek finishes include all the necessary extras you might need to perform in the kitchen. The Caboto is equipped with 2 high speed motors running on single speeds, and a stainless steel easy grip handle for easy access. All models are supplied with easy to clean double glass doors and quality thermal insulation.
In the detail
Piron Convection Oven (Caboto)
Without Humidity Injection
Heavy-duty polished stainless steel construction
Rounded interior corners & removable shelf runners for easy cleaning
Equipped with 2 High speed motors with single speed
Bake timer included with automatic switch off after a preset period
Interior light fitted as a standard feature
Operating temperature: 30 – 260 Degrees Celsius
Power: 3.3kW
Voltage: 230V – 50Hz
Dimensions: 600L x 600 W x 540H mm
Load Capacity: 4 Trays 480L x 345W or GN2/3
Runner Spacing: 75H mm
Weight: 37kg
Guarantee
LIMITED 2-YEAR WARRANTY
All equipment that is sold under the PIRON trademark and used for commercial purposes is warranted against defects in materials and workmanship. The warranty runs for two years from the date of the original installation and is for the benefit of the original purchaser only. All other warranties, expressed or implied, statutory or otherwise, including without limitations any implied Warranty of Merchantability or fitness for purpose are excluded. The Seller shall in no event be liable for direct, indirect or consequential damages in connection with PIRON commercial products.
The Sellers's obligation under this warranty is limited to the repair of defects without charge. Defective units must be taken or shipped, transportation charges prepaid, to PIRON.
This warranty is not effective if damage occurs because of an accident, carelessness, improper installation, lack of proper set-up, supervision when required or if the equipment is installed or operated in any manner contrary to the installation and operating instructions. In these cases, repairs will be made at a reasonable cost. Work performed by unauthorized personnel or unauthorized service agencies using non-Piron spares voids this warranty.
Brand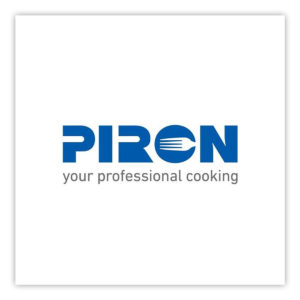 Synonymous with reliability and competence, Piron has been supplying the professional cooking world with some of the finest ovens on the market since 2006. Piron's manufactured marvels aren't just for the hospitality industry, you will increasingly see them in homes around the world thanks to their founders' dedication to the needs of the market, creativity and passion. As an ambassador of "Made in Italy", Piron offers customers high-quality ovens and other products to meet the requirements of the modern professional cooking industry without compromise. Piron's...