CHURRASCO GRATE BARBECUE GRILL
CARBON STEEL
By Tramontina
R1,395.00 (Excl VAT)
Retail prices excluding local 15% VAT
Product Description
Versatile for different types of foods. Nitrocarburized carbon steel grill. Flat multipurpose grill, half of the usable area with close bars and half with spaced bars, which allows the preparation of different foods simultaneously. Grill produced with the exclusive Durprotect process! Longer lifespan for your grill. Greater resistance to abrasion and corrosion. Allows high temperatures and includes wooden handles.
Recommended use:
When using hot utensils, be extra careful. If necessary, use hand protection and keep them out of the reach of children. Before use: Wash the grill using only a sponge and detergent or neutral soap. During use: Remove the food with the help of a utensil. Cleaning: It is important that cleaning is carried out after each use and that no food residue remains on the grill. Always wash using a sponge and detergent or neutral soap. Do not use in washing machines. If food is stuck, we recommend using brushes with Tramontina steel bristles to make cleaning easier. Dry the grill after washing to prevent stains from appearing. Then apply a thin layer of cooking oil, which serves to protect against corrosion. Store in a dry place. Note: During use, spots of oxidation (rust) may appear, which is perfectly normal in products made from carbon steel. To dispose of the product and packaging, follow current recycling guidelines.
---
In the detail
Material: Nitrocarburized Carbon Steel
Handles: Wooden
Size: 423mm x 27mm x 750mm
Colour: Black
Weight: 2.98kg
Guarantee
90 days for defects or manufacturing defects
Brand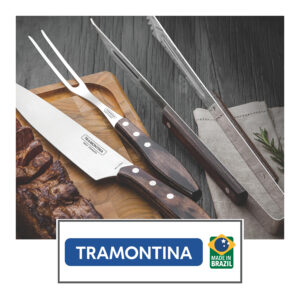 Founded in 1911 in Brazil, Tramontina is an international brand with over 100 years of experience in manufacturing high-end houseware products. It operates in over 120 countries offering quality, innovative, and functional products. Tramontina is dedicated to being a market leader in environmental responsibility and sustainable development – taking this on as one of its core values.
...