BUTCHER KNIFE
300MM
By Tramontina
R335.00 (Excl VAT)
Retail prices excluding local 15% VAT
Product Description
The Tramontina butcher knife has a stainless-steel blade and a 12-inch black polypropylene handle. The piece matches any environment, making it more beautiful and charming.
In the detail
Ideal for cutting on boards
Anatomical and hygienic handle that inhibits growth of fungi and bacteria
Heat-treated, stainless-steel blade
Blade Length: 300mm
Brand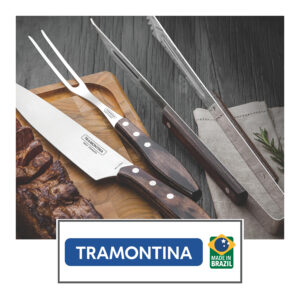 Founded in 1911 in Brazil, Tramontina is an international brand with over 100 years of experience in manufacturing high-end houseware products. It operates in over 120 countries offering quality, innovative, and functional products. Tramontina is dedicated to being a market leader in environmental responsibility and sustainable development – taking this on as one of its core values.
...