BAR BLENDER
By Marola
R4,995.00 (Excl VAT)
Retail prices excluding local 15% VAT
Product Description
MAROLA Bar Blender:
This robust and powerful blender is a fantastic addition for bars, restaurants, and coffee shops. This unit comes with a soundproof cover that reduces noise while in use.
Includes: Stomper
Noise cover for front of house use.
Powerful 1680W motor reduces blend time.
2,5L Jar with durable stainless-steel blades.
Easy to operate High and Low toggle switch.
Built in safety switch to stop the blender while the soundproof cover is opened.
---
In the detail
Voltage: 230v
Power: 1 680w
Weight: 9kg
Packed Weight: 20.5kg (2 per carton)
Dimensions: 650mm x 350mm x 635mm (2 per carton)
Guarantee
LIMITED 1-YEAR WARRANTY
This product holds a 1-year warranty, provided parts have not failed as a result of wear and tear or negligence.
Brand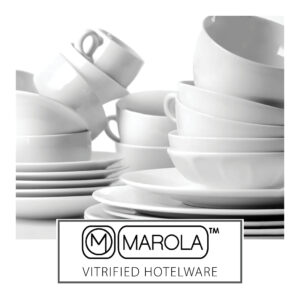 Durable crockery designed for high volume hospitality use. Our MAROLA range is used extensively in leading hotel and restaurants across Southern Africa. With simple classic designs and extremely competitive pricing, MAROLA is the reliable go to for the hospitality industry.
...