4 PIECE S/STEEL COOKWARE SET
By Tramontina
R2,195.00 (Excl VAT)
Retail prices excluding local 15% VAT
Product Description
The Tramontina Una Stainless Steel Cookware Set comes with a triple bottom and 4-Piece glass lids. All parts are made of stainless steel with a high-gloss finish and a tri-ply base, to distribute heat evenly, providing faster and more uniform cooking, saving energy, and keeping food warmer for longer.
In the detail
3.6L | 1 x 200mm Deep casserole pot
4.8L | 1 x 240mm Casserole pot
2.1L | 1 x 240mm Single frying pan
1.4L | 1 x 160mm Single pan
Stainless-steel cookware
Easy-to-use on any type of stove: gas, electric, glass-ceramic and induction
Glass lids contain a steam outlet
Tri-ply base (stainless-steel + aluminum + stainless-steel)
Easy to clean
Brand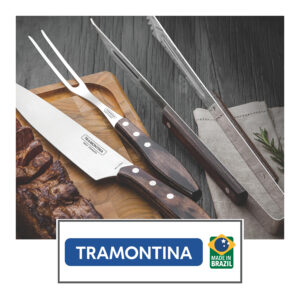 Founded in 1911 in Brazil, Tramontina is an international brand with over 100 years of experience in manufacturing high-end houseware products. It operates in over 120 countries offering quality, innovative, and functional products. Tramontina is dedicated to being a market leader in environmental responsibility and sustainable development – taking this on as one of its core values.
...