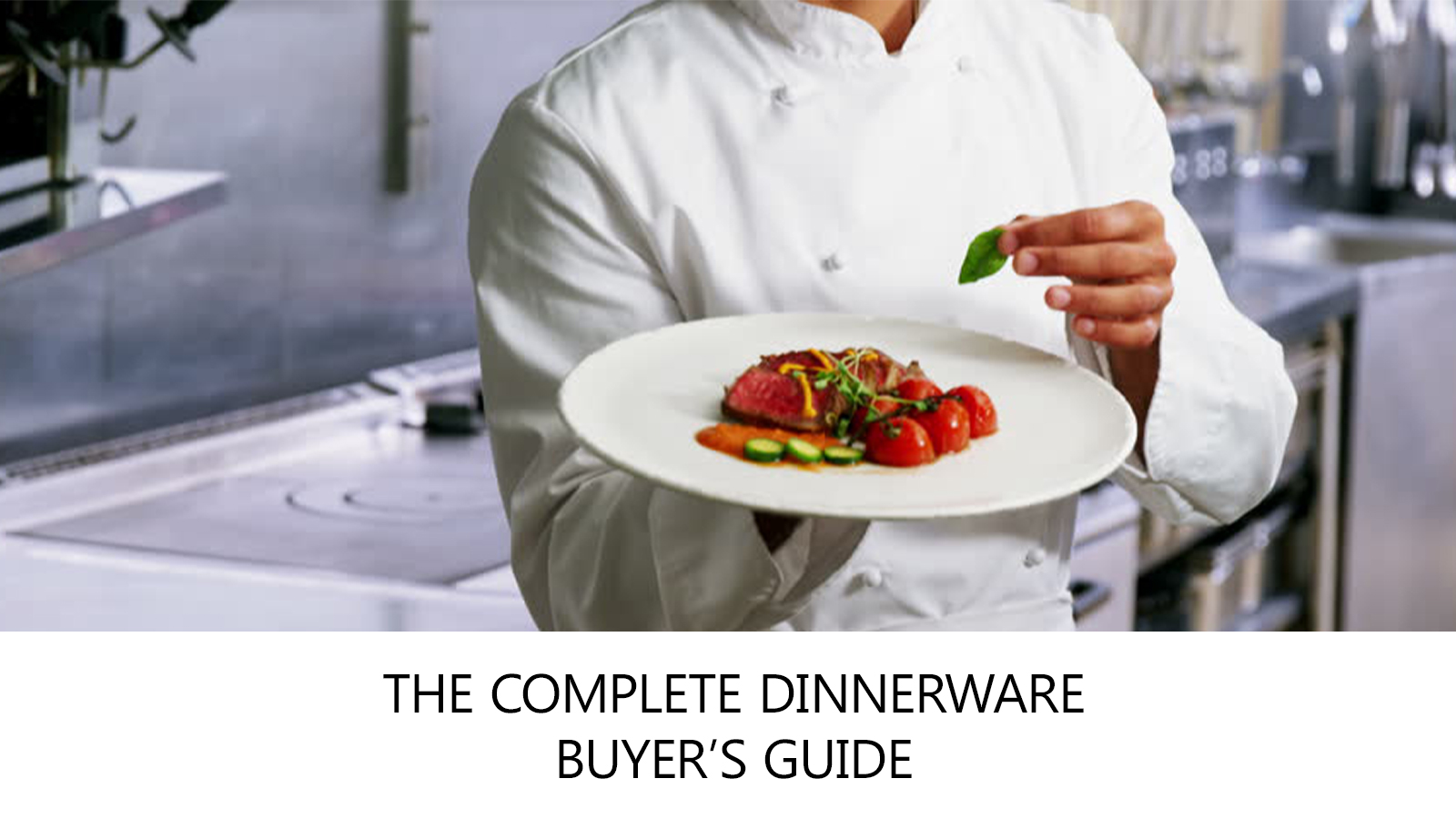 Finding the perfect dinnerware set for your home or business can be difficult as there are just too many options to choose from. There are plenty of things to consider like usefulness, versatility, style, strength, shape, trend, type of material, price and more. In the quest of finding your favourites you may start asking yourself questions like what is the difference between earthenware and stoneware and does it even matter? Well, we can assure you it certainly does. In this guide, we'll discuss the use and value of everything from coupe plates to sauce bowls so that you can invest in the collection that meets your needs.
Type of Material
Before you can start thinking about shape and style, you should first begin by understanding the different types of material used to create dinnerware. This way you can ensure that the crockery you purchase meets your needs for strength, wear-and-tear, price and resistance to external elements. There are classic materials like metal, stone and ceramic, which have been used for hundreds of years and remain popular to this day, as well as many new materials that pop-up every now and then thanks to innovative manufacturers who continue to pursue improvement and perfection.
Earthenware
One of the oldest materials used to make crockery, earthenware is a ceramic that has been glazed and fired. It typically has a rustic look and can be quite thick and heavy. The appeal of earthenware is that it is normally cheaper than other forms of dinnerware; however, it is not the strongest material and can chip. In general, you should avoid unexpected temperature changes as this can damage your earthenware.
Stoneware
Stoneware is stronger than earthenware making it a great pick for everyday use; however, you should still not expose it to very high and low temperatures. You will find that stoneware often features a glass finish for added strength and durability. It is also finer and more opaque than porcelain and bone china. Stoneware is typically dishwasher and microwave safe.
Porcelain/China
Both porcelain and china refer to crockery made from fine particle clay fired at a high temperature. The result is a versatile material that is particularly non-porous and strong. Porcelain and china are great picks for formal settings as their firing process makes them look more delicate, thin and able to have added shaped details. Thanks to their exceptional durability, porcelain and china are typically microwave and oven safe; however, check that your set doesn't have any metal accents before you use it in the microwave.
Bone China
Bone china is made from a mixture of animal bones and porcelain clay fired at a slightly lower temperature than traditional porcelain. The result is a translucent, lightweight and delicate looking material that, despite its fine appearance, is the strongest and most durable form of dinnerware. It is generally oven, microwave and dishwasher safe unless it contains metal accents.
Renowned ceramic makers, Luzerne, have taken bone china to the next level with their range of innovative crockery heralded as "stronger than bone china". Their products have extraordinary resistance to extreme temperature and will not even crack when removed from an oven at 180°C and placed directly under running water. Their bowls and plates are safe for use in commercial dishwashers, freezers, ovens and microwave ovens. Luzerne dinnerware is also scratch and chip resistant.
Types of Crockery
After you have gotten a grasp on the type of materials used to make dinnerware, it's time to decide what items of crockery you will need for your menu. There are so many items to choose from including coupe plates, V-shape bowls, charger plates, dinner plates, pasta bowls and the list goes on. Below we discuss the most recognisable types of crockery and what they are used for.
Bread Plates
The bread plate is normally the smallest plate on the table measuring about 130mm to 180mm in diameter. As the name implies, this plate is used for bread and butter. It is often found on breakfast and informal dinner settings.
Appetizer Plates
Typically a little bigger than bread plates, appetizer plates are designed for the plating of bite-sized treats, starters and appetizers like fruit, cheese and charcuterie. The defining feature of these plates is that they normally have slightly curved edges.
Salad Plates
Normally round in shape, salad plates can easily be mistaken for bread plates but they are larger, typically measuring around the 205mm mark. They are used for the service of individual portions of salad.
STONECAST OVAL SIDE PLATE 192MM
By Churchill
Dinner Plates
Dinner plates are normally 255mm to 305mm in diameter and are used to serve the main course. These plates are appropriate for lunch and dinner but lunch plates are normally slightly smaller.
There are various styles of dinner plates including the European rim-shaped plate and Eastern coupe-shaped plate. Western meals are generally cut into smaller pieces at the table, which is why rim-shaped plates have a well to collect the juices flowing from the food. Coupe-plates, on the other hand, have no rim because it is made to accommodate the way food is prepared and served in the East. Eastern meals are normally cut into bite-size pieces in the kitchen as opposed to the table. Coupe plates are slightly larger to accommodate the various courses on one plate.
WEB COUPE PLATE 310MM
By Luzerne
There are three different types of bowls typically used in food service. The size and shape of the bowl are determined by the temperature and texture of its contents. For instance, thick, chunky soups stay warm and are thus served in shallow, wide bowls so that they can cool down whereas smoother soups are served in deeper bowls to keep them warm for longer. We recommend to always use a charger plate with bowls as it helps protect your table.
Soup Plate
Normally only seen in formal dining settings, soup plates have a wide, shallow bowl with a flanged rim and a unique plate design with a diameter of 240mm, a wide rim of about 38mm, 38mm depth and well with a diameter of 165mm.
ROUND SOUP PLATE 280MM
By Fortis
Coupe Bowl
A coupe bowl has a saucer-like shape and can be used for a variety of meals. There are also different styles of coupe bowls on the market like V-shaped bowls that are narrower and wider.
Soup/Cereal Bowl
These bowls are not usually used in formal settings. They are appropriate for meals typically eaten with a fork or soup spoon, like salad or pasta. Depending on their style and design, you could use these bowls for the service of a variety of meals.
How to Choose a Dinnerware Set
Your own taste should be the guiding principle for choosing your dinnerware set; however, there are some considerations like trend, colour, versatility and style that should always be kept in mind. Remember, crockery is there for both functionality and to augment the presentation of meals. You may find a certain set of cerulean plates particularly pleasing but later you realise that they don't complement the full scope of your menu.
When in Doubt Go Classic
A set of white dinnerware will never go out of style and thanks to their neutral colour they complement just about any dish. You may recognise Fortis' brand of crockery from your local eatery as this brand is the go-to choice for hundreds of restaurants across the country. Their crisp white dinnerware features several durable properties and enhancements that make them tough enough for busy environments. Their Prima range has everything you may need from soup plates to square plates and more.
Mix and Match
Though a complete set of matching dinnerware provides you with a great foundation of crockery, it confines you to a singular look. For this reason, many people choose to mix their plates and rather match them according to meals. The second option also allows you to complement individual dishes easier. Colour is your guiding principle when it comes to mixing dinnerware. Make sure to choose items whose colours blend within a given harmony, for instance, patterns of the same colour go together well and bring excitement to your table setting.
Textured Settings
It's not just crockery that makes up your table setting. Cutlery, glassware, table linen and condiment holders together complete your table presentation. An important element that is often overlooked is texture. Match smooth dinnerware with fine textures in cutlery and linen like silver, crystal and tightly woven lines to lend your table setting a truly upmarket look and feel. Dinnerware with coarse finishes like pottery works terrifically with rustic materials like wood, stone, and loosely woven textiles.
At the end of the day, it's up to you. As much as dinnerware is there to complement your menu and setting, it's also there to communicate your own style and taste. There is an inexhaustible list of dinnerware brands available at your fingerprints including world-renowned brands like Luzerne, Fortis and Churchill with various ranges and styles to choose from so have fun with it. Shop durable and long-lasting crockery at Core Catering Supplies.