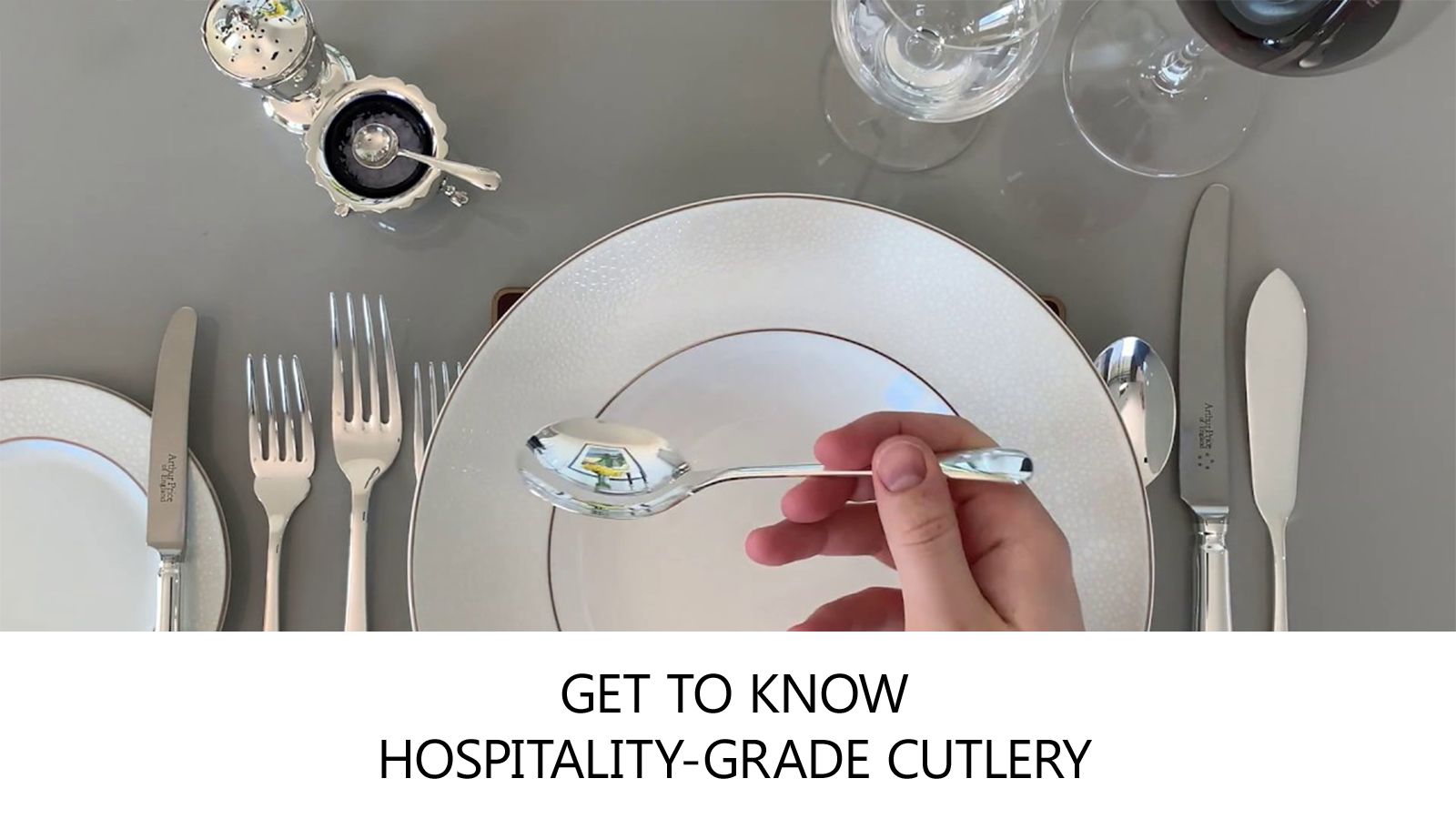 As the most used items in your kitchen, cutlery needs to withstand the stresses of daily use. For this reason, you need to pick a set that is made from strong material like stainless steel.
Stainless steel cutlery is stain and rust-resistant. This is because its composition contains both chromium and nickel. These materials form a thin, invisible layer on the surface of the steel and protect it from a wide range of corrosion media. They not only strengthen your cutlery set but also protects it from discolouring and is the reason why stainless steel has such a long life-cycle.
For these reasons, stainless steel cutlery is the best option for regular use and the perfect choice for hospitality, catering and domestic use. If you invest in a quality stainless steel cutlery set, you will enjoy a range of durable items with an exceptionally long life cycle.
What You Will Find In Our Cutlery Collections
Though not necessarily needed for informal dining occasions, a complete stainless steel cutlery range is a fantastic investment for your hospitality future. This is because these sets generally contain everything you need to serve any dish from the exotic to the mundane. Below we describe and discuss the uses and appearance of these items so that you are fully equipped for any dining occasions and we'll even show you how to set a formal dinner table in just a few steps.
How To Set A Table For A Formal Dinner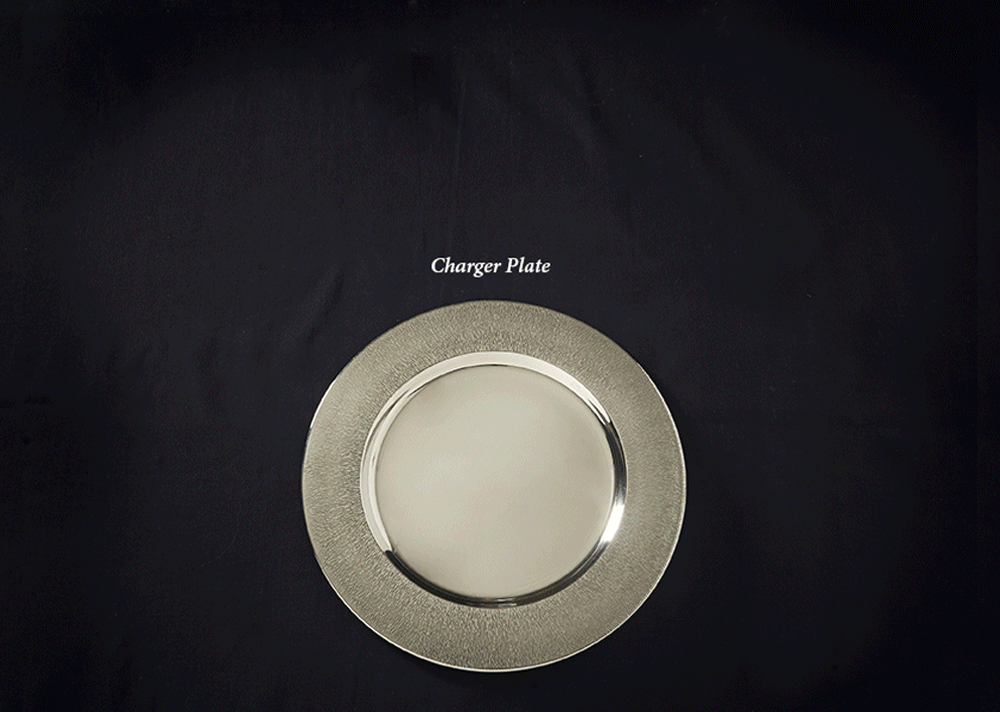 Table Fork
The table fork is your standard item of cutlery used to eat the main course. It measures at about 180mm in length and paired with the table knife or steak knife. They come in a variety of sizes such as the larger continental-style fork used for more formal settings.
Table Knife
This item of cutlery features a single cutting edge and a blunt end. They are your most typical knives found at the dinner table and are of moderate sharpness only because they are designed to cut through cooked and prepared food.
Dessert Fork
Not to be confused with the cake or pastry fork, the dessert fork measures at about 150 to 180mm and is slightly narrower than a table fork. Its specialised design features a left tine (prong) that is wider than the rest in order to provide more leverage in cutting firm desserts.
Dessert Knife
These knives are used during the dessert course and are typically smaller than a dinner knife coming in at about 200mm. Their unique feature is a narrow blade with a rounded or pointed tip. The round tip variety allows you to section soft deserts while the pointed tip style is better equipped for cutting through hard desserts.
Soup Spoon
The soup spoon is similar in size and shape as a tablespoon but the bowl is a little smaller and slightly tapers towards the tip. It also generally has a smaller handle than a tablespoon.
Pastry Fork
The pastry fork or cake fork is slightly shorter than the dessert fork, measuring in at about 130mm. Its specialised design features a notched left tine (prong) to provide extra leverage in cutting.
Dessert Spoon
The dessert spoon lies midway in length between the tablespoon and teaspoon at about 177mm long. It features an oval shape that holds just about two teaspoons of food. You will commonly find the dessert spoon in both formal and informal dining spaces.
Butter Knife
Butter knives feature a round point that prevents diners from tearing their bread when they spread butter. In very formal dining settings, a master butter knife is used to section and serve individual pats of butter to guests who then use their own butter knives for spreading.
Fish Knife
The fish knife features a specialised shape designed for eating fish. It has a wide 225mm long blade with a dull edge and a tip made with a notched point. This point is used to separate the skeleton from the body and easily lift the bones onto your plate.
Steak Knife
These knives are, as the name implies, made for cutting steak. They normally feature serrated blades and are the only sharp knife typically found at the modern dinner table. Steak knives do however also come in a straight blade variety for cleaner cuts of food but these need to be sharpened more often.
Fish Fork
The fish fork measures at approximately 185 to 197mm in length. Its unique design has a wide left tine (prong) and an optional notch, which is grooved to fit over the bones of fish. These features provide extra leverage in separating fish from the body.
Snail Fork
One of the smaller forks at the table setting, the snail fork is approximately 115mm long and features two long, pointed tines (prongs). As the name implies these forks are used to eat snails prepared in both formal and informal dining settings.
Tablespoon
Tablespoons are the largest spoon used for eating. In general, tablespoons refer to serving spoons but in some places they are used for eating, these varieties usually hold about 7-14ml.
Soda Spoon
The soda spoon or iced tea spoon is used to stir cold beverages in tall glasses like iced coffee and iced tea. It is the longest spoon in a range of cutlery and features a small bowl with a long handle. The soda spoon is normally between 180 to 250mm in length
Teaspoon
The teaspoon is one of the shorter spoons in a cutlery set, measuring in at about 130mm. It is mostly used in informal dining to stir hot beverages, sip soup and eat solid food. It is also a common unit of measurement with a bowl volume of 5ml.
Coffee Spoon
The coffee spoon is very similar to the tradition teaspoon, it is just a little smaller. Its unique shape allows it to pair excellently with coffee cups.
How To Care For Stainless Steel Cutlery
So now that you have your cutlery set, you will need to know how to properly care for it in order to keep it in prime condition. Luckily, it really is quite simple. Here we'll show you exactly what you need to do to get the most out of your brand new cutlery set.
Hand Washing
If you wash by hand, make sure to use warm, soapy water. Once washed, immediately rinse off in hot water and wipe dry with a soft, clean cloth. Do not soak your cutlery or leave unwashed overnight. Below are our top tips for hand washing stainless steel cutlery.
Do not use a powder cleaner rather stick to a liquid or cream detergent
Only use stainless steel cleaner for stubborn stains
Rinse cutlery when in contact with salt or acids
Do not use wire wool or other abrasive cleaners because they can scratch and remove the sheen from your cutlery
Dishwashing
If you are using a dishwasher, you will want to follow the instructions of your manufacturer carefully. Once the washing cycle has been completed, you should unpack and dry your items as soon as possible. If slight discolouration occurs due to hard water or certain foods, you can easily remove it by wiping the stain with lemon juice, vinegar or stainless steel cleaner. Below are our top tips for dishwashing stainless steel cutlery.
Make sure the design of the cutlery is suitable for dishwashing
Follow the instructions that come with your dishwasher
Do not mix stainless steel and silver plated items in the same cycle
Remove from the dishwasher as soon as possible
Buffing
If for some reason your stainless steel cutlery set does become stained, you can easily treat it by buffing it out with a simple steel buffing compound. Unlike silverware and other forms of cutlery, stainless steel does not require regular polishing because it won't tarnish.
At Core Catering Supplies we have several ranges of stainless steel cutlery sets available. Each of our sets is made from hospitality-grade stainless steel and feature a long life cycle. You will find that each of our unique ranges includes a huge variety of items, allowing you to find exactly what you're looking for and ensuring that it matches the rest of your set. Browse our complete cutlery sets from the casual to the creative below.