BARBECUE MEAT TONG
By Tramontina
R145.00 (Excl VAT)
Retail prices excluding local 15% VAT
Product Description
Turning, transporting and serving your barbecue is much more practical and easier with the Tramontina Churrasco Black meat tong with stainless steel blade and black rubber protection. Developed to offer you safety and quality during the preparation of your barbecue. Made of stainless steel with rubberized protection, it has an open and close system that guarantees firm and very comfortable handling, without locking during use. Tramontina and you, the perfect combination for a delicious barbecue!
Stainless steel handle with rubberized protection. It has an open and close system.
Recommended use:
Before first use, wash the item well and dry it. Do not use abrasive materials for cleaning and for greater durability of the product, it is recommended to dry it well before storing. Do not use in washing machines. To dispose of the product and packaging, follow current recycling guidelines.
In the detail
Handles: Stainless steel with rubberized protection
Size: 450mm x 39mm x 41mm
Weight: 0.23kg
Guarantee
90 days for defects or manufacturing defects
Brand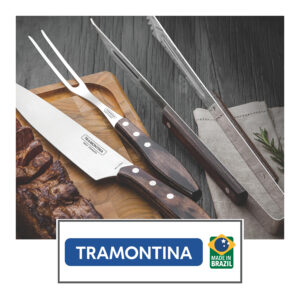 Founded in 1911 in Brazil, Tramontina is an international brand with over 100 years of experience in manufacturing high-end houseware products. It operates in over 120 countries offering quality, innovative, and functional products. Tramontina is dedicated to being a market leader in environmental responsibility and sustainable development – taking this on as one of its core values.
...