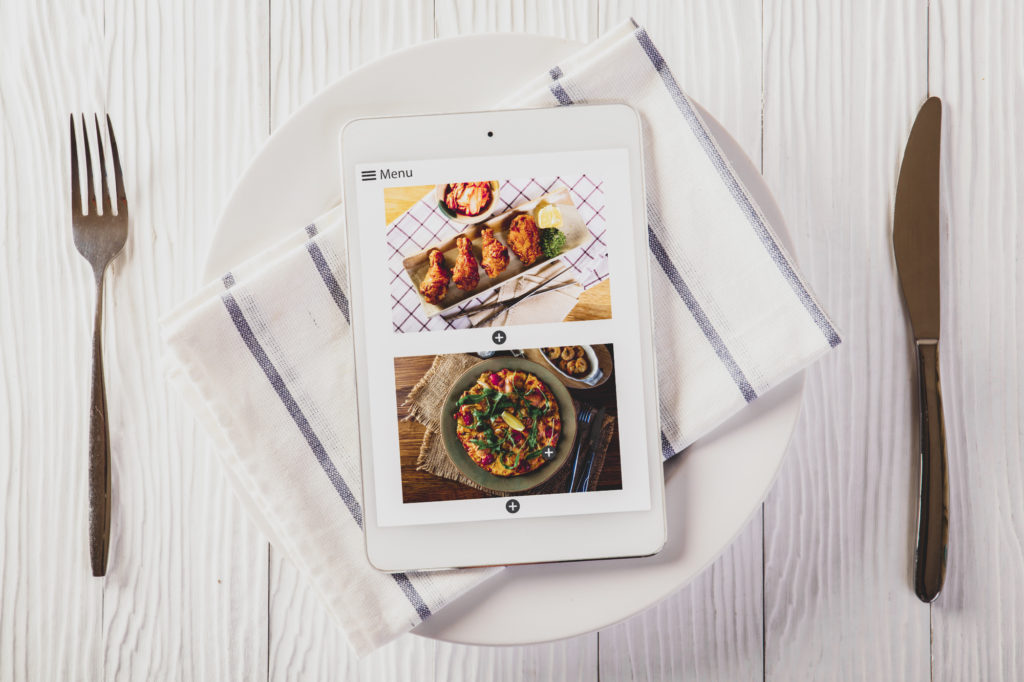 Engage with your customers even when they are not with you. There has never been a more important time than now to increase your online presence. Restaurants are all about community. Why should that stop when your customers walk out of your doors? Developing a social presence, and being able to correctly utilize it as a marketing channel, carries your community online and allows customers to interact with you even when they aren't with you.
Here are out top tips for powerful Social Media posts.
1. Show Behind the Scenes
We're seeing a lot of guests commenting on social media with concerns about what measures restaurants are taking to ensure the health of customers when it comes to takeout orders. Take a minute to post a behind the scenes photo of your staff in their gloves, masks, and other protective gear and share your sanitizing methods to ease any fears a potential customer may have about ordering out.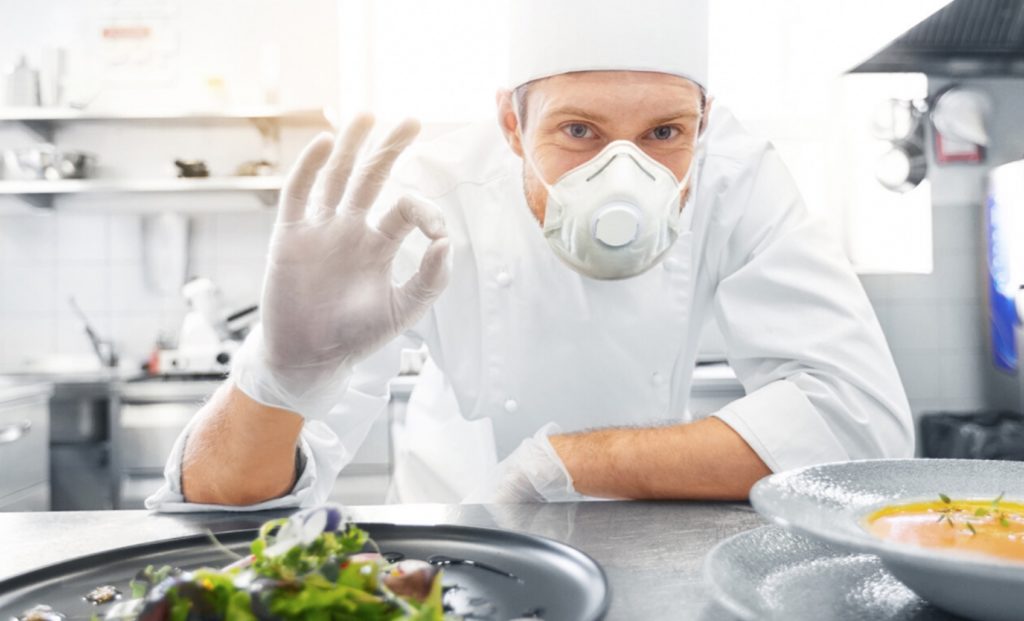 2. Post as Often as Possible
Things will still be uncertain in this industry for quite some time. A restaurant that is open one day may have to take a break the next. The more recent your last post on social media is, the more confidence guests will have that you are open and ready to serve them. Try posting once a day or at least a few times a week to let guests know you are still around.
It can be difficult to come up with content on a regular basis, but the key is not to overthink it too much! A shot of the day's special, a reminder of your contactless takeout procedures, or even a simple video of you just saying hello keeps you connected to your guests.
3. Introduce your staff to your followers
Your staff are a huge asset to your business. Leverage their distinct talents, expertise, personalities, and passions. By sharing posts about your staff, you give your customers a better glimpse into who they are and makes for a post that your employees want to engage with, likely sharing it with their networks. Not only does this boost the reach of your post, but it's also a great way to provide well-deserved recognition.
For example, share a photo of your pastry chef and their favourite dish of the moment, or announce your staff members' outside-of-work accomplishments like graduations, marriages, new babies, and more.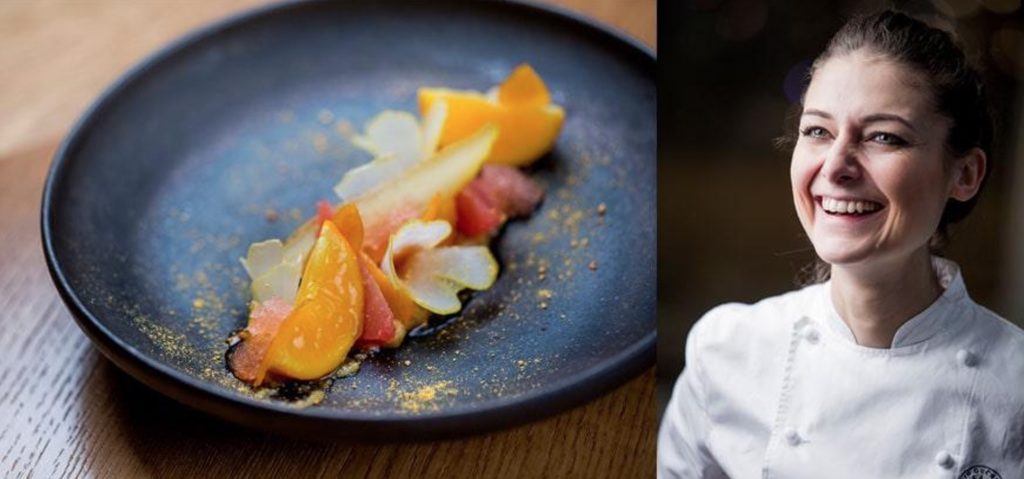 4. Tell Your Customers the Best Ways to Support You
For restaurants that have never offered any kind of off-premise orders, or are building in a new process, it can help to tell your audience exactly how to order takeaway to best support your business.
Why it's great? You are speaking from the heart and addressing that this isn't business as usual, and asking for support and empathy in this difficult time, while showing appreciation for the support you have received so far.
5. Share information on your ingredients
Consumers are becoming fussier when it comes to eating out – and they want to know that the food they're eating is not only made from high-quality ingredients but also that it's safe to eat. You can use social media to become a responsible business and let people know exactly what they're eating.
This works particularly well for takeaways that use lots of high-quality local ingredients, as you can use this as a selling point and encourage more people to try you out – you could even share images of potatoes being picked from a farm, only to be turned into hand-cut chips and fried. A video of the process would work great!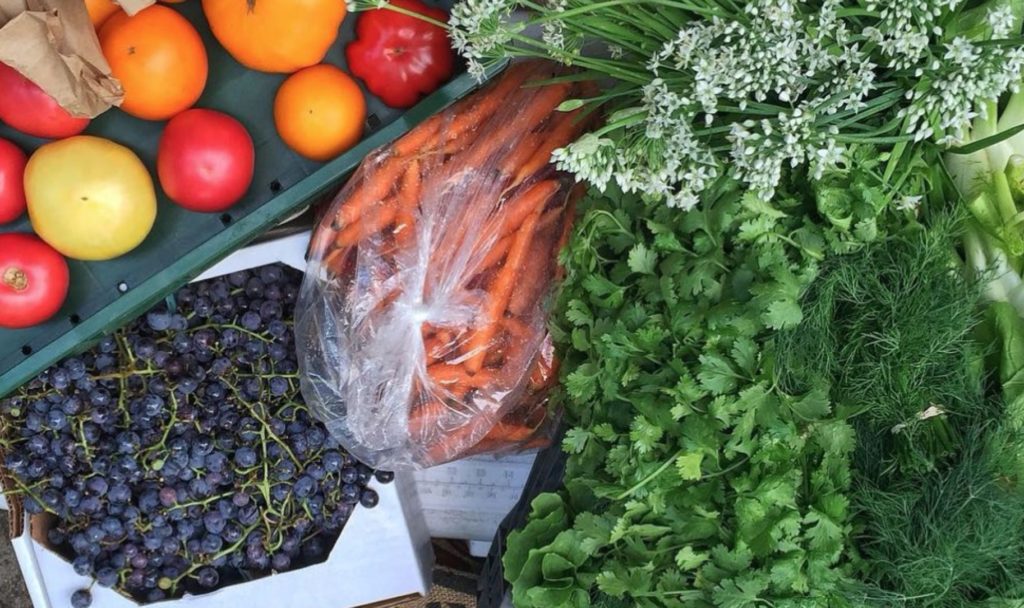 6. Run a Competition
Instagram is the platform where restaurants see the most engagement, so try running a contest to boost your reach. The Instagram algorithm loves it when people share, comment on, and like your photo and contests give your followers a reason to do just that. An Instagram contest is a low-budget method to get the word out.
7. Keep it short and sweet
Keep your words short and incorporate into images that tell the story for you…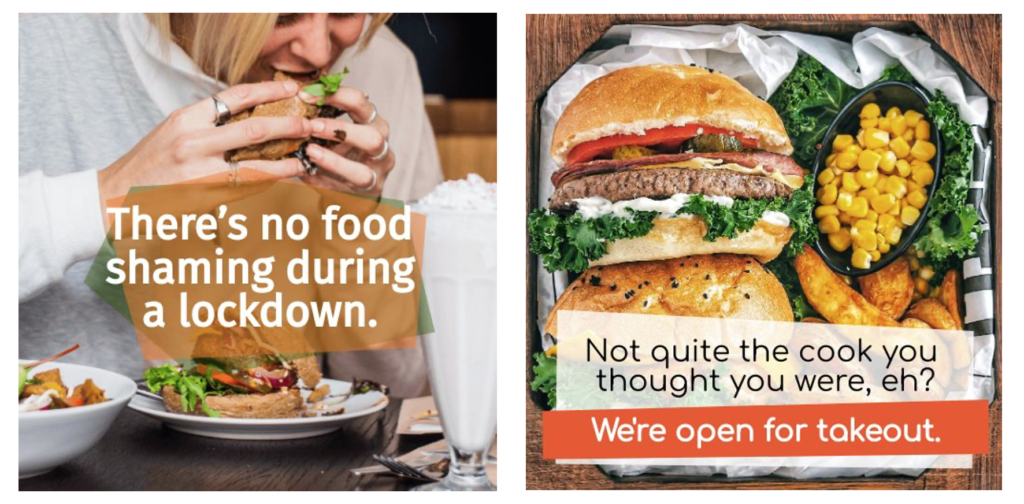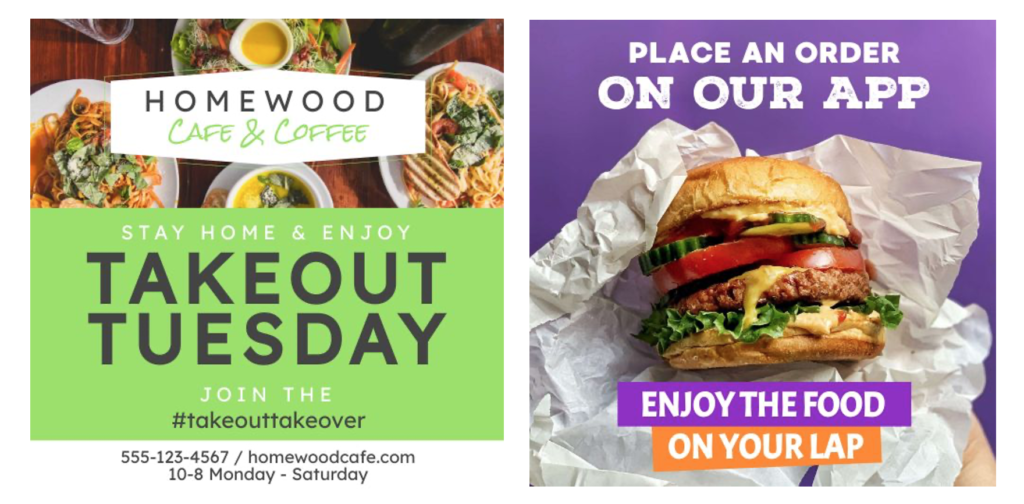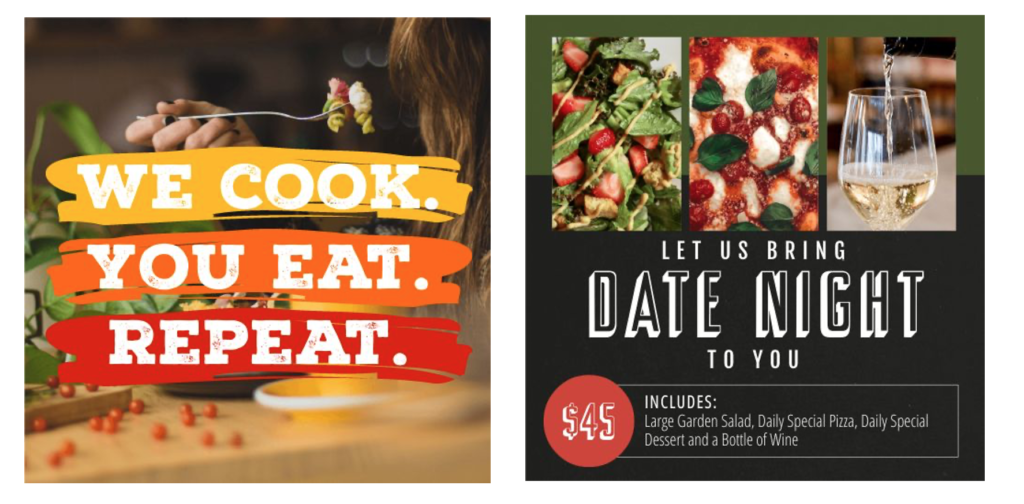 8. Post at Optimal Times for Your Restaurant
It's important to know the best times to post to social media, but make sure you understand your core audience first. Take time to analyse your current stores' traffic to know when to best reach your customers. It's important to work with time ranges instead one specific set time. See our data on restaurant brands' best times to post on Instagram: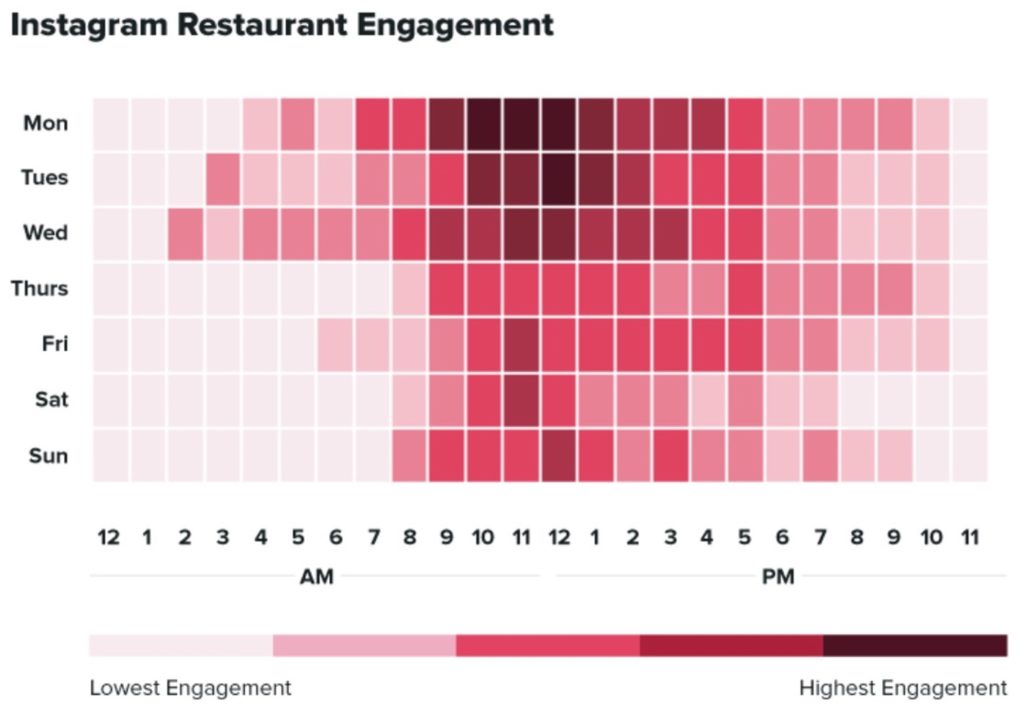 9. Photographs of your food well
You make delicious food, so start taking photographs to match. You don't have to be a world-class photographer to take great snaps of your meals. Nowadays, we all have great smartphones in our pockets – just focus on presentation, find a spot with great natural lighting, turn off your flash and take pictures in landscape mode.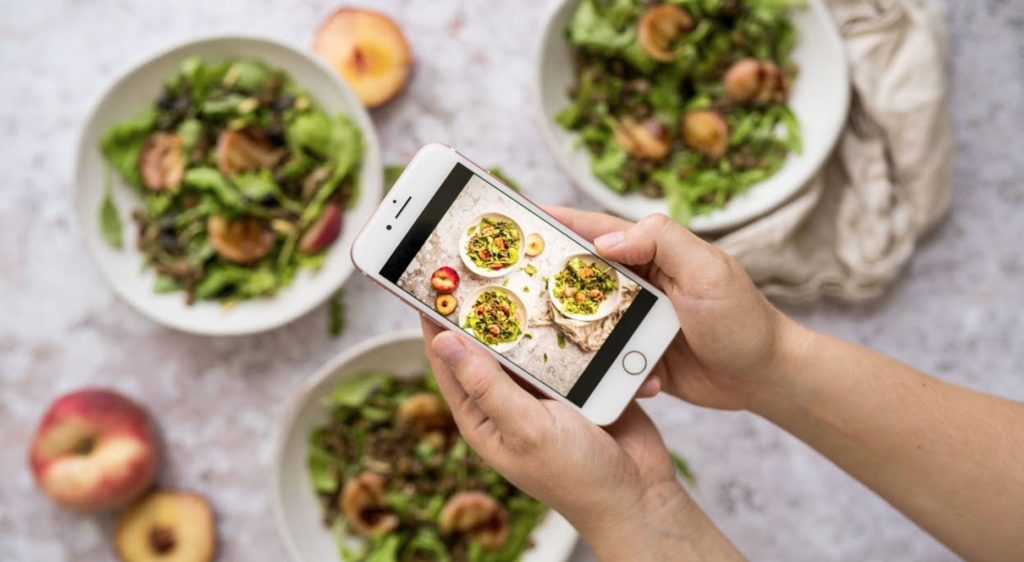 10. Recipes, how-to's, and tutorials
Show off your expertise and show your followers how you make your food. Of course, you don't want to give away all of your secrets or encourage people not to buy from you, but by sharing some tips, you'll not only show people you're an expert at what you do, but you'll be creating some valuable content that you can share time and time again, AND generate likes and followers from.
11. Reviews from satisfied customers
If your food is any good, then you'll have a boatload of satisfied customers who have left reviews. Share some of these on social media, either by making your own custom graphics, asking your patrons to record a quick video sharing their experiences or by taking photos of thank you cards and recommendations from your loyal customers.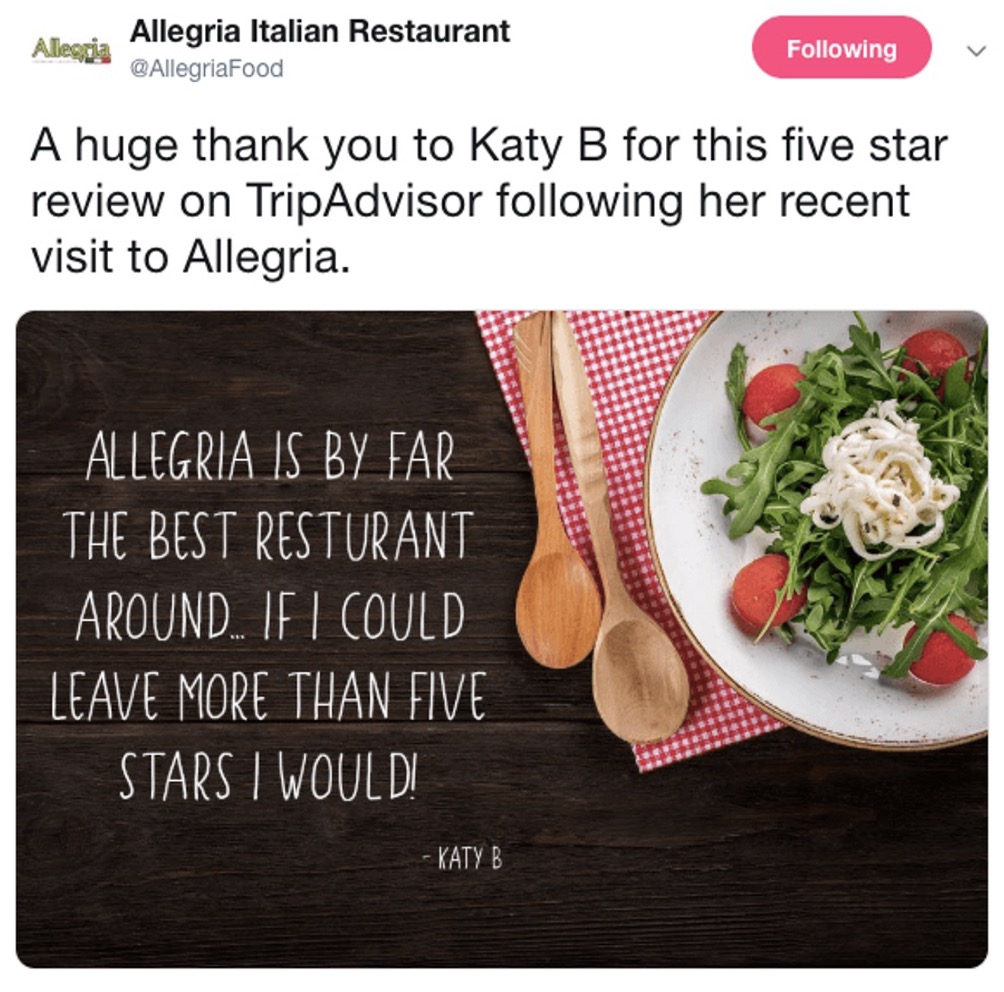 Happy posting ! And remember consistency is key !
---