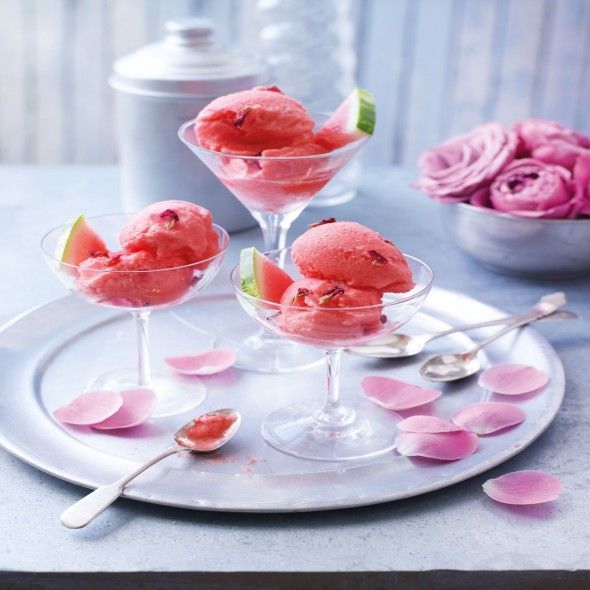 Watermelon and rose sorbet recipe
Pretty in pink, watermelon apparently contains chemicals that can help you relax, the perfect way to end your Valentine's Day just right. Try this refreshing sorbet for a luscious light dessert.
INGREDIENTS
225 g granulated sugar
900 g watermelon flesh, chopped and deseeded, plus wedges to serve
1 1/2 tsp. rose water
Juice of 1 lemon
1 egg white, lightly beaten
1 tbsp. dried rose petals, optional
DIRECTIONS
In a large saucepan, gently heat sugar with 500ml water, stirring until sugar dissolves to a clear syrup. Set aside to cool, then chill for 20min.
Blend watermelon flesh, rose water and lemon juice in a food processor, in batches if necessary, or use a stick blender. Use a wooden spoon to press the pulp through a sieve set over a large bowl to collect the juice. Break up any lumps in the pulp, then use a wire whisk to stir it into the watermelon juice along with the cooled sugar syrup.
Pour mixture into a 1.4kg loaf tin and freeze for 5hr until nearly frozen.
In a medium bowl, whisk the egg white to stiff peaks. Break up the sorbet, put it into a food processor and blend it with the egg white into a smooth slush, in batches, if necessary. Spoon into the loaf tin, smooth the surface, scatter with rose petals and freeze for a further 6hr or overnight.
To serve, allow to soften slightly and scoop into balls. Enjoy !