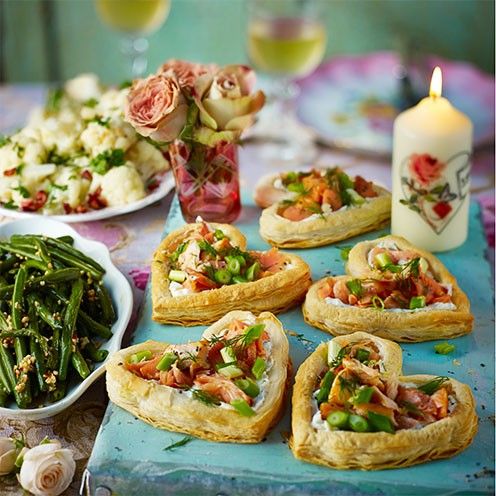 Queen of hearts tarts recipe
Known as a natural aphrodisiac, salmon is a rich source of protein – good for stamina. This fish is also full of Omega 3s for higher serotonin levels and vitamins for that libido boost.
INGREDIENTS
2 x 320 g packs ready-rolled puff pastry
300 g light cream cheese
Finely grated zest of 1 lemon
Finely chopped fresh dill
160 g pack hot-smoked salmon skinned and flaked (or use cold-smoked salmon, skinned and flaked)
2 spring onions, finely sliced
DIRECTIONS
Preheat the oven 200°C (180°C fan) mark 6. Unroll the puff pastry and cut or stamp out six individual-size hearts. Arrange the hearts on baking sheets, spacing a little apart. Score a 1cm (1/2in) border in from the edge of each heart. Use a fork to prick pastry well inside the border.
Bake the pastry hearts until golden, risen and crisp – about 20-25min. Take out of the oven and use the back of a spoon to press down the pastry carefully inside the border to make room for the filling. Cool completely, then tip/scrape out any loose crumbs from cases (so they won't get into the filling).
To make the filling, mix together the cream cheese, most of the lemon zest and dill and some seasoning (if mixture is too thick, loosen with a little milk). Spoon into the cooled tarts, level gently, then top with the flaked salmon and spring onions. Scatter over the remaining lemon zest and dill as well as some freshly grated black pepper. Serve. Enjoy !