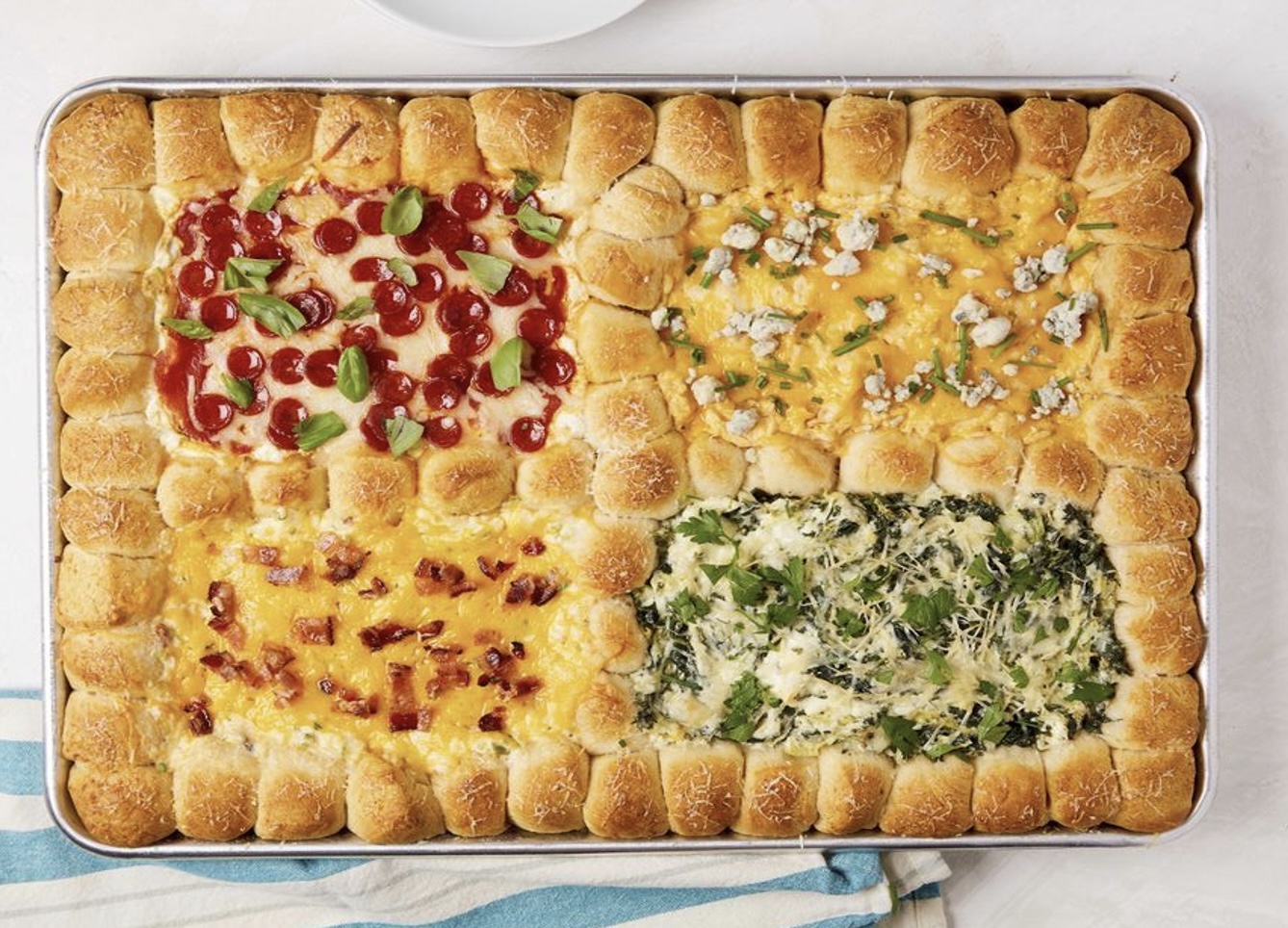 4 WAY DIP
The hardest decision on game day is which dip to make. This dip gets rid of that. Combining your four favourite dips of buffalo chicken, spinach artichoke, jalapeño popper, and pizza this dip has something for everyone. Your match day spread just got infinitely better. 
Ingredients:
FOR THE BISCUIT DIPPERS & BASE DIP
Cooking spray for pan
2 (16.3-ounce) cans of refrigerated biscuits
4 tbsp. melted butter
1/2 tsp. garlic powder
1/2 c. freshly grated Parmesan
3 (8-ounce) blocks of softened cream cheese
6 c. shredded mozzarella
FOR BUFFALO CHICKEN DIP
1 1/2 c. shredded cooked chicken
1/4 c. buffalo sauce
1 tbsp. ranch dressing
Blue cheese crumbles for topping
Freshly shopped chives for topping
FOR SPINACH-ARTICHOKE DIP
3/4 c. baby spinach
1/3 c. sour cream
1/2 c. chopped artichoke hearts
FOR JALAPEÑO POPPER DIP
4 slices, crumbled cooked bacon
1/3 c. sour cream
2 mince jalapeños
FOR PIZZA DIP
1/2 c. pizza sauce
1/4 c. shredded mozzarella
1/4 c. mini pepperoni
1 tsp. italian seasoning
Torn fresh basil for topping
Directions:
Preheat oven to 180 degrees and grease a large baking sheet with cooking spray. 
Cut each biscuit into 4 pieces and pinch edges together to form a ball. Place biscuits around edges of prepared baking sheet and then in lengthwise and crosswise lines down the middle to create four separate quadrants.
Brush biscuits with melted butter and top with garlic powder and Parmesan.
MAKE BASE DIP:
In a large bowl using a hand mixer or in the bowl of a stand mixer, beat cream cheese and mozzarella until combined.
MAKE BUFFALO CHICKEN DIP:
Transfer about a quarter of the base dip to a medium bowl, then mix in chicken, Buffalo sauce, and ranch. Scrape into a quadrant with spatula.
MAKE SPINACH-ARTICHOKE DIP:
Transfer another quarter of the base dip to a medium bowl, then stir in spinach, sour cream, and artichokes. Transfer to a quadrant.
MAKE PIZZA DIP:
Transfer another quarter of base dip to an empty quadrant. Spoon pizza sauce over dip, then sprinkle with more mozzarella, pepperoni, and Italian seasoning.
MAKE JALAPEÑO POPPER DIP:
Add sour cream, most of the bacon (save some for topping!), and jalapeños to remaining base dip and stir. Transfer to last quadrant.
Bake until biscuits are golden and cheese is melty, 30 minutes.
Top Buffalo Chicken Dip with blue cheese and chives. Top Spinach-Artichoke Dip with parsley. Top Jalapeño Popper Dip with remaining bacon crumbles. Top Pizza Dip with basil.