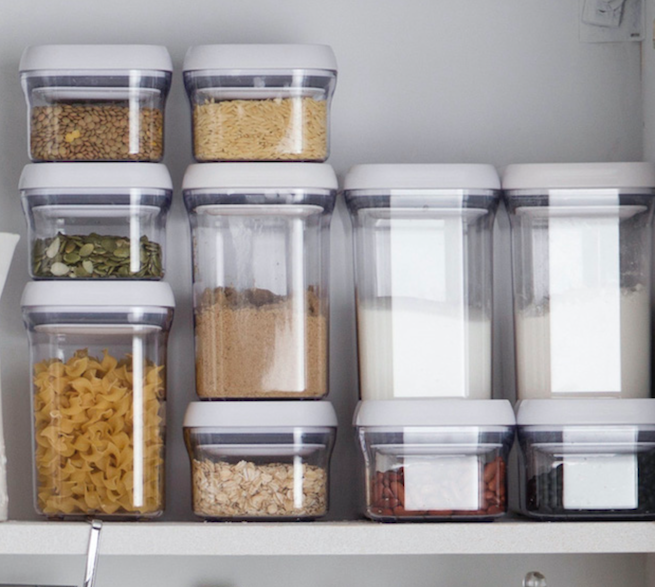 Wouldn't it be nice to have a highly organised kitchen where every gadget, appliance, and utensil has a dedicated—and convenient—home? We're talking hidden drawers, cool compartments, and custom cabinets galore. Here are our all-time favourites, bookmarked (and never forgotten)….
Hidden extra prep surface when you need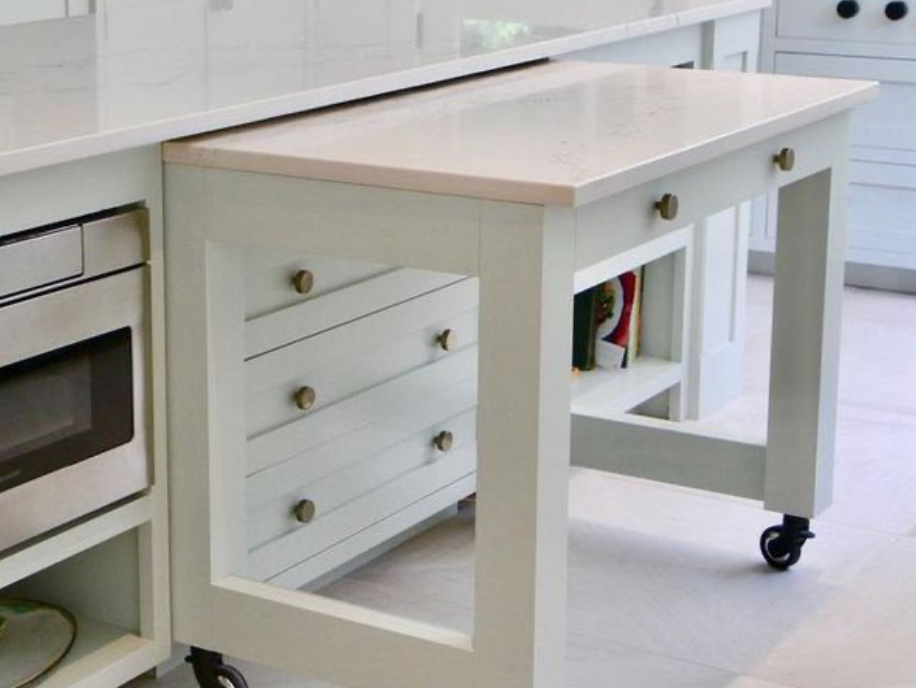 It looks like merely another drawer, but it's really a pull-out island extension. Simply genius! This extendable counter is mounted on wheels, allowing you to drag out when you need more counter space.
---
A Pull-Out cutting board above the bin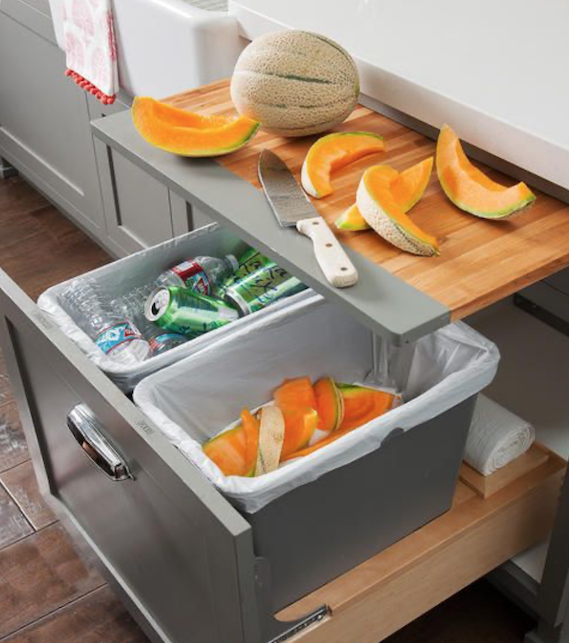 No need to find a storage spot for this cutting board—it slides right back into the counter. Plus, as a bonus, it's situated right above a pull-out bin, so you can simply scoot any waist easily away. There's even a spot behind the bin where you can store spare bags. Now that's a thoughtful design!
---
Convenient compartments for spices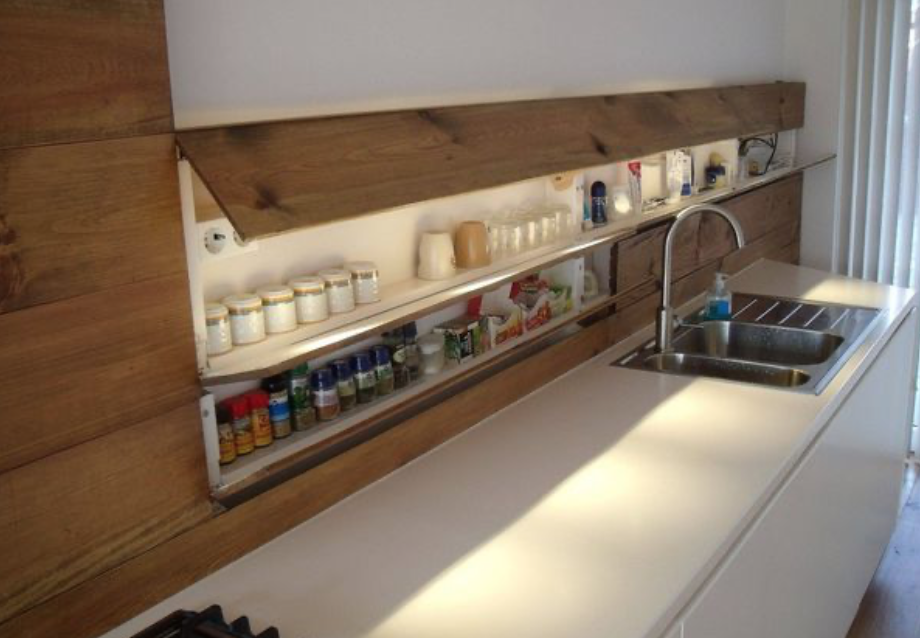 If counter clutter irks you, chances are you want to tuck spices, oils, and other cooking supplies away in a cupboard. However, these items get used so frequently, so it's a pain to have to dig them out regularly. The solution? These awesome hidden compartments behind the counter, which blend in perfectly with the backsplash. Now you see 'em, now you don't.
---
A cabinet for awkward-shaped utensils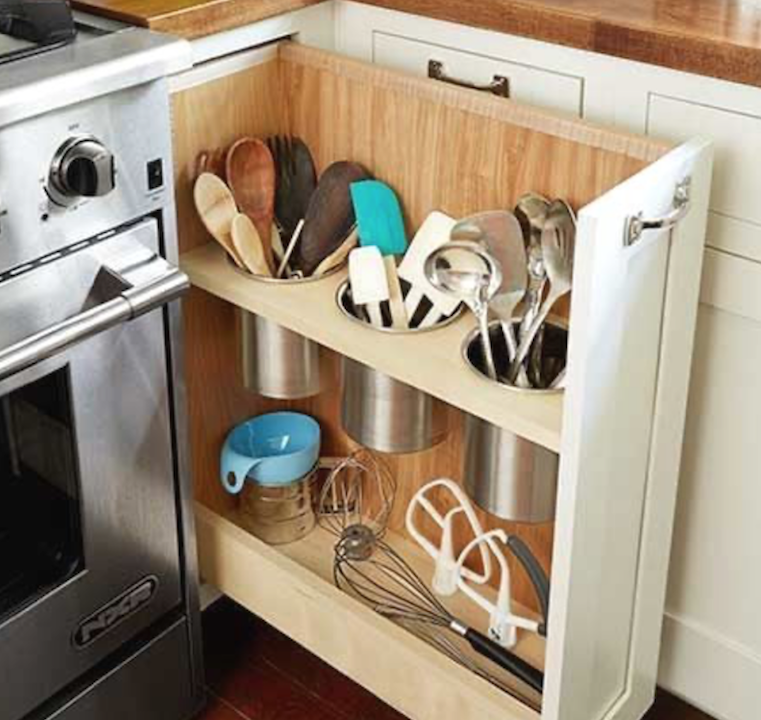 This cool slide-out cabinet takes the place of that skinny cabinet beside the oven and features several containers to hold cooking spoons, spatulas, whisks, and other awkward cooking implements that don't lend themselves to flat storage.
---
Hidden compartments in unused Areas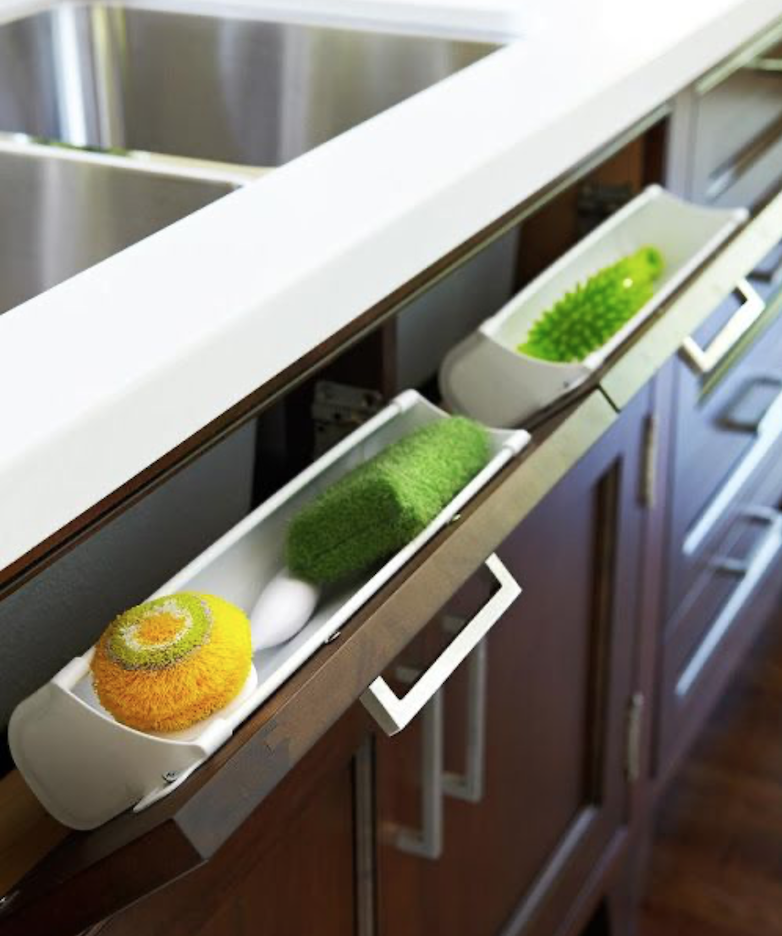 Instead of putting your dirty sponges on display for the whole world to see, you can tuck them away in this sneaky compartment. The pull-down panel is equipped with plastic tubs that are ideal for stashing cleaning supplies like sponges, scrub brushes, and more, and it will help keep your counters clutter-free.
---
Use command hooks to hang pot lids on cabinet doors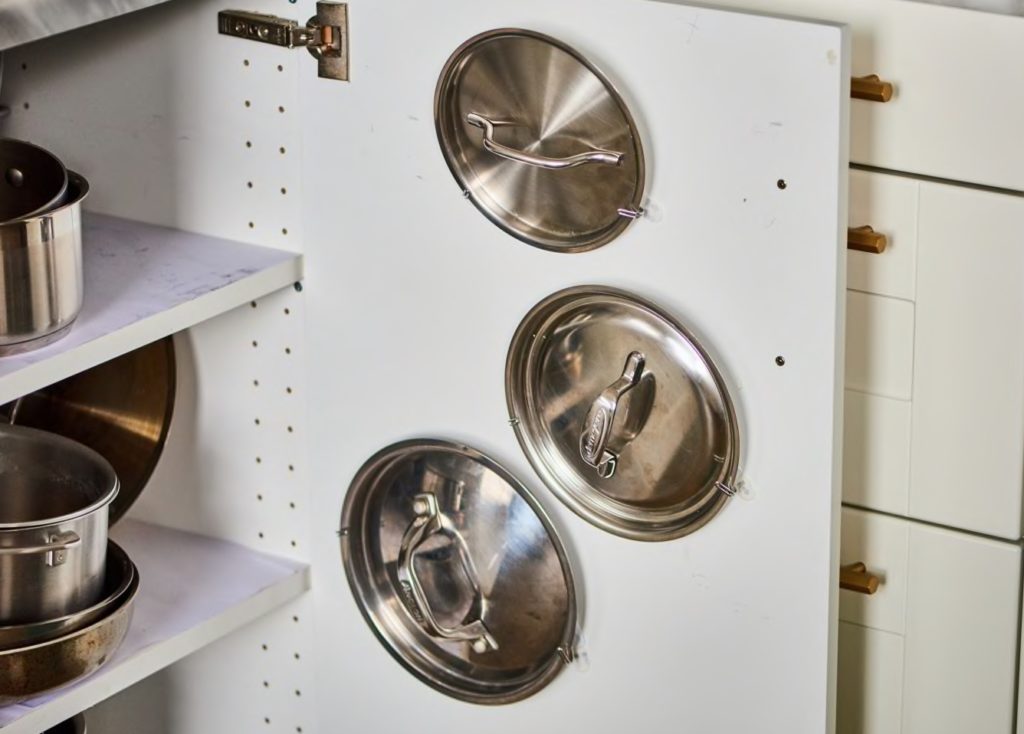 An avalanche of pot lids is never fun. Keep them all in place (on the back of cabinet doors) with a few Command hooks. It's quick and easy to do and it's a totally custom solution
---
Upcycle your egg crates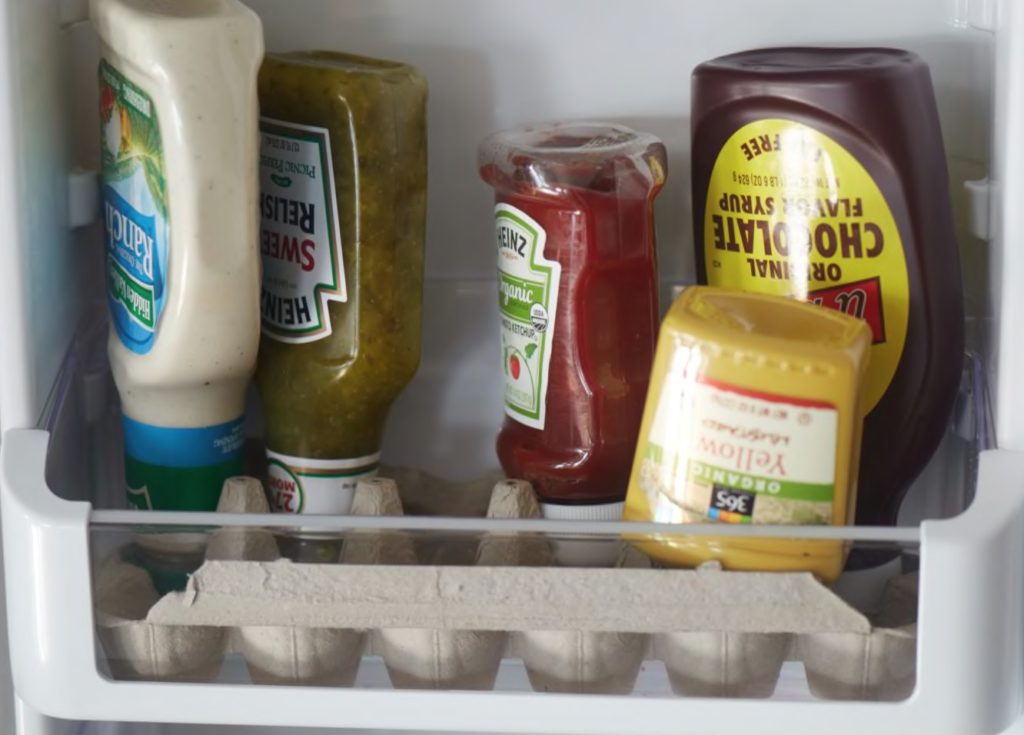 When you're done with a carton, separate the top and bottom and use one to line the bottom of the shelf on your fridge's door, then store condiments mouth-side down.
---
A special drawer just for pot lids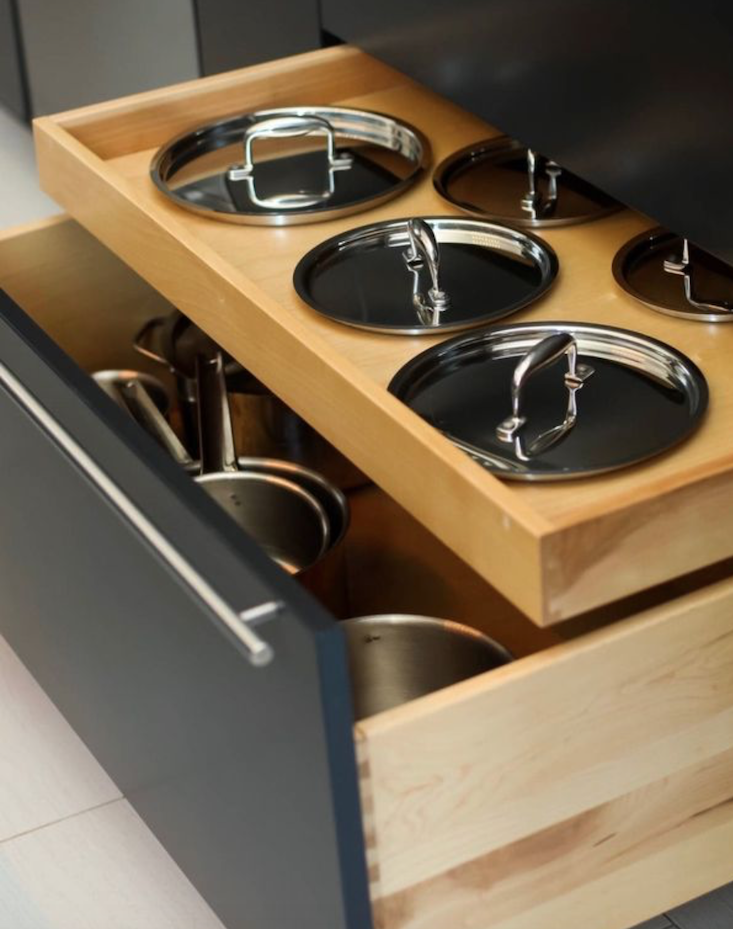 We know that you are not supposed to stack your pots and pans, but most people do. However, the one issue is that there's no good way to store their lids. Enter, the lid drawer. This ingenious shallow drawer is the perfect spot to stash all sorts of pot and pan lids for easy access.
---
Under-The-Sink drawer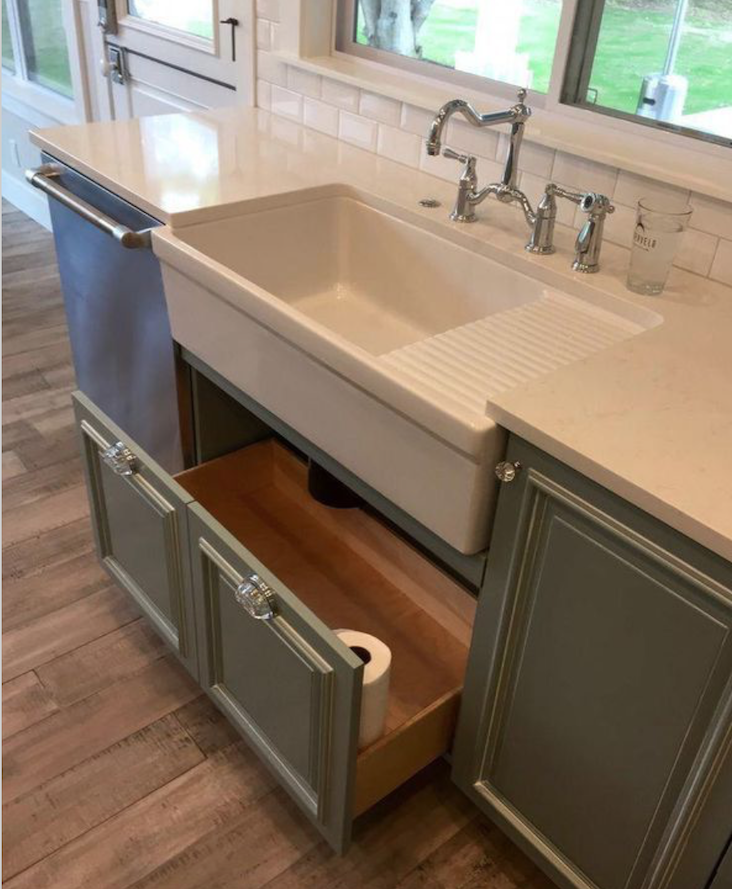 Most homes have a cabinet under the sink. But instead of wrestling to get bottles of cleaning solution out from behind the sink's pipes, you could just slide the whole drawer out to access whatever it is you need.
---
Home for unwieldy baking trays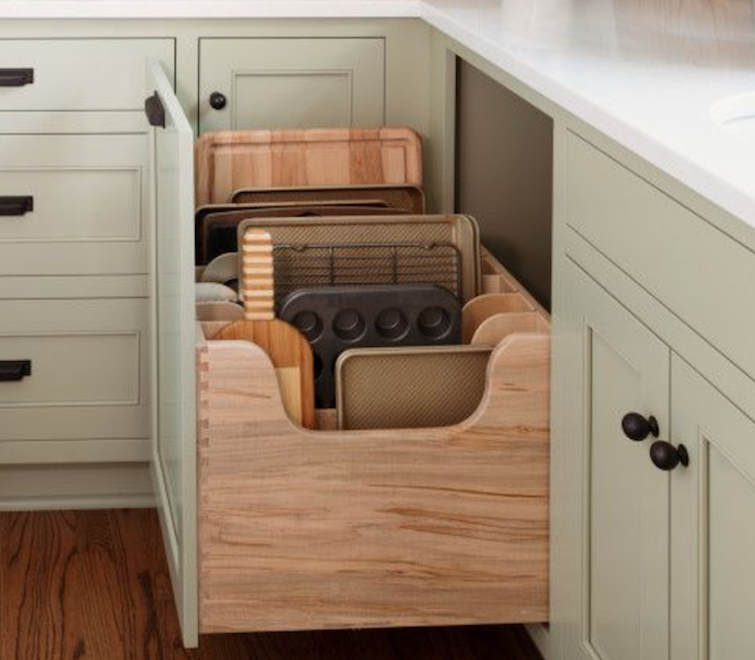 If you have an impressive collection of baking gear, this custom drawer is the perfect place to store pans, trays, and racks of all shapes and sizes. It takes up the whole depth of the counter, so you can even fit large cutting boards and baking sheets into its built-in slots. Just like that, you'll never have to struggle with unwieldy stacks of baking trays to find the one you need.
---
Move your jars up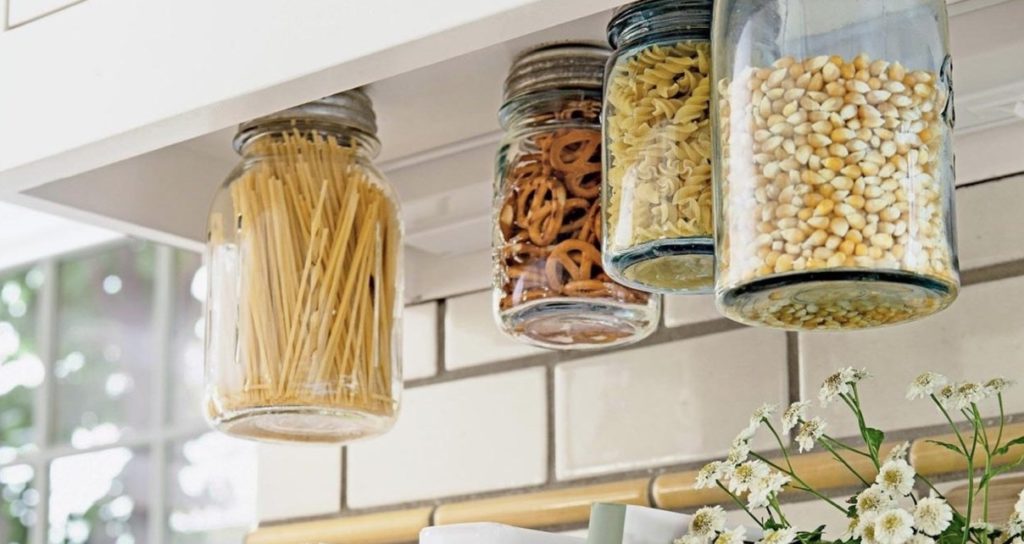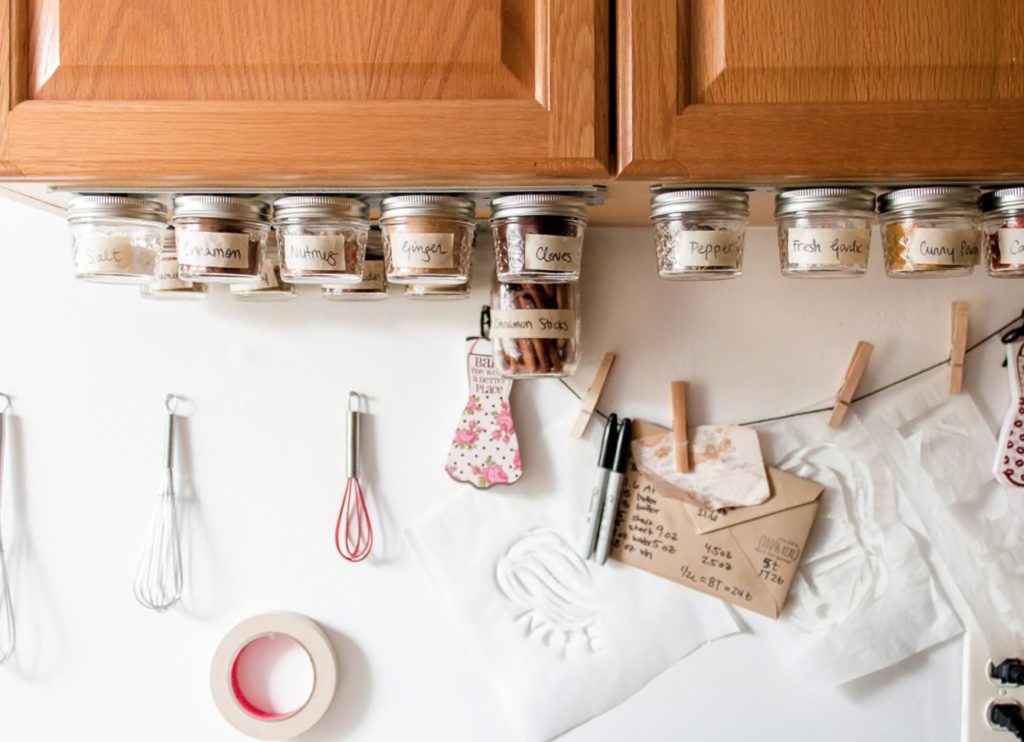 It couldn't be simpler and you will wonder why you never thought of this before. Affix your jar lids under your cupboards and voila! More kitchen counter space
---
"Toekick" drawers for pans and platters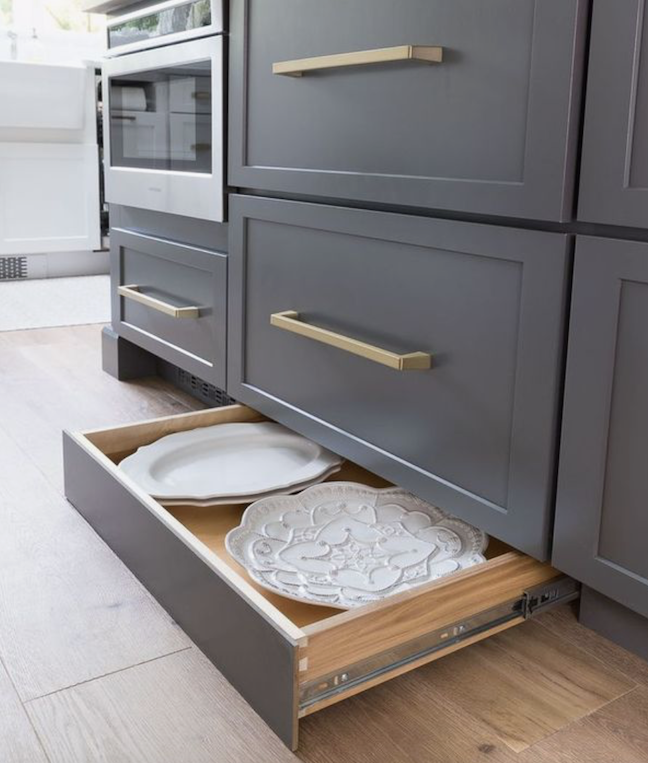 These drawers are hidden in a typically wasted space: The baseboard under your kitchen counters, and their slim design is ideal for storing baking sheets, platters, and other thin items. Plus, the best part is that they're push-activated, so you can open them with your feet!
---