SMOOTHIE CUP WITH LID ONLY 900ML
By Omniblend
R260.00 (Excl VAT)
Retail prices excluding local 15% VAT
Product Description
The OmniBlend personal cup is strong and designed to add convenience to your usually high performance blending, with an effortless blend, seal and go solution. The cup has a good fit for your car coffee cup holder, making it easier to have a healthy breakfast on the go.
The adaptor is sold separately for the cup, and fits on all OmniBlend models, offering the same robust blending performance as the other jugs. The adaptor has a solid design using the original JTC OmniBlend stainless steel blade assembly that is also used in the OmniBlend jugs. The stainless steel moving parts make the adaptor robust and durable, and ensure optimal smooth blending results.
Adaptor is sold separately (P-100)
The adaptor and Smoothie cup with lid is also sold as a set (P1-950-100)
In the detail
900ml Cup
Flip cap lid with carrying ring
BPA free material
Compatible with all OmniBlend models
Adaptor for smoothie cup is sold separately (P-100)
The Adaptor and smoothie cup with lid is also sold as a set (P1-950-100)
Guarantee
Application:
Only use for cold liquids and dry ingredients.
Do not use for blending hot or carbonated ingredients.
Use the standard OmniBlend jugs for blending hot liquids and carbonated drinks.
Brand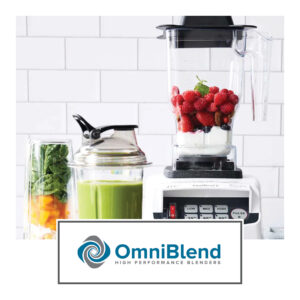 The first pick for chefs around the country, OmniBlend blenders are powerful, durable, versatile and affordable. These industry blenders allow you to puree, blend, chop and grind ingredients in seconds thanks to their 3HP motor, innovative cutting blade design and polycarbonate jug. Having been on the South African market since 2011, Omniblend has become a standard for the hospitality industry and is steadily making its way into our homes. Other blenders pale in comparison to OmniBlenders with their six-blade assembly, including 2 downward blades that prevent dense foo...