POCKET KNIFE 187MM
S/STEEL BLADE & ABS HANDLE
By Tramontina
R99.95 (Excl VAT)
Retail prices excluding local 15% VAT
Product Description
Tramontina's pocket knife with stainless steel blade and 3-inch smooth edge ABS handle is the right choice for those looking for practicality in their daily lives without giving up a beautiful piece. Tramontina's line of pocket knives ensures that you are prepared to cut, peel, open and much more. The knife is produced with a highly durable stainless steel blade and has an ABS handle, features that guarantee its quality, offering comfortable and safe handling. Furthermore, it offers practicality in charging, allowing you to always have it on hand.
Be careful when handling cutting and piercing products and keep them out of the reach of children. For greater durability of the product, it is recommended to dry it well before storing, even after washing in a machine. To dispose of products and packaging, follow current recycling guidelines.
---
In the detail
Material: Plastic
Blade: Stainless Steel
Blade Size: 82mm
Handle: ABS (thermoplastic polymer with plastic and rubber properties)
Handle Size: 105mm x 20mm x 17mm
Overall Knife Length: 187mm
Guarantee
90 days for defects or manufacturing defects
Brand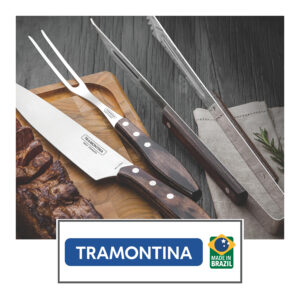 Founded in 1911 in Brazil, Tramontina is an international brand with over 100 years of experience in manufacturing high-end houseware products. It operates in over 120 countries offering quality, innovative, and functional products. Tramontina is dedicated to being a market leader in environmental responsibility and sustainable development – taking this on as one of its core values.
...