OIL JACKETED POT 225L
By Anvil
R76,737.25 (Excl VAT)
Retail prices excluding local 15% VAT
Product Description
Ideal use for restaurants, hotels, schools, institutional kitchens. It is fitted with a high-quality safety drain valve to protect the operator from accidental burning, it has perfect heat balance with an insulated handle. The inner pot is made from high-grade 304 stainless steel and is indirectly heated by the incoloy elements which are submerged in oil for even heat distribution. Easy to operate, with temperature overload protection, this pot is perfect for commercial use.
In the detail
Made from high-quality grade 304 stainless steel and 0.9mm stainless steel lid
Thermostatically controlled with over temperature and over-current protection
Power Source: Electric
Volts: 3N – 380V
Power: 18kW
Dimensions: 1175L x 1000W x 970H mm
Weight: 120kg
Volume: 225L
Packing Size: 1375L x 1100W x 1120H mm
Oil Chamber: 70L
Guarantee
LIMITED 2-YEAR WARRANTY
All equipment that is sold under the ANVIL trademark and used for commercial purposes is warranted against defects in materials and workmanship. The warranty runs for two years from the date of the original installation and is for the benefit of the original purchaser only. All other warranties, expressed or implied, statutory or otherwise, including without limitations any implied Warranty of Merchantability or fitness for purpose are excluded. The Seller shall in no event be liable for direct, indirect or consequential damages in connection with ANVIL commercial products.
The Sellers's obligation under this warranty is limited to the repair of defects without charge. Defective units must be taken or shipped, transportation charges prepaid, to ANVIL.
This warranty is not effective if damage occurs because of an accident, carelessness, improper installation, lack of proper set-up, supervision when required or if the equipment is installed or operated in any manner contrary to the installation and operating instructions. In these cases, repairs will be made at a reasonable cost. Work performed by unauthorized personnel or unauthorized service agencies using non-Anvil spares voids this warranty.
Brand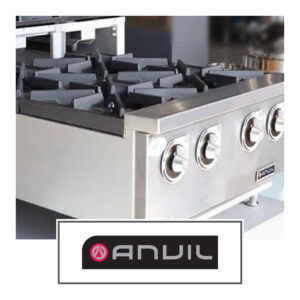 Since their inception in 1966, Anvil has become one of the most recognised and popular brands within the commercial food service equipment industry, having earned its trust and respect through a broad range of top quality products. Anvil is seen as the go-to brand for thousands of establishments including restaurants, canteens, supermarkets, hotels, bars and even hospitals. The brand has become so popular that its products are being distributed worldwide in over 30 countries. The reason Anvil products have enjoyed this much success is because of their unparalleled qual...