3.5 GLASS DOOR UNDERBAR FRIDGE
WITH LED LIGHT
By Metnor
R28,008.20 (Excl VAT)
Retail prices excluding local 15% VAT
Product Description
Manufactured with over a decade's specialization behind the name, Metnor's standard refrigerated cabinets and underbar fridges are built especially for the catering industry and are constructed from a combination of 304, 316 and 430 stainless steel, with Chromadek® pre-painted, hot-dip-galvanized or electro-galvanized steel sheets. These cabinets and fridges can be made to specific dimensions and finishes, depending on the environment and requirements of the project.
Thanks to brilliant design, these cabinets and fridges stand on industrial casters, offering effortless ease of transport or moving it from one location to another when the need could arise.
Delivery included to CPT, JHB (Johannesburg) and DBN. Outlying areas might incur additional delivery charges.
In the detail
Stainless steel plain top surface
3.5 GD Doors with one height adjustable shelf per full door
LED light included
All insulation components are laminated with high strength adhesives, that is stronger than a foamed in-situ one
Polystyrene is used as insulating medium
Refrigeration components operate on ozone friendly refrigerants such as R134A, R404 and R507
Refrigeration systems include an electronic controller with clear digital LED display
Refrigeration systems include a timed-defrost interval to enable the user's pinpoint accuracy on the refrigeration status
Weight: 146kg
Power: 450W
Dimensions: 2380L x 650W x 900H mm
Guarantee
LIMITED 12-MONTH WARRANTY
Machine parts are covered for a period not exceeding twelve months from the date of METNOR invoice to the dealer. If the warranty falls within the 14-day period, and if the unit cannot be repaired on site, METNOR will cover the cost to uplift the unit and will repair it, or supply a replacement. Loss of revenue, stock, production and/or damage to property is not covered by this warranty. Failure of electrical components due to incorrect voltage, lightning or power surges are not covered by this warranty.
Brand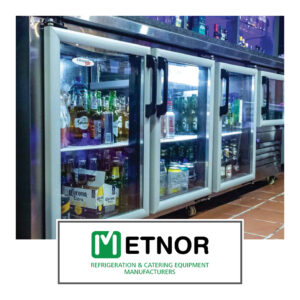 Designing, manufacturing and supplying equipment to some of the leading names in food retailing, catering and hospitality, Metnor has built up a glowing reputation for its range of stainless steel products including fridges, deep fryers, countertops and more. This brand has been offering highly innovative solutions to an ever-growing client base since 1993. Metnor's popularity is the result of a commitment to cutting edge design facilitated by the use of the latest technologies and design software. They have a firm no-compromise stance on both craftsmanship and mater...