PRIMA ELEGANT TEA CUP 220ML
By Fortis
R35.25 (Excl VAT)
Retail prices excluding local 15% VAT
Product Description
The elegant teacup and flat saucer brings classic style with a twist to tea service. Made from hospitality-grade porcelain, this cup features an angular handle for a firm grip and easy drink.
In the detail
V220ml
Hospitality-grade porcelain
Fortis Elegant flat saucer sold separately
Brand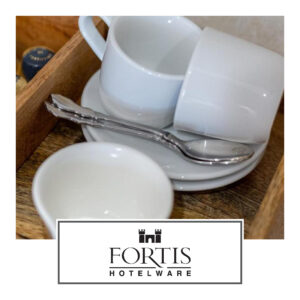 Fortis Hotelware pride themselves as being a one-stop-shop for the catering and hospitality industry by providing complete tabletop solutions including crockery, cutlery, glassware and accessories. Fortis' contemporary Prima range marries the stunning beauty of fine china with exceptional durability to produce a genuine, long-lasting catering product. This vast collection of tableware has several properties that make it the go-to choice for many in the hospitality industry. The entire range is fully vitrified, strengthened with alumina and glazed with special formula...