BRAAI SET 6 PIECE
By Tramontina
R525.00 (Excl VAT)
Retail prices excluding local 15% VAT
Product Description
This 6-piece barbecue kit offers everyone the essential utensils they need to prepare a quality barbecue. Theses pieces are produced with stainless steel blades and wooden handles, guaranteeing their durability. The kit comes with narrow and wide skewers, a meat knife and carving fork.
In the detail
Includes stainless-steel utensils with wooden handles
4 x 650mm Skewer
1 x 203mm Dynamic Meat Knife
1 x Carving Fork
Handles are made from natural wood
Brand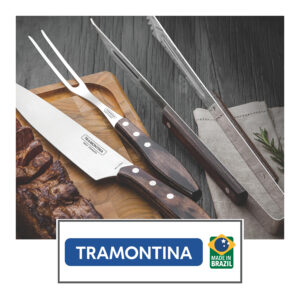 Founded in 1911 in Brazil, Tramontina is an international brand with over 100 years of experience in manufacturing high-end houseware products. It operates in over 120 countries offering quality, innovative, and functional products. Tramontina is dedicated to being a market leader in environmental responsibility and sustainable development – taking this on as one of its core values.
...