BARBECUE 6PC KNIFE SET
S/STEEL BLADES WITH WOODEN HANDLES
By Tramontina
R159.00 (Excl VAT)
Retail prices excluding local 15% VAT
Product Description
In addition to serving delicious meat, it is very important to set the table with knives that provide a quality cut. To do this, count on the Tramontina Dynamic barbecue knife set with 6-piece stainless steel blades and natural wood handles. Its pieces are resistant and have high cutting edge durability due to the application of heat treatment to the stainless steel blades. Its handles are made of natural wood and provide a more rustic style to the table and also guarantee much more comfortable handling.
PLEASE NOTE, KNIVES ARE NOT DISHWASHER SAFE!
Stainless steel blades have greater edge durability due to heat treatment. The handles are made of natural wood and aluminum rivets:
6 x Dynamic Barbecue & Fruit Knives
Recommended use:
Before first use, wash the parts well and dry them. Be careful when handling sharp and piercing products and keep them out of the reach of children. For greater durability of products, it is recommended to dry well before storing. To dispose of products and packaging, follow current recycling guidelines.
In the detail
Knives: 6 x 127mm Dynamic Barbecue & Fruit Knives
Blades: Stainless Steel
Handles: Wood
Size: 20mm x 105mm x 275mm (Complete Package)
Weight: 0.17kg
Guarantee
90 days for defects or manufacturing defects
Brand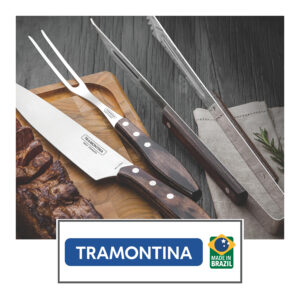 Founded in 1911 in Brazil, Tramontina is an international brand with over 100 years of experience in manufacturing high-end houseware products. It operates in over 120 countries offering quality, innovative, and functional products. Tramontina is dedicated to being a market leader in environmental responsibility and sustainable development – taking this on as one of its core values.
...