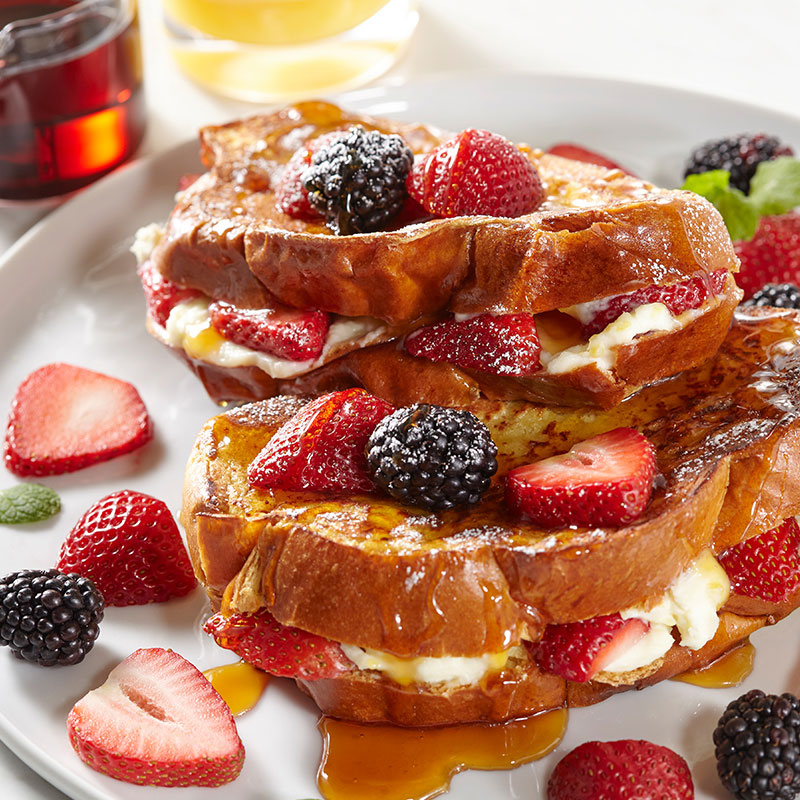 It's heaven on a plate! We don't think anything else in the world can be as satisfying !
STRAWBERRY MASCARPONE STUFFED FRENCH TOAST RECIPE
INGREDIENTS
1 CUP MASCARPONE CHEESE
3 TABLESPOONS GRANULATED SUGAR
2 TABLESPOONS HALF AND HALF
1 1/2 TEASPOONS VANILLA EXTRACT, DIVIDED
1 TEASPOON LEMON ZEST
6 SLICES (1 1/2-INCHES THICK) CHALLAH BREAD
4 CUPS THINLY SLICED STRAWBERRIES
6 LARGE EGGS
1 1/3 CUP MILK
2 TABLESPOONS CONFECTIONERS' SUGAR
1 TEASPOON GROUND CINNAMON
CONFECTIONERS' SUGAR, FOR GARNISH
DIRECTIONS
IN A SMALL BOWL, COMBINE MASCARPONE CHEESE, GRANULATED SUGAR, HALF AND HALF, ½ TEASPOON VANILLA EXTRACT, AND LEMON ZEST. PLACE MIXTURE IN A 1-GALLON RESEALABLE PLASTIC BAG. CLOSE BAG. REFRIGERATE UNTIL READY TO USE.
USING TIP OF A SMALL KNIFE, CUT A SLIT FROM SIDE TO SIDE TO FORM A POCKET IN EACH SLICE OF BREAD.
WITH SCISSORS CUT BOTTOM CORNER OF BAG MASCARPONE MIXTURE. SQUEEZE ABOUT 3 ROUNDED TABLESPOONS MASCARPONE MIXTURE INTO EACH BREAD POCKET AND ADD 6 TO 8 SLICES OF STRAWBERRIES.
HEAT CAST IRON COOKTOP
IN A LARGE BOWL USING A WIRE WHISK, BEAT EGGS, MILK, 2 TABLESPOONS CONFECTIONERS' SUGAR, GROUND CINNAMON, AND REMAINING 1 TEASPOON VANILLA EXTRACT UNTIL WELL BLENDED.
PLACE STUFFED BREAD POCKETS IN MILK MIXTURE AND SOAK 30 SECONDS ON EACH SIDE. DRAIN AND CAREFULLY TRANSFER EACH BREAD POCKET TO COOKTOP.
COOK TURNING ONCE, UNTIL BROWNED AND HEATED THROUGH, ABOUT 6 TO 8 MINUTES.
GARNISH WITH REMAINING STRAWBERRIES AND CONFECTIONERS' SUGAR.