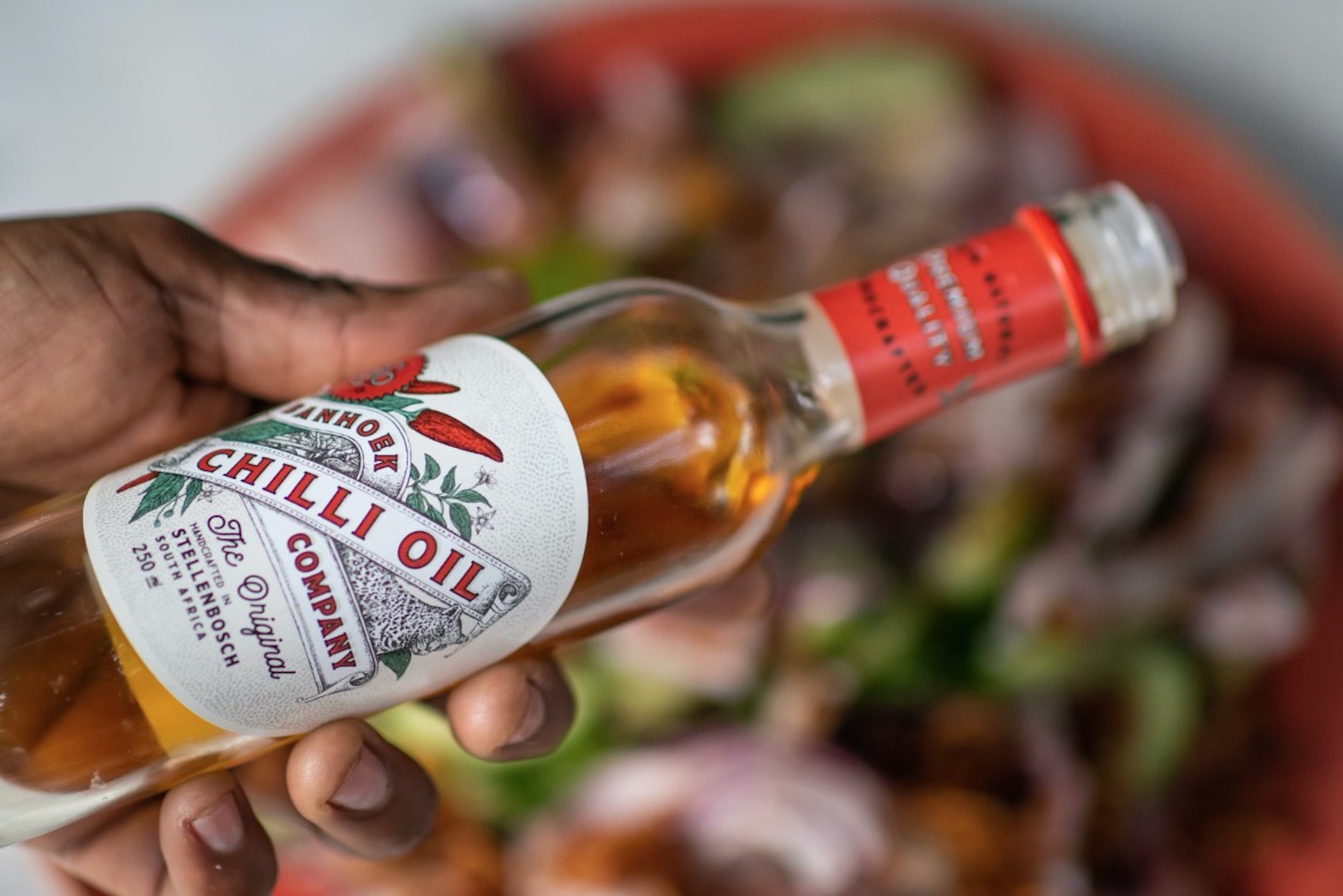 The Banhoek Chilli oil is a 100% Natural product, Halaal and Kosher Certified, FSA Certified and Vegan Friendly. It is eloquently blended with locally grown Birds Eye chillies that are sun-dried, hand-crushed and gently infused into the oil to deliver the perfect balance of flavour and heat. It is all about the Chillies!
You can use it to spice up just about any meal by just drizzling it lighting on top. But for a more professional effect you can add it to the ingredients. Below are our top three recipes…
SPICY PRAWN LAKSA RECIPE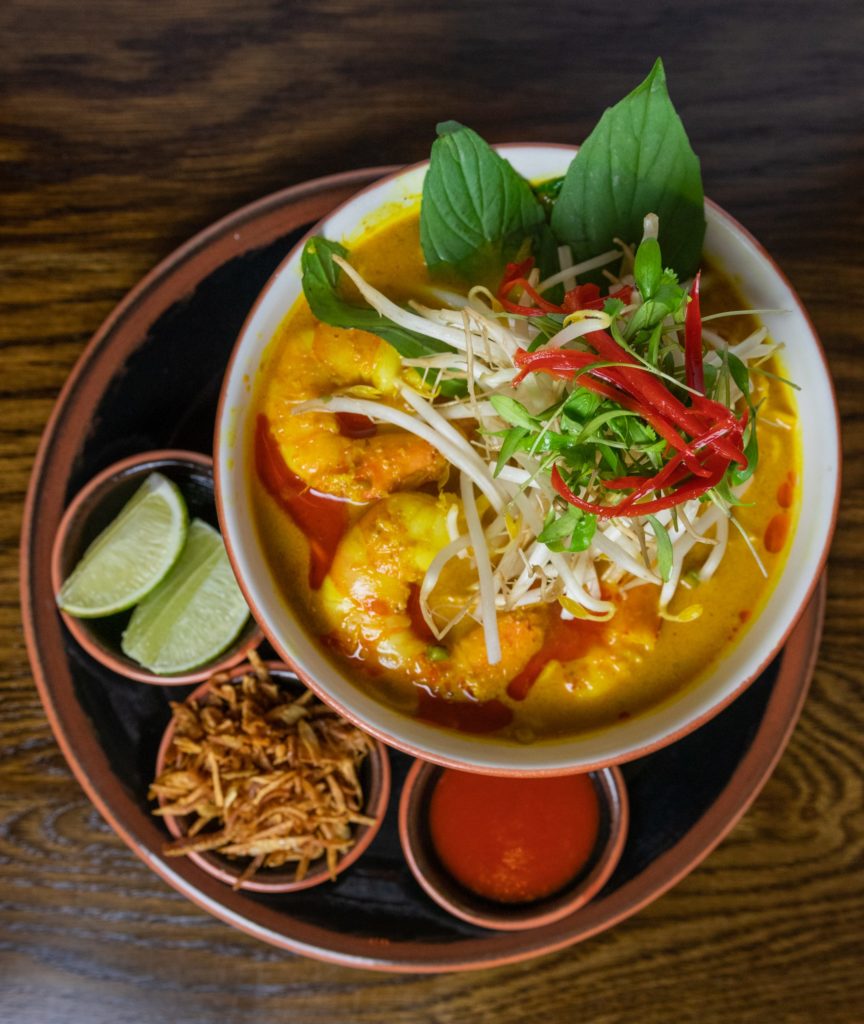 Traditionally Laksa dishes originated in Malaysia and Southern Thailand and consist of a coconut broth, flavoured with chilli, lemongrass and turmeric served with rice noodles, vegetables and seafood or chicken. At Opium we make our own Laksa paste which forms the base of the dish and then finish the broth with fresh ingredients.
Laksa Paste
20g Large dried chilli (rehydrated & deseeded)
20g Large red chillies
20g Peeled garlic
5g Peeled ginger
30g Lemongrass chopped (remove tip and tough outer leaves)
10g Galangal (optional)
20g Fresh Turmeric or 10g powdered turmeric
10 Shallots peeled
30g Cashew nuts
5g Shrimp paste (optional)
Rehydrate the dry chilli in warm water for a couple of hours and then remove the pith and seeds. Put all the ingredients into a food processor and blend until a smooth paste is formed. This will be the base for the Laksa noodle soup.
Ingredients (serves 4)
100g Laksa paste (above)
24 16/20 Prawns (shell & vein removed)
300g Flat rice noodles or egg noodles
400ml Tin coconut milk
400ml Chicken stock (veg stock for vegetarian Laksa)
20ml Light soy sauce
1tsp Sugar
Pak Choi
Spring onion
Beansprouts
Coriander
Fried shallots
Sriracha sauce
Lime wedges
Instructions:
If using dried noodles rehydrate them in cold water for 30 minutes before cooking them. In a wok or sauce pot put the Laksa paste and cook on a medium heat until the aromatic flavours start to release. Next add the coconut milk and chicken stock, turn up the heat and bring to the boil. Cook for 3 minutes until the paste is properly dissolved and then season with soy sauce and sugar to get the desired taste balance.
Chop up the Pak Choi and the spring onions into 2cm long pieces, wash them both and drain. Using a pasta basket cook the noodles in the Laksa broth and place equal amounts into 4 noodle bowls. Next throw the prawns into the broth and let them cook (they will turn bright pink, do not over cook them!), whilst these are cooking put the Pak Choi, spring onion and beansprouts into the bowls on top of the noodles. When the prawns are cooked place them into the bowls and then spoon over the broth into each bowl. Garnish with Banhoek chilli oil, more fresh beansprouts and coriander and serve with fried shallots, Sriracha sauce and lime wedges.
---
CHARRED SQUID RECIPE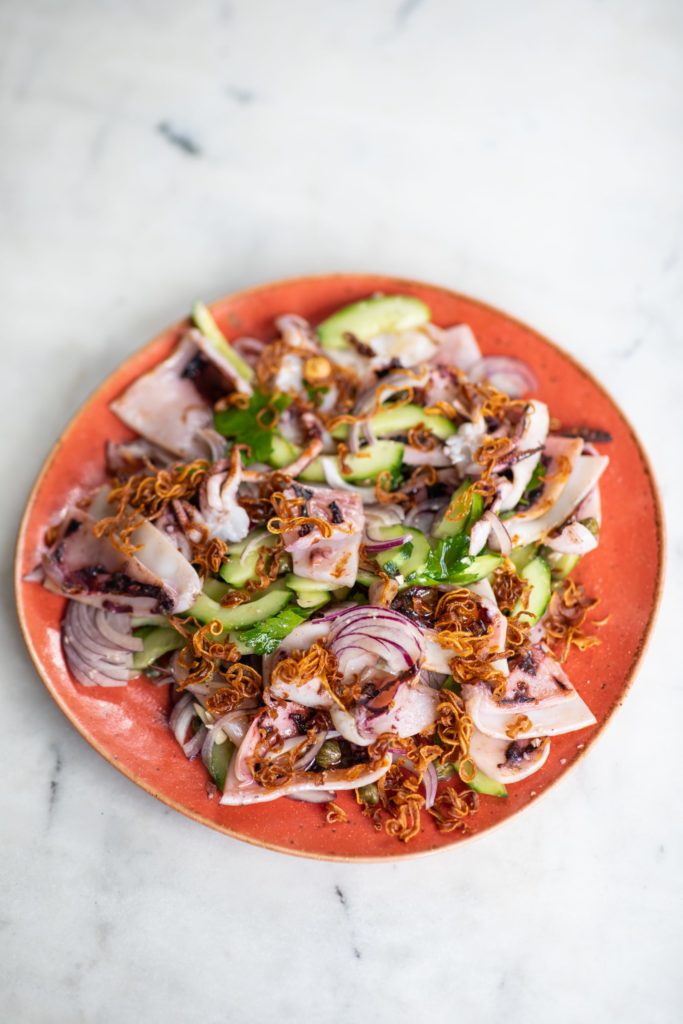 Serves 4
Charred squid and cucumber are a superb combination. Finish this simple dish with a lashing of Banhoek Chilli Oil for a simple, elegant meal.
Ingredients:
500g large squid, tubes cleaned and cut into quarters
3 tablespoons of olive oil.
1⁄2 large cucumber, peeled, seeded and sliced
2 table spoons of capers
1/2 red onion, thinly sliced
2 table spoons whole parsley
1 crushed garlic clove
Seasoning
Fresh lemon
Lashings of Banhoek Chilli Oil.
Hand full of crispy onion (onion flakes from your local spice shop will do)
Instructions:
Pre-heat your gas braai or prepare a wood fire.
Toss the squid with olive oil and set aside.
Mix the cucumber, capers, red onion, parsley and garlic together in a large mixing bowl.
Char the squid at high heat, it will only take a minute or two. Take it directly from the heat and
toss with the rest of the ingredients.
Season, finish with Banhoek Chilli Oil and fresh lemon. Serve immediately.
---
SPICY GYPSY SALAD RECIPE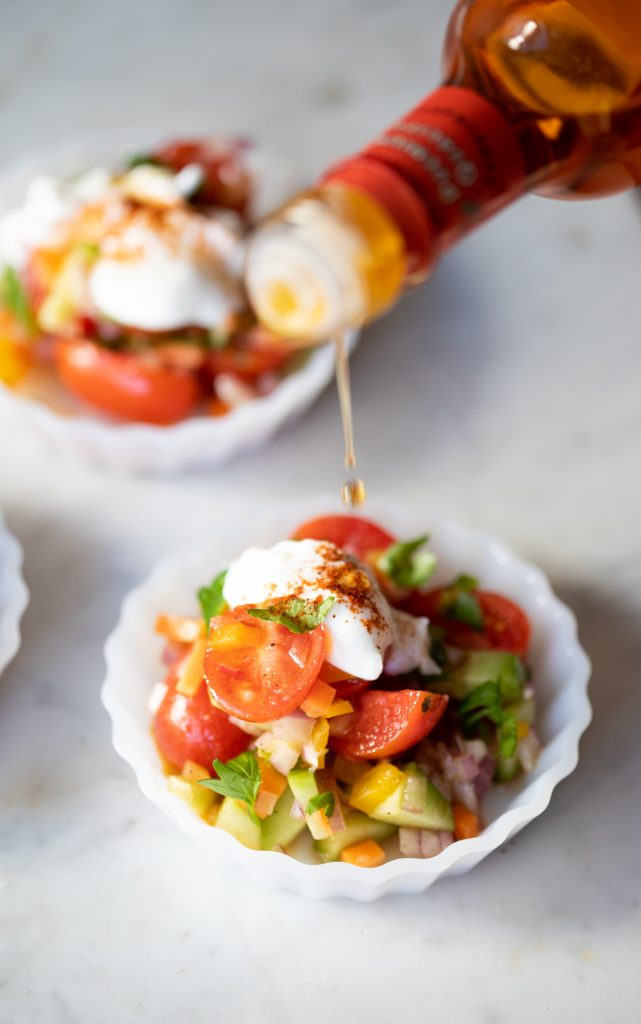 It is the dressing that makes this vegetable salad captivating. The vegetables themselves are as colourful as gypsies and the salad is busy, so you'll need little more to accompany most any main dish. This tasty gypsy salad also makes for a wonderful starter dish!
Ingredients:
5 beautiful tomatoes, diced
1 cucumber, partially peeled, seeded and diced
1 red onion, peeled and finely diced
2 carrots peeled and diced
2 yellow peppers, diced
30g very roughly chopped Italian Parsley
Dressing
2 tsp crushed garlic
1 tsp sea salt
½ c Greek yoghurt
3 T extra virgin olive oil
1 T Banhoek Chilli Oil + 2 tsp Chilli Oil for garnishing
Juice of 1 lemon
¼ chilli, seeded and finely shredded
2 tsp ground cumin
Freshly ground white pepper
Instructions:
Put the tomatoes, cucumber, red onion, carrots and yellow pepper into a large bowl and toss gently.
Whisk the yoghurt in a separate bowl with the salt and the garlic and the remaining dressing ingredients.
Arrange the vegetables in a shallow salad bowl and pour over the yoghurt dressing. Drizzle over 1 T Banhoek Chilli Oil over the yoghurt dressing. The vegetables will become dressed as the salad is served.