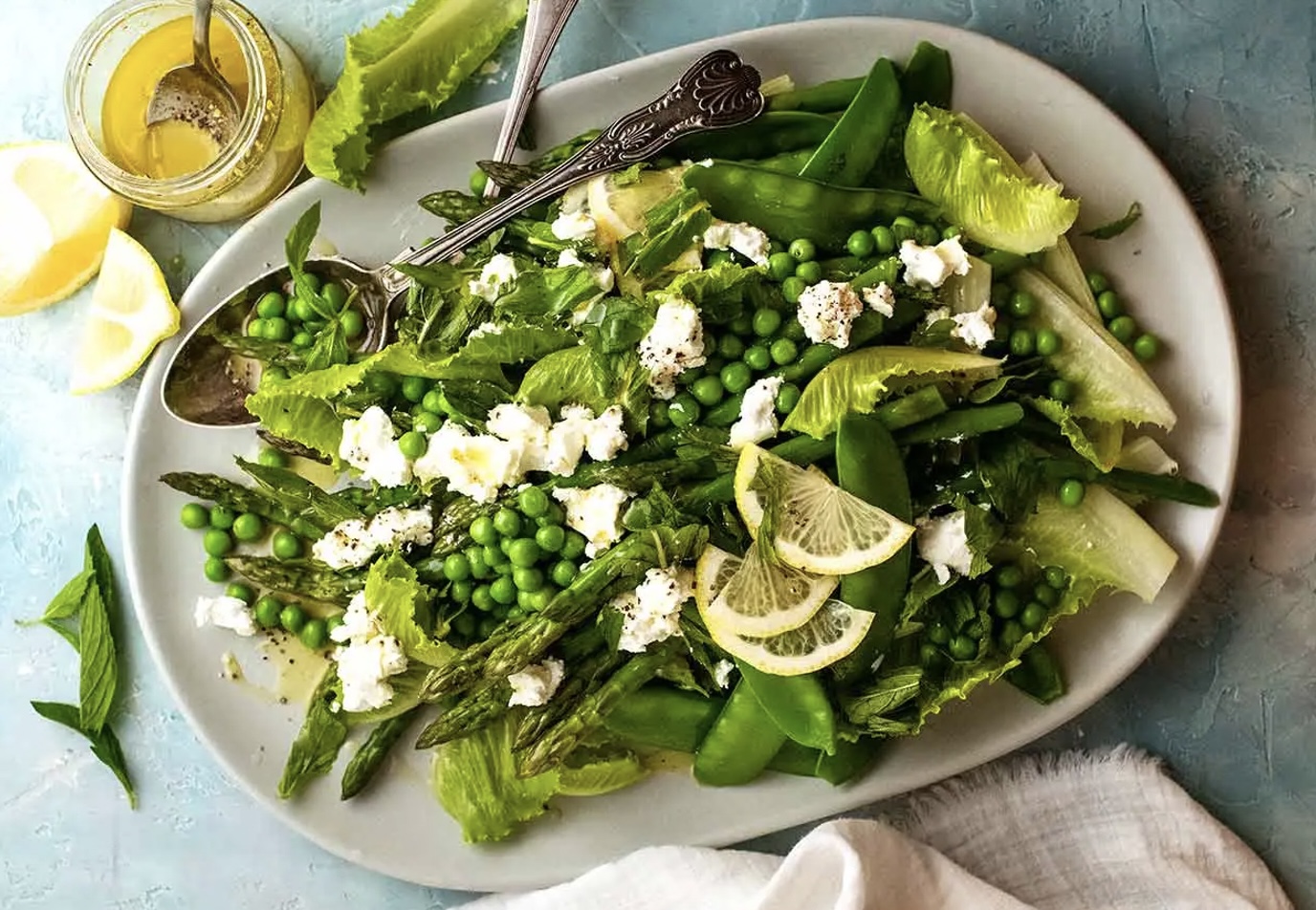 We wanted to share ideas for something more interesting than the boring old iceberg lettuce with tomato and cucumber routine, and these salads ticks that box perfectly! Seasonal, vibrantly colourful and elegant. We think you'll enjoy these. Happy Spring !
Zesty Green Spring Salad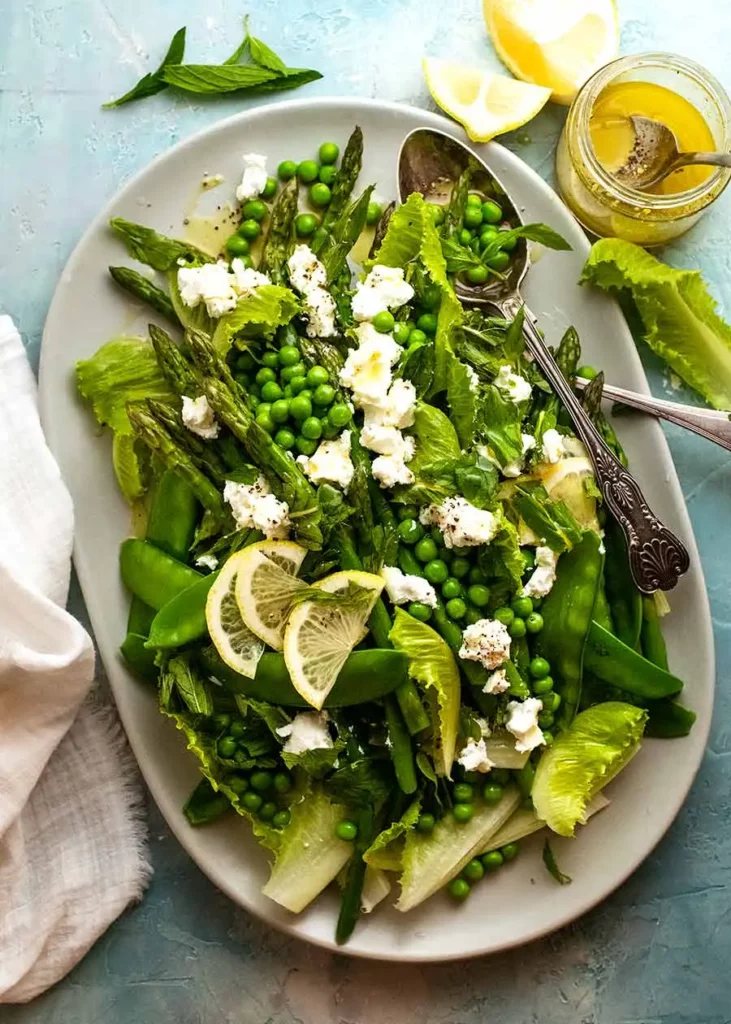 A combination of cooked and raw ingredients, this salad is made with blanched asparagus, snow peas and peas which are then piled onto baby cos lettuce (aka romaine) leaves, dotted with soft goats cheese and drizzled with a lemon dressing. There is nothing this salad won't pair with.
INGREDIENTS:
Salad
3 bunches (24 spears) asparagus , woody ends snapped off
120g / 4oz snow peas (about 16 large or 20 smaller ones), trimmed and string removed
1 head baby gem or cos lettuce (aka romaine) washed (16 leaves, Note 2)
2 cups fresh or frozen peas (Note 3)
90g goats cheese
1 cup (loosely packed) fresh mint leaves, , roughly torn
Lemon Dressing
1 tsp lemon zest (from 1 lemon)
2 tbsp (30ml) lemon juice
6 tbsp (90ml) extra virgin olive oil
1/4 tsp each salt and pepper
INSTRUCTIONS:
Bring a large pot of water to the boil.
Add snow peas to pot, boil for 1 1/2 minutes.
dd the asparagus spears, boil for another 1 1/2 minutes
Add frozen peas, and boil for another 30 seconds or until the water just returns to a simmer, and peas turn bright green.
Immediately drain, refresh vegetables under cold running water until cooled to stop cooking process.
Remove the asparagus and snow peas, blot with paper towels to dry. Leave peas in colander to drain, giving them a toss now and then to help them dry. (It's important to dry vegetables, otherwise it dilutes the dressing and it won't stick. You could use a salad spinner with care, o just let them naturally dry which is easier.)
Split the larger baby cos leaves down the middle, use the small ones whole.
Cut asparagus stems in half on a slight angle.
Shake Dressing ingredients in a jar.
Combine vegetables in a bowl, dress and toss.
Arrange salad on a platter. Top with small chunks of goats cheese. Serve immediately!
---
Strawberry Avocado Spinach Salad with Candied Pecans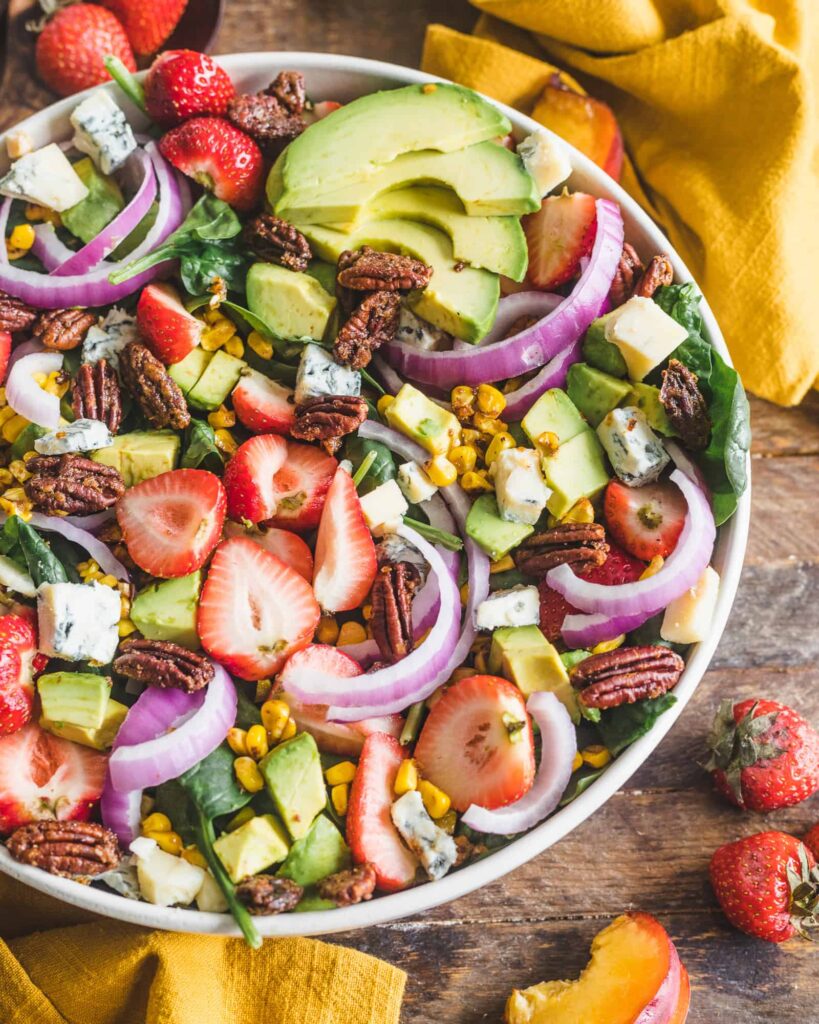 This Strawberry Avocado Spinach salad is the epitome of spring! It's fresh, light, and full of so much flavour. What we love most about this salad is how it marries the sweet flavours of strawberries and the candied pecans with the gorgonzola and fresh red onions. Then you have the avocado to mellow out the flavours all on top of a bed of fresh spinach. Delicious !
INGREDIENTS:
· 5 cups Spinach, fresh
· ½ lb Strawberries, halved
· ¼ Red Onion, sliced
· 1-2 Avocados
· 2 ears Corn
· ½ tsp Red Pepper Flakes
· 1 clove Garlic, diced
· tsp Smoked Paprika
· Salt and Pepper
· Olive Oil
· 1 Lemon
· ¼ cup Gorgonzola
· ½ cup Candied Pecans
DIRECTIONS:
· Cut corn off of ears of corn. Add olive oil to a pan and add corn, red pepper flakes, garlic, smoked paprika, and salt and pepper. Saute for about 6-8 minutes, until corn is slightly browned.
· Toss spinach in a drizzle of olive oil and the juice from one lemon. Add salt and pepper as desired.
· Top spinach with strawberries, sliced red onions and avocados, and corn. Garnish with gorgonzola and candied pecans as desired.
---
Chipotle Caesar Salad with Grilled Salmon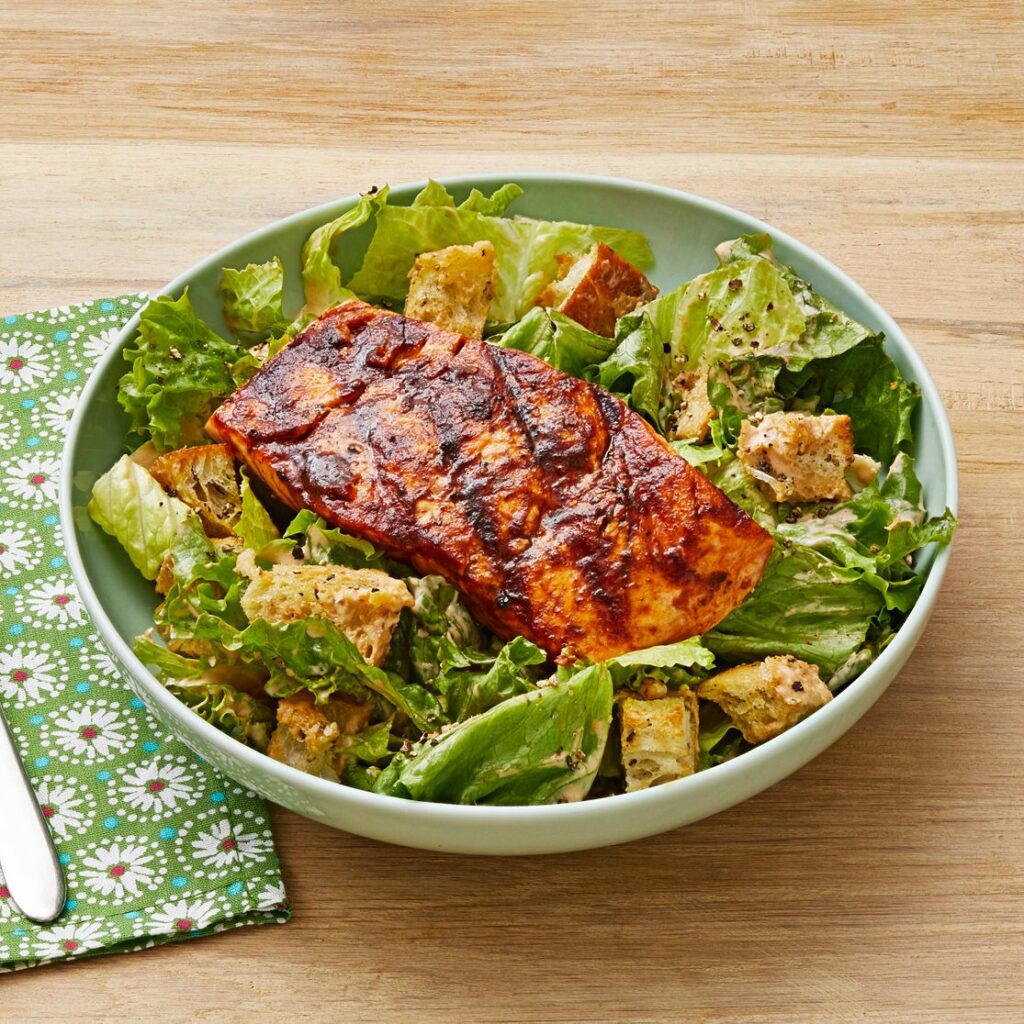 So fresh, so easy and so delicious. What is not to love about this tasty spring salad!
INGREDIENTS:
9-ounce loaf ciabatta bread, cut into 1-inch cubes
1/2 c. plus 1 tablespoon olive oil
1 1/2 tsp. kosher salt
Black pepper, to taste
2 tablespoons grated parmesan cheese
1/2 c. mayonnaise
1/4 c. buttermilk
1/4 c. sour cream
1/4 c. plus 2 tablespoons adobo sauce (from a can of chipotles)
1 tbsp. balsamic vinegar
1 tsp. Worcestershire sauce
1 anchovy fillet
1 garlic clove, smashed
6-ounce skin-on salmon fillets
1 head green-leaf lettuce, chopped
1 heart romaine lettuce, chopped
DIRECTIONS:
Preheat the oven to 180 ̊. For the croutons: Place the bread cubes on a baking sheet and toss with 1/2 cup olive oil, 1/2 teaspoon salt and a few grinds of pepper. Sprinkle with 1/2 cup of the parmesan and toss to coat. Bake until crisp and golden brown, 12 to 15 minutes. Set aside to cool.
Meanwhile, for the dressing: Combine the mayonnaise, buttermilk, sour cream, 2 tablespoons adobo sauce, the balsamic vinegar, Worcestershire sauce, anchovy, garlic, remaining 2 tablespoons parmesan, 1/4 teaspoon salt and a few grinds of pepper in a blender and blend until smooth.
Preheat a grill or grill pan to medium. Brush the salmon with the remaining 1 tablespoon olive oil and season with 1/2 teaspoon salt and a few grinds of pepper. Grill skin-side up until marked and the salmon releases easily from the grill, 3 to 4 minutes. Flip and brush with the remaining 1/4 cup adobo sauce. Continue to cook until the salmon is firm and cooked through, 10 to 12 minutes.
Combine both lettuces in a large bowl. Season with the remaining 1/4 teaspoon salt and a few grinds of pepper. Add the dressing and toss to coat. Gently stir in the croutons. Serve the salmon on top of the salad.