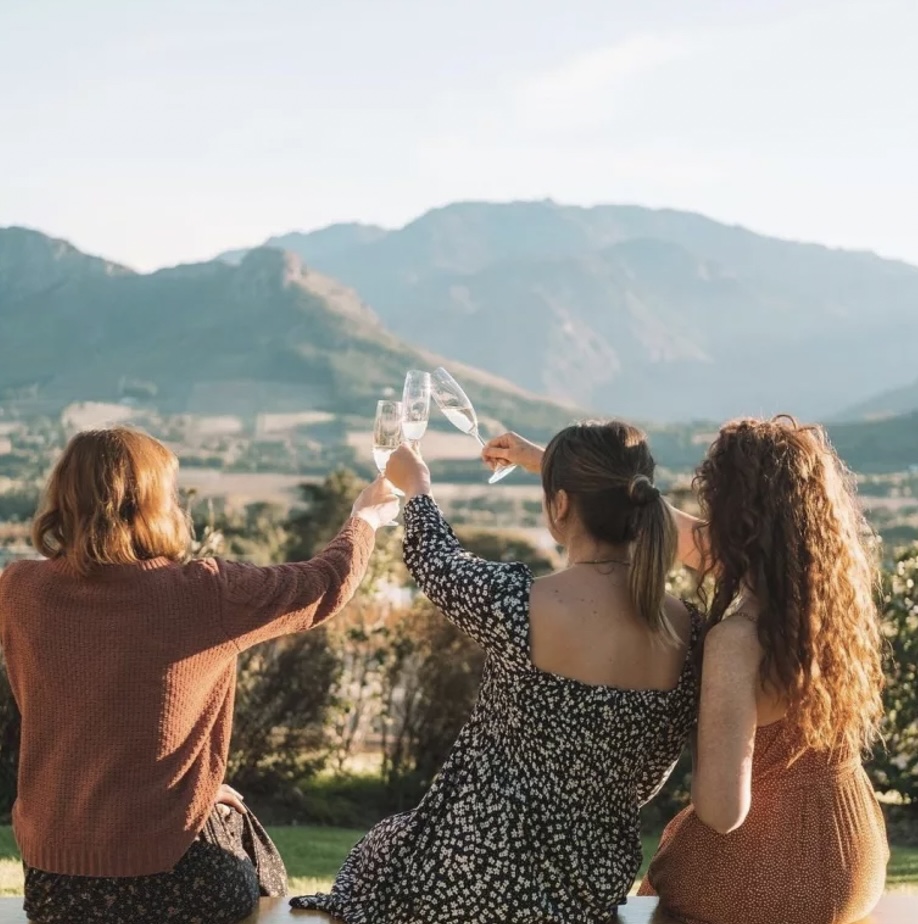 The full programme:
1 to 7 September 2023
ANTHONIJ RUPERT WYNE
L'Ormarins Cap Classique & Nougat Pairing This delicious offering to emerge from the Anthonij Rupert Tasting Room is guaranteed to get your taste buds tickling with delight, as the L'Ormarins Cap Classique and nougat pairing takes bubbly enjoyment to the next level. Booking essential.
Mini High Tea & Cap Classique Tasting
Enjoy four special treats from our High Tea menu paired with two different L'Ormarins Cap Classique wines.
The pairing includes two savoury and two sweet treats. Booking essential.
When booking these experiences during 1-7 September, all visitors will receive a complimentary tasting of our L'Ormarins Private Cuvèe 2015.
BLACK ELEPHANT VINTNERS
Cap Classique, Songs & Chocolates
Five Cap Classique including limited platters five-star Blanc 2013 each wine paired with storytellling a song and chocolate by Hugeunot Chocolates @R200pp, 11h00-15h00. By appointment only +27 21 876 2903.
BOSCHENDAL
Cap Classique | Oysters | Canapés
· Cap Classique Tasting R85pp.
· Cap Classique & Oyster Tasting R150pp.
· Cap Classique & Breakfast Canapé Pairing R225pp.
Sunday Lunch @ the Olive Press
3 September – Four Cap Classiques from the Valley, each paired with dish by Chef Eric Bulpitt.
Booking essential for all the offerings.
Book at the Cellar Door Wine Tasting Venue through reservations@boschendal.co.za
COLMANT
CAP CLASSIQUE & CHAMPAGNE
Join Cap Classique expert and Cellar Master Paul Gerber for an unique bubbly experience – A private cellar tour followed by an insightful blind tasting of Colmant's exceptional imported French Champagnes versus their finest Cap Classiques. Duration 1h30. By appointment only. Bookings min 6pax – max 10 pax @R850pp.
DIEU DONNÉ VINEYARDS
Cap Classique & Chocolate Brownie Pairing
Join us for a Cap Classique and Chocolate Brownie pairing at the Dieu Donné Tasting Room @R140pp. Booking essential +27 21 224 0667.
FRANSCHHOEK CELLAR
Smoked Salmon Ciabatta
with a glass of Franschhoek Cellar Brut Royale @R150pp. N1
TO WORCESTER
Chocolate and Turkish Delight CannRe30l1loTOnPAiARL & N1 with a glass of Franschhoek Cellar Brut Rosé @R85pp. (EXIT 59)
EXIT 55
Contact +27 21 876 2086.
GRANDE PROVENCE
Happy Hour (All Day)
Cap Classique & Six Oysters @R180pp.
Cap Classique & Oyster Pairing (three oysters) at R180pp.
Bubbles Pairing Lunch
Three-course Food & Bubbles Pairing Lunch at the Restaurant @ R625pp.
HAUTE CABRIÈRE
Macaron & Cap Classique Tasting
Our signature Pierre Jourdan & Macaron Cap Classique pairing Fri-Sun, R150pp.
Daily Sabrage
Demonstrations at 11h00, 12h00, and 16h00.
Cellar Door Promotions on Cap Classique Range
Find your favourite Pierre Jourdan Cap Classiques on promotion this week only!
Cap Classique Lunch
We will be serving a Pierre Jourdan Cap Classique paired lunch for the whole month of September to celebrate.
A Cap Classique included per course to illustrate how versatile Cap Classique is.
Cap Classique Master Tasting
01 September Cap Classique Day Master Tasting & Lunch (limited tickets).
KLEIN GOEDERUST
Cap Classique & Berry Pairing
A refreshing start to spring, experience the perfect combination of nature's sweetest flavours paired with Klein Goederust's Flagship Nomaroma Cap Classique, a harmonious fusion of seasonal fruity notes with the delicate velvety palate of this Cap Classique, each sip
is a delight your taste buds will not soon forget
@R250 per pairing.
Bookings info@kleingoederust.co.za | +27 66 483 4549
LA BRI labri.co.za
Cap Classique & Turkish Delight Pairing
A unique tasting of Cap Classique at La Bri paired with Turkish delight.
Special offering with Deux Lions Restaurant – enjoy a glass of Crystal Spark with your meal for only R50.
LA MOTTE
Talking & Tasting Fermentation
Join the La Motte baker and cellarmaster on Saturday,
2 September for an introduction to fermentation and its influence on taste, smell and texture – in bread and bubbly @R500pp. More info and to book visit la-motte.com
Vintage Cap Classique Tasting
Join us in the La Motte Historic Cellar for a Vintage Tasting of La Motte Cap Classique from Friday, 1 September to Sunday, 3 September @R200pp. More info and to book visit la-motte.com
LE LUDE
Cap Classique Tasting
Join us for a memorable tasting of our award-winning Cap Classique, perfectly paired with our selection of canapés. Monday to Sunday | 10h00-17h00
Morning Tea | Afternoon Tea
Traditional tea experience, complete with finger sandwiches and an assortment of pastries. 10h00, 10h30, and 11h00 | 15h00
Orangerie Lunch | Dinner
Chef Nicolene provides an exciting and sumptuous a la carte menu to suit all tastes.
Tuesday – Sunday: 12h00-15h00 | Friday & Saturday: 18h00-20h30 till end of August. restaurant@lelude.co.za
When booking these experiences during 1-7 September 2023, all visitors will receive a complimentary tasting of our Le Lude Brut 2014 Vintage. Bookings +27 21 876 2961.
LEOPARD'S LEAP
Bubbly Breakfast
Join us on Saturday, 2 September for a beautiful Bubbly Breakfast in celebration of National Cap Classique Day! Chef Christiaan's bubbly-paired menu showcases the brilliance of bubbly with breakfast. Toast the occasion with the delightful and delicate pink Leopard's Leap Sparkling Chardonnay Pinot Noir, say cheers with the elegant Leopard's Leap Sparkling Cuvée Brut and of course, let's raise our glasses with the classic Culinaria Cap Classique @R495pp.
OLD ROAD WINE CO
Dish of the Day
Homemade tagliatelle, creamy crayfish bisque, smoked franschhoek trout with black lumpfish caviar and a glass of gorgeous Cap Classique @R220pp.
RICKETY BRIDGE WINERY
Cap Classique Pairings
Visit the Rickety Bridge Wine Tasting Room between 10h00-17h00 and experience our Cap Classique
pairing. Savour our Rickety Bridge Blanc the blanc Brut NV and Rickety Bridge Brut Rose paired with Parma ham- wrapped canape and Salmon trout and cream cheese bite @R150pp.
Another fun activity to attempt is the ancient art of Sabrage with the assistance of an ambassador. The experience includes the sabrage of a bottle of Cap Classique and a glass of Brut Rosé to celebrate @R195pp.
Advanced bookings required.